Hip Hop Artist LA Music Award Winner, Life Coach, and Current Antioch University MBA Student
Chris Jones
, takes a moment to reveal about his passion for music and continuing his success in education.
By Sujin Chon
On February 4, 2017 at Antioch University Santa Barbara, we settle in the shuffle between the lunch break of our classes in Finance and Entrepreneurship Leadership. I've been anticipating the chance to sit down and interview this multi-talented, smart, and incisive classmate. It just so happens that in the past few days, Antioch Los Angeles alumni and current MBA student of Antioch University Santa Barbara, Chris Jones (Jonezen) just released a new song. This interview is taking place at an impeccable time.
He recently released ,"Bars" a nu-metal style song that he has described as a "reintroduction to himself."
You are currently an MBA student at Antioch University, Santa Barbara, and you have graduated from Antioch University, of Los Angeles. What did you study at AULA?
I majored in Business and minored in Psychology at Antioch University, Los Angeles.
What is your occupation?
I am a life coach, and I work for a life coaching company, but my job title is, "Director of Operations," which means I do everything administrative, plus some, and I have clients that I coach.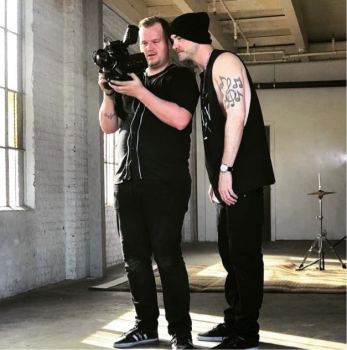 Just recently, your music has premiered?
Yes, a song called, "Bars," released February 2, and was officially available for sale February 3. I'm doing a series of songs between now and May.
You are originally from Detroit and you have said that you are actually more creative when you are sober. How has this affected you and your music?
When I was 24 years old, I realized I had an issue with drinking big time. Drugs and drinking, has always been a part of my life as a kid. I just did that stuff around 12 to 13 years old.
I am super grateful for my past, and the mistakes I've made because they've opened a lot of doors for me today.
But, there are certainly things I regret that I've done and the decisions in my life. Anyway- I was drinking and doing drugs forever, ever since I was 10 or 11 years old, up until I was 27 years old. The thing is, when you grow up…All I ever wanted to do was music right, so you idolize guys who do music and part of the music and entertainment culture and world, is drinking and doing drugs. So I grew up, looking up that and so I started doing that.
You even applied to be a cast member of, "The Real World," and you made it to the last final rounds.
Yes. So, it's just part of that thing. I thought that doing the drugs and alcohol and the drinking was like, part of my identity as a person, and as a recording artist. It was just the life that I wanted to live. And then, when you get to the place where you realize that, you have a problem. Like, this is not just fun and games anymore. Drinking and all that stuff, turns into a health issue. Where you are physically addicted, and going through withdrawals.
How did your drinking become a health issues?
Before I recorded as Jonezen, I recorded with a group and we did pretty well. We made albums and went on some tours, and we would pack some venues out in our local and surrounding markets and we were having a ton of fun. But it wasn't like, getting recognition and game, wasn't a catalyst for bottoming out. If anything, it was like hitting a wall, hitting a ceiling with that- and then the stress of how do I get bigger? How do I make a living doing this? Coupled with thoughts like, "I'm getting older, and I'm not making more money in music," and I'm watching the people I grew up with doing this, this, and this- and I'm not getting where I need to be. I'm just drinking more, and it's just like this vicious cycle that just ultimately brought me down.
Right now…you are (how old?)…
Right now I am 32.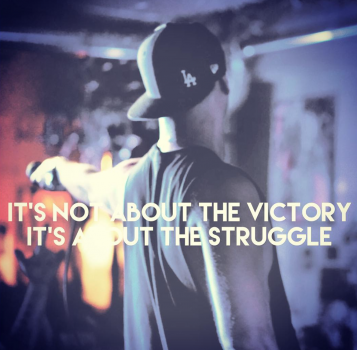 When did the problem reach it's peak?
It peaked at 27, I bottomed out at 27 years old. At the age of 24, is when I became physically addicted to alcohol. When I couldn't type, I couldn't write, hold a pencil or pen, I couldn't sleep I couldn't eat, I couldn't do anything without having booze in my system because I would literally withdrawal, and when you withdrawal you shake. You shake, and you twitch, and your body just does not work.  
What was the process like to just go back into integrating into life, and being where you are to present day?
It was tough, right, it was hard to let go. Even at the very bottom, when I was 27, when my liver was shutting down, I had crazy skin rashes and diseases because my liver couldn't even process anything any more. I was dying. 
 Even then, it was hard to let go of the story I had of myself like who I am all these years. It was hard to go like, 'Ok I gotta let this idea go, cuz if I don't get sober, and change my life I'm going to die.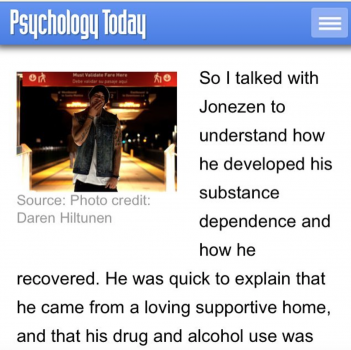 But ultimately what happened is that my pops was like, "Look, it's rehab or homeless." My girl had left, my lease was up, and I had no money. I hadn't worked, hadn't been on tour, hadn't sold a record. I had like a grand, to my name. And my dad knew all this and showed up and stated, "Rehab, or homeless."
So I went to treatment. Through treatment, I didn't want to be there. I didn't plan on staying sober. I was just going to bide time- and in that process, some things changed. I started to change. I started to pay attention to things I was hearing, and during those 3 months I was in that place my life started to transform. Then after I went to sober living, and my life continued to transform.
How did you go from there, to Antioch University?
That was a recommendation from a counselor of mine. I went back to traditional school, I went to a community college, and I had enough credits college-wise, to have a PhD. But all those units amounted to nothing. No Associate's degree, nothing. A counselor of mine said I should look into Antioch, and I did, and they accepted all of my credits and made it so that I would only have to do upper division.
What has made you want to continue further your MBA education, at Antioch University?
I enjoyed my experience at Antioch University, in Los Angeles. It was a combination of a few things.
I was accepted to the MBA program of AUSB, and Antioch University, Los Angeles, does not have an MBA program. I applied to other places, but the timing was off and the test dates and enrollment with fees was complicated. I don't regret the decision, I've had a good experience here.
Do you have a new goal this time around in business, in 2017? This song is a reintroduction to you, compared to the past work you've done, how is it different?
It's very different. I've been doing rock 'n' roll, hip hop, and that's different from what I had done. Here I come with this really hard hitting record, with no chorus, just 3 and half minutes of just rap and rapping over heavy metal guitars…
..and especially the last minute- it is just bam, in your face.
I've never gotten into a real, "beef." Understand this, music is just that it's just music.
I will have say what I want to say and have fun on the record, and air it out. But, it's not killing me on the inside.
Certainly what I say has meaning, sort of implies about what I feel, but, do I have a real problem with it? No, I don't like some of the music that I hear, but I certainly feel that hip hop as a whole has moved. A lot of artists I would say, have moved away from caring about being a good rapper, and saying something, and really trying to improve themselves and their skills. That bothers me, but does it keep me up at night? No.
What keeps you going musically, being a life coach, and keeps you being an MBA student?
Passion, goals, and dreams. Love for it, that's it.
Where do you see yourself in five years?
I see myself, I would hope, applying business principles to my music career, and then having other ventures that I'm apart of, helping other people.
What's the most rewarding experience?
I don't know if there's an experience, but I think graduating college was a big one for me, that took a long time to do. I was proud of myself for that. I think some things I was able to accomplish in music, I'm super proud of, some of the awards I have won. Going from nothing…to MTV and radio is super cool, but I think the thing that I hold most dear to me is not any accomplishment or achievement, or degree or anything like that. Today, my parents are proud of me, I know that I live well, and I try to help when I can, and that I'm a good friend to people. I show up  and I try hard in everything that I do. Those are the most important things.
---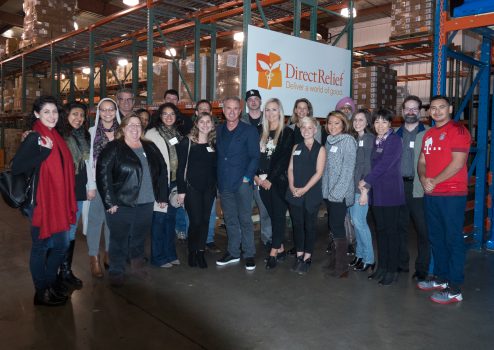 As the third current cohort of the AUSB MBA program, it has been the most challenging educational experience to hear different perspectives from classmates like Chris Jones. It is amazing to hear how such a strong, articulate, expressive person like Chris was once struck down by the disease of alcoholism, and experience his story as he continues to  live and share with us his plans, music, and hopes into action for the future.
---
About the Author:
Since arriving in Santa Barbara in 2012 from San Jose, California, Sujin has volunteered and worked at elderly care facilities and homeless shelters, and has provided service for Freedom to Choose- a local Santa Barbara non-profit. Presently, Sujin is a social media coordinator for Media Spinach. Sujin also assists in social media for the Antioch Alumni Association and has recently completed her undergraduate studies in Communications and Social Media at Antioch University Santa Barbara. She continues to further her education in the MBA program at Antioch University. She plans on pursuing a career in Public Relations, having become motivated to get involved using her social justice and communications background. She plans on making a difference by working for organizations that help educate and support at-risk communities. When Sujin is not at school or working, she enjoys peaceful meditation at the gym, and loves to cook for herself and loved ones, watch Basketball, and laugh