Society is in shock at the rate motocross enthusiast Daniel Meynet recovered from near death motorcycle accident. Sequel to Triumph Over Trauma.
A year after the accident was grounds for celebration. It was no longer a matter of life or death for Daniel as he continues to strive for excellence in his courses at Santa Barbara City College. At the beginning of summer after Daniel had proven to be making nothing but progress in the two months of his hospital stay with speech theorpy, physical theorpy, and occupational theorpy. Daniel wanted to get away for a while, so he moved up to San Francisco and into his brother Charlie's home. Daniel had a plan to get a paid internship with popular headphone company Sol Republic. Although they denied his acceptance several times he proceeded to show consistent interest in the job and eventually got it. Sol Republic wanted to hire someone with a Bachelors degree. Nevertheless since Daniel had proven his commitment towards becoming a professional athlete, they considered that to be a comparable level of commitment as to receiving a Bachelors degree. He describes the experience as uplifting and something to get my mind off of what had happened. After the summer was over he was ready to get back to Santa Barbara and get started with school while staying in contact with his new friends and co-workers at Sol Republic.
As October 24, 2015 approached some act of celebration was in the works. Daniel and I were hanging out at his house and he said,
"hey Travis, I think I am going to have a BBQ at my house this weekend to celebrate good health. I said ok sounds great; you just want to do this for fun?"
He continued to explain that it was going to be one year since he went into a coma. I thought it was an awesome idea and it turned out to be a great gathering amongst friends and family. Stories were flowing about past times with Daniel as we stuffed our faces with delicious tri-tip, sausage, salad, rice, chips and salsa, and so on. Daniels golfing skills didn't fail to impress either.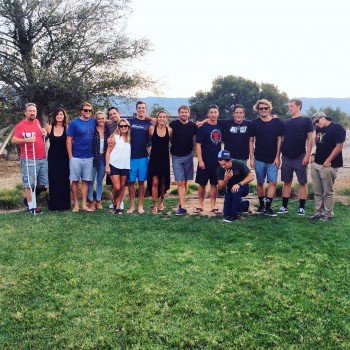 Daniel is happy to be relieved from the stress of racing professional Supercross and motocross. After that horrible day that he fell on his motorcycle, Daniels daily life would change forever. There is no desire to ride motorcycles at this point but Daniel does hope to revisit the sport for fun in the later future.
Although the love for motorcycles will never die within Daniel, he understands that if he hits his head hard again the outcome could not be as forgiving as the first time. Doctors say that if Daniel has another significant injury to his brain it could be as severe as death. Staying physically fit is something that Daniel is no stranger to. As he continues to go to the gym to stay in shape he is also minimizing the pain that may be lingureing from his crash in October, 2014. Daniel says that he doesn't have any pain as he continues to share his love and friendship through his presence wherever he may be. Daniel is a lucky kid with a second chance at life. I am forever grateful that we were able to celebrate good health with my dear friend on October 24, 2015 rather than the contrast.