The soccer world is in mourning after a tragic plane crash this Tuesday.The people of the small town Chapeco, Brazil find themselves in grief after the sudden loss of their beloved hometown club.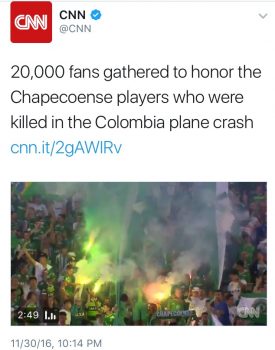 71 players, staff members, journalists, friends and family members were killed after the plane crashed
in Rionegro, close to Medellín. Only 6 people survived the disaster, 3 of whom were players. After the black box was discovered it showed that the plane had run out of fuel.
Less than a decade ago, Chapecoense played in the Brazilian 4 division. They since had a meteoric rise reaching the top flight of Brazilian soccer. The humble club from the small city of Chapeco in southern Brazil was widely considered one of the most endearing clubs in the country because of its fairytale story. This season was something truly special. Beating the odds time and time again they were able to reach the final of the Copa Sudamericana. This was to be the biggest game in the history of the club and a win meant qualifying for the most prestigious tournament, Copa Libertadores.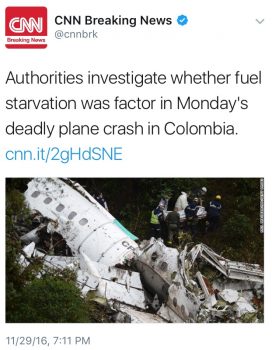 The Chapecoense players were about to live out their childhood soccer dreams together, playing on the biggest stage. Many of the players that had secured the clubs promotion to Brazil's Serie A just a couple of years ago remained a part of the team. They high flying underdogs were about to play the game of their lifetime but instead, thousands of soccer fans in Chapeco woke up in mourning after having their hopes crushed.
Fans and family members marched to the home stadium to hold a vigil and grieve together. The soccer world has shown their compassion by holding moments of silence before games and sending their condolences. Other clubs throughout Brazil have offered to loan Chapecoense players for free for a year. There is also ongoing discussions about making the team exempt from relegation over the next three seasons.