A Group of People Dedicated to Traveling the World and Putting Smiles on People's Faces.
The Harlem Globetrotters are a worldwide phenomenon that inspire families and kids all over the world. They are all uniquely talented and each bring a different quality to the court. They have traveled to over 122 countries, and 6 continents, inspiring many and providing laughter and entertainment to all. The basketball team that evolved over time from the originals was started over ninety-one years ago, but continue to inspire. They tell a story, include the audience, and do trick shots, all while playing a basketball game.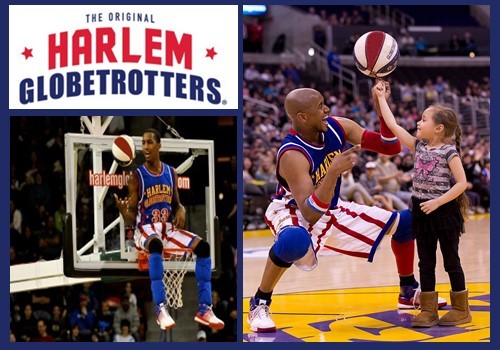 In the past, The Harlem Globetrotters have had some problems with the city of Santa Barbara about performing in this beautiful town. In 2002, three members of the Globetrotters were held at gunpoint by police and forced to lie down on the ground spread eagle because they appeared to fit the description of suspected bank robbers. They were later released because they had no part in the bank robbery, and were just roaming the town after a game.
I went to a Harlem Globetrotters game this year and got to experience the great camaraderie that they are known for, and the excellent family oriented experience that these shows have to offer. Before that night, I had no idea who they were. I knew that they were going to play basketball, but it was quite an experience. Was it obviously scripted? Yes, but you can only script so much of basketball until you see that the skills start to pouring out. These guys knew what they were doing and knew how to play the game while putting on a fantastic show. They would do dunks, trick shots, under-the-leg passes, half court shots, sidearm shots, and so on. They had the crowd's, especially the kids', full attention as they performed.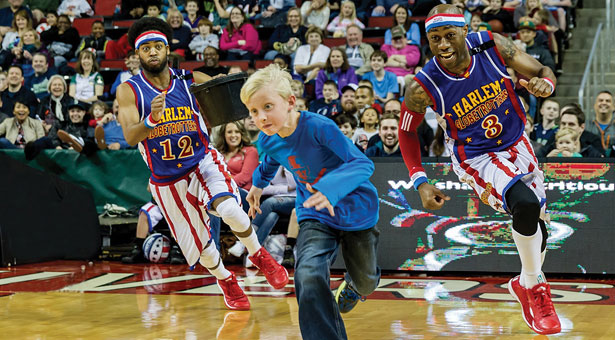 After all of the lawsuits between the Globetrotters and the city of Santa Barbara, they still put on a great show for their 91st year of performing. They rose above all the misunderstandings, and that shows a lot about their character. They are known as  ambassadors of  goodwill, and the stars of the team will leave their mark in communities all across North America playing 330 games in 260 cities. This was their accomplishment in celebration of their 90th year playing with the globetrotters.
At the website GreatAssist.com, anyone can nominate a family, community, or group of people that are in need of laughter and a smile. They are helping to bring positivity around the world to as many communities as possible. The Globetrotters have a message, which is against bullying, and they plan to bring the bullying prevention program to over 400 schools and community centers. They don't only want to have fun with basketball and give the kids something to look forward to, but they also want to be mentors for these kids. This is in hopes of teaching kids about the importance of education and physical fitness, while visiting children's hospitals to lend a hand to those in need. If you haven't heard of the Harlem Globetrotters, well now you have, so look for these inspiring athletes coming to a city near you to enjoy a night out filled with laughter and entertainment with the family.
Globetrotter's running out of the locker room before their show.