Antioch graduate Angie Bryan has been making a difference for Santa Barbara county youth. The former Assistant Director of Judicial Affairs for the University of California Santa Barbara returned to school at Antioch University to procure her second master's degree, the Masters of Arts in Clinical Psychology. Bryan then returned to UCSB to establish a recovery support system directly intended for young people.
The innovative program, titled Gauchos for Recovery (GFR), is an ongoing lifestyle support system for young adults invested in sober living. The program is available for all young people regardless of their status as UCSB students. Students from SBCC, Antioch, and Westmont are welcome to participate. Young people who are not enrolled in school at all are encouraged to get involved. Alumni and even students still in high school, looking for lifestyle support, are welcome to the Gauchos for Recovery program.
For youth, experimenting with substances is often part of the introduction to independent living away from family. Engaging in social events that convene around alcohol is particularly common for university students and is also very much an aspect of the leisure culture of Santa Barbara County, an area famous for wineries, craft beers, and gathering spots for celebration. These first years of exposure to substance use is also when young adults may notice an urgency or compulsion in their responses to alcohol or recreational drugs. The urge to participate and socialize with a peer group can confront such young people with an alienating and painful realization that moderation, for them, is not an option and that abstinence is a more realistic lifestyle. And supports for maintaining an abstinent lifestyle are not always readily available to students amidst their own age group.
This is what sets Gauchos for Recovery apart. Bryan explains that the intentions of GFR is to "help students in a different way." While traditional alcohol and drug programs provide outpatient counseling and harm reduction campaigns, Bryan seeks to encourage ongoing support for youth. "Being in recovery is hard enough," Bryan states, "Being a student is hard enough." Treatment alone does not address the long term needs of maintaining a lifestyle of abstinence. Bryan's priority is establishing a network that can assist recovering youth in maintaining their lifestyle commitment.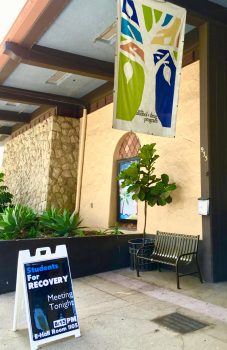 Bringing her personal experience to her advocacy, Bryan, who is in long term recovery, hones in on the most challenging needs facing students in sober living. "Finding peer support" she states, is a number one priority for "dealing with regular substance use and proximity." Being a young adult in Santa Barbara often entails an abundance of exposure to leisure activities. Bryan understands that the biggest challenge facing students in recovery is establishing a "separate lifestyle while still being a-part-of."
When originally designing GFR, Bryan posed these questions to students in rocervery programs. She asked them, "What would help?" What would ensure that meetings prioritized the needs and concerns of young adults? Her theory, she explains, was that in order to "create something for students" she needed to "let students do it."  The program was designed around tools for "balancing classes with meetings" and "providing an environment that is friendly to young people, not intimidating." Alternatives to traditional programs would enable young adults to seek environments where they could find relatability. With full county support, Bryan was able to enlist the help of student interns to design and implement the program. "The universe conspires to support good things" says Bryan regarding county support in her endeavor, "Everything aligned for it to happen."


For students in recovery, Bryan explains that GFR provides "a whole community" that gives young people "hope that they can do what they do." GFR offers a contemporary environment with peers engaged in social events and gatherings*. Camping trips, game nights, meetings, and opportunities for service are just some of the social events available to local youth. GFR employs student staff who are invested in supporting newcomers and reducing the anxiety of making new life commitments. Individual outreach is available for young people who have questions. Counselors can meet to design community recovery programs.  Bryan recommends that anyone interested in learning more about participation attend the Open Recovery Support Meeting held each Wednesday at 8:15 pm in Embarcadero Hall at 935 Embarcadero del Norte in Isla Vista. This is the core gathering and an ideal starting point. A calendar of events and meetings can be located online at http://www.ucsbgfr.com
* Covid-19 Adaptions for Social Distancing: 

In order to maintain social distancing standards during the 
2020 global pandemic, physical gatherings are temporarily 
suspended.
Meetings are available online through Zoom. 

The open Wednesday meetings are available at 8:15 PM. 
Meeting ID: 987-9802-2102
No password needed

For a complete list of meetings, please visit the GFR website.
Families are also encouraged to reach out and participate in GFR. Family inclusion at meaningful gatherings and outreach events is welcomed and encouraged. GFR celebrates member accomplishments, such as graduations, with hopes that families and friends will be positively engaged.  Bryan states, "It's a new dialogue. To be visible in recovery." She asserts, "Its okay to be in the public sphere. There are ways of speaking in public, recovery messaging." Confronting the notion that a substance use disorder is a hidden subject, Bryan encourages plain speech and open discourse in an effort to advance the conversation and renounce stigma.
     Additional support is available to students through the Americans with Disabilities Act. Students in recovery are encouraged to connect through GFR and through their schools for help with early registration, additional test time, work with anxiety, and other support options that enable recovery and lifestyle commitment. Gauchos for Recovery is a program designed for any young adult from any environment in need of ongoing peer engagement in their recovery journey. And it is with gratitude that the community can thank Antioch graduate, Angie Bryan, for her exemplary service to Santa Barbara County.