Many students will agree that considering post-graduation career options can be intimidating and overwhelming. It's at times difficult to know where to begin and how to prepare. I sat down with Antioch's new career counselor, Victoria Lugo in her office adjacent to the library to discuss her services and the importance of career planning and support for students. Victoria's background is diverse and intriguing. She was a dean at Ventura college for seven years as well as a dean of matriculation at Evergreen Valley College. She was the director of career services at Mira Costa College followed by the regional project coordinator for a program that integrated counseling, writing, and mentoring for the UC system. Her position is part of a five year grant to establish and improve career readiness for Antioch undergraduate students.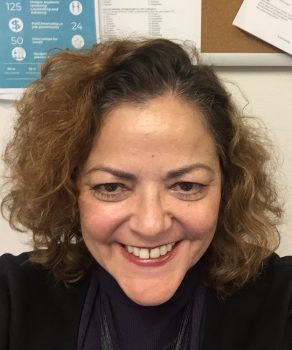 A: Please introduce yourself and tell us a bit about your background and how you started at Antioch.
V: I'm Victoria Lugo, and I started here [Antioch SB] in November 2018. I began my career in community colleges as an affirmative action officer. Working with staff diversity, doing recruitment and human resources. While I was at Cabrillo College, recruiting members of the public and people to come and teach, I found myself gaining a lot of expertise on career development, interviewing skills and job development. I had, prior to that, received my bachelor's degree in Economics from UC Santa Cruz and subsequently went to the University of Texas for their graduate program in public affairs. And so I thought, "what can I do next?" And there was a dean there, a dean of student services, who kind of mentored me, and he had his masters in education counseling from San Jose state. So I said, "that's what I want to do!" So I went to grad school and got a masters in counseling and that's when I started moving towards more of the career-dean pathway. I have spent 27 years in higher education. A little bit of this and a little bit of that, going both north and south. I am originally from Los Angeles but did my undergrad in Santa Cruz and then found myself back in Southern California and eventually landed in Ventura. I've been in Ventura for around ten years and it's my happy place!
"My mission is to help students look at and think about their futures and what kind of careers they would like to pursue after they graduate."
A: What sort of services are provided through Antioch's career counseling center? And what unique services are you bringing to the table with your diverse background?
V: My mission is to help students look at and think about their futures and what kind of careers they would like to pursue after they graduate. Also, if they want to apply to a masters program, I can help with their personal statement, application materials, and give tips on how to write their admissions essay. Also, resume writing: a lot of students have a resume, but I can review that and infuse it with more appropriate job language so they are more competitive in the job market. I do a lot of… I'll give you an example of a student who came in this morning who wanted to do something with psychology and I said, "have you done any career research in the whole area of psychology?" And she said, "no." And I said, "OK, there are so many places you can go. You can do public or private sector. You can do a masters in counselling. You can do brain theory research. There are a million places to go." The first thing I would encourage someone to do is a Google search. It's so easy these days to find information about what you can do. If someone is struggling I'll do some mentoring, skill development, and brainstorm ways to maximize study time. I will look at factors that impede somebody's success; maybe they don't have a place to study, or they've got kids. I try to find a way that, when they're at school, they can stay longer and utilize the resources if they don't have a computer at home, or if they don't have quiet time at home. So I take a holistic view of what students need and try to make their academic experience a little better. I have this experience that's just all-around (I've done a lot of different things), and so I know a little bit about a lot of things. I can really help students go a little deeper and drill down into finding something that they specifically want to do. I think, and you'll figure this out when you're in the Capstone Project, social justice issues are THIS big and you need to bring it into a workable focus, like "I'm going to look at this one issue and try to resolve it." So I try to bring the perspective from big picture to little tiny picture; what is the one thing you're going to do to change the world?
A: Can you tell me more about the internship program?
V: Students come here and we discuss what they're interested in and what their goals are and I have a list of internships that are established. But a lot of times a student will say, "well, I'm doing volunteer work with this place and can I turn it into an internship?" And I will say, "yes, as long as you establish goals and objectives that you want to accomplish and you have a supervisor and you put in your time, we'll certainly work within your schedule and what you want to do." A lot of the students drive in. I have a lot of students living in Ojai, Ventura, Oxnard, SLO — students come from all over. So I try my best to accommodate their schedules so they're not bouncing all over the place. If they live in SLO and have a day off and want to do their internship in SLO, then certainly I will encourage them to find something local if we're not already partners.
A: What is your availability like and what are your office hours?
V: I'm here Monday through Thursday, from 9 to 6. I have some scheduled meetings every week, but the majority of the time I'm pretty open to, if I don't have a student, having a drop-by. Because I know that sometimes you're here and say, "I want to grab 20 minutes with that career counsellor!" And so, certainly, I'll accommodate anybody who wants to just drop in or chat or look at their resume or to email me their resume. I love google.docs because they can share their documents with me and I can suggest changes. I feel, when you're a student, you don't think about the skills that you're acquiring through your education, so I can kind of pick pieces out of courses you've taken and put that either in your skills section of your resume or in some relevant place where you can say "I DO have computational skills because I took that statistics class." So let's put that in there. Things you don't really think about.
A: Anything else to add?
V: Just that I'm here to see students. I'm not here to push around papers. That's part of my job but my passion is meeting with students and getting them their dream jobs, their dream internship, seeing where that goes. And if they're going to be going on an interview I can give them tips. We can do a mock interview and we can tape it…I think that's really helpful: for you to see yourself and how you interact with another person, and your body language. All of those things that people actually rate you on when you're in an interview. I'm kind of a one-stop-shop.