People in their 20s often succeed
This is the most common New Year's resolutions
New year, new opportunities they say. A lot of people look forward to start anew with a new year to make the change they have been thinking of for a long time, but only a few people actually make it to the end.
When you are reading this you are probably still holding on to your New Year resolutions. About 45 percent of Americans have New Year's resolutions, and 71 percent manage to keep them during the first two weeks, according to a study at University of Scranton, published in the Journal of Clinical Psychology and StatisticBrain.
Roughly 46 percent that will keep their resolutions for half a year.
– Wow, that was more than I thought. I think it reflects the fact that many call it New Year's resolutions, but in reality there are changes that you wanted to do for a long time, says mental coach Haakon Hjortmo.
The survey shows that people who write down their New Year's resolutions is ten times more likely to reach their goals than those who do not. But only eight percent of respondents report that New Year's resolution has become a lasting change in their lives.
All about discipline
Those who most often succeed is the younger generations. According to the survey 39 percent of respondents in their 20s stick to their New Year 's resolutions every year.
Hjortmo think that people have realized that it is actually about their own future. Are you unhappy with something in your life – yes, then you have to fix it yourself! Easily.
– You are waiting for things to change, but often it never happens. If you get tired enough it may inspire you to get your ass up and out and do something about it, he says.
– A good life is all about discipline. It's about doing the things we know is right for us, but the hardest thing in this world is to actually do it!
When December ends and new opportunities comes, many will be inspired to make the changes they dreamed about.
You should not be joking about New Year's resolutions, it has changed lives before and it still does.                 -Haakon Hjortmo.
Focus on the consequences
The reason many New Year's resolutions slips is that many people give up too early, says Hjortmo, and elaborates:
– Say if you reach your goal, are happy about it and then you quit. If you reach your goal, that's grate, but then don´t just go home and relax, set up new goals, work for them and you will feel invincible.
Hjortmo think you has to be aware of why you reach your goal and how life has changed in a positive direction!
– Remember the more you want a change in your life, the more likely it is that you will get started. And if you are working on this for a while, you will create a new habit in your life.
The mental coach says that to ensure success with your New Year's resolutions it is often advisable to visualize what you want to achieve – or you could think about the consequences of the changes. How will your life change for the better?
– We are so lazy that the best way to do it is to focus on the consequences of the changes, says Hjortmo.
According to the survey, most of those who succeed with their resolutions are those who want to be a better person or get better grades.
38 percent of respondents have succeeded with weight-related New Year's resolutions, while 31 percent succeeded where relationships and love was the focus.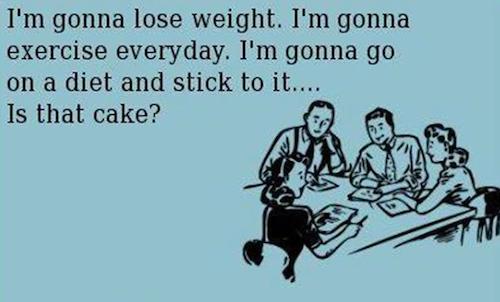 Top Ten New Year's Resolutions
Lose weight
Be more organized
Spend less, save more
Enjoy life to the fullest
Stay healthy
Learn something exciting
quit smoking
Helping others to reach their dreams
Fall in love
Spend more time with family
Source: New Years Resolution Statistics, University of Scranton