Music is the air I breath, without it I would not be able to feel alive.
Fabrizio Mancinelli is an italian composer, who moved to Los Angeles ten years ago in order to pursue his dreams.
A composer and a licensed Italian attorney, he holds a degree in law and a master's degree from USC in scoring. Fabrizio since little realized that music was going to be a big part of his life, and by facing many challenges and obstacles, for example it was not easy for him to be able to stay in the USA and continue his work, he also had to face many living expenses but he is now a well known composer in Hollywood.
In 2015, he was awarded a fellowship to attend the Sundance Institute Lab Film Scoring and he recently composed the scoring for the red carpet of the Golden Globes 2016.
Currently working for companies such as Walt Disney Studios and Lionsgate, he also has his own music production company called Film Scoring Lab Inc. Ready for other adventures, Mancinelli is a person that will never stop dreaming.
1.What made you come and study in the USA?
It was a dream I have always had and nurtured since I was a young boy. The American dream grew in me, watching Disney movies and through them (not only the animated old ones but even the live actions) learning the American culture.
2.Why Music?
Because I can't draw…Jokes apart, I have always been fascinated by art in general and Opera Theater has been my first love. Action, movement, scenes and music. And movies are the evolution of the operatic social function.
3.What were your musical influences?
For sure I can say Puccini, Verdi, Menotti and Samuel Barber.
4.How do you find your inspiration?
It's difficult to say. Otherwise I would have always the key to solve any creative block. It depends on my mood, on the day on my surroundings, on what my life has been lately. I get very easily inspired lately after spending times with my dear one, memories are a good source for inspiration!
5.Becoming a composer is not an easy career, what made you keep going?
I am Italian, which means stubborn at times. And failures, they hurt, but they pay you back for your sacrifices. And I smile because I am a curious human being. Curious about the marvelous things that can happen!
6.The American Dream is still out there just like it happened to you, from dreams to reality, how do you describe this adventure and challenge?
Like everything in life, the American dream idea evolved. So my adventure has not been about pursuing it, but more about searching the path to it. I feel like I am walking in the right direction…hopefully. My suggestion is…don't use a GPS to find your "right" path. How-to books or guides are seldom useful. Otherwise everyone would be a success story. Your success is inside you and the tools you develop. More important: be nice to life and people. The path is so hard and difficult, why make it unpleasant?
7.Describe your life in three words.
Serene, fulfilled, simple.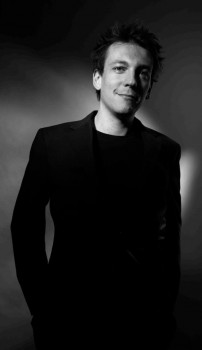 Fabrizio is someone who has poetry in his heart and who will never stop to create music and be inspired by the many things in life.
Mancinelli hopes that his music one day will be heard by everyone. In the meantime, enjoy some of his best scores which were composed not long time ago: soundcloud.com/fabrizio-mancinelli
For more info about Fabrizio Mancinelli: http://www.fabriziomancinelli.com/