Dustin Parks, the front man for his reggae/rock band Cydeways, has recently signed with Law Records, and their jump to fame wasn't another Hollywood success story, but more of a small town Santa Barbara grind with a touch of luck. Dustin is from Boston, Massachusetts where he started playing music at a young age, and like most young musicians, he dreamt of the spotlight. He started as playing in reggae bands with his buddies in high school but when came to graduation, everyone started going their own way, and Dustin found himself enrolled into a local college in Boston.
"I remember sitting in a business class in Boston thinking this isn't for me, and right then and there I dropped out."
Dustin and his buddy Trevor Buckingham, who is now Cydeways' producer, started their own hip-hop reggae duo and prepared for the move to California.
Dustin was first to arrive in Los Angeles, while Trevor stayed back to focus on the producing aspect of Cydeways, and he was quickly taken back by how many people like him were out there chasing the same dream. Though he was in Los Angeles alone he did have a couple friends living in Santa Barbara who he would go out to visit here and there to get out of the wildness of the big city.
The more Dustin visited Santa Barbara, the more he started to see how great the music scene was here. After giving it some thought he decided that "Los Angeles is the place to go for anything in the entertainment industry… but for what I was doing I didn't have to be there." He ended up moving to Santa Barbara about 5 months later.
Once he got here, he put together some guys and started building his dream band, Cydeways. His first few shows started in Isla Vista, a small college community next to University of California, Santa Barbara. It's a young community notorious for its club style parties and beautiful cliff views became the home to some of Cydeway's first big shows. Dustin explained, "I played for more people at a party in IV than I have at some venues." Playing music on a makeshift stage made of buckets and plywood overhanging a 40-foot cliff into the ocean surrounded by 200 crazy college kids was one of his favorite crowd scenes he described to me in our interview.
Eventually, after the Cydeways name started to move around Santa Barbara, they started getting gigs at local bars and events where they were able to meet some bigger names in the reggae scene. One of the bigger bands Dustin and the crew met was Iration.  At first, he said, "They didn't even know that I even played music, but they were cool, we became friends, so I didn't push it."
The last couple of years Dustin and Cydeways have been spending their days producing albums and playing shows around Santa Barbara and Isla Vista living the California life.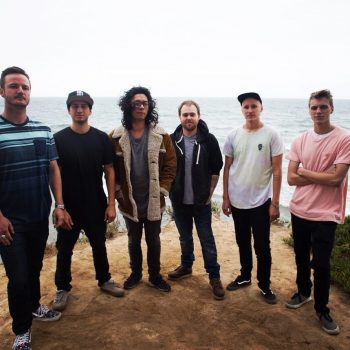 However, recently this all changed. One day when hanging with the lead singer Micah Pueschel of Iration,  Dustin said, "I just was jammin on the guitar and he looked at me like, 'You play music?'" Once Micah was filled in on Cydeways he immediately told Dustin to send some tracks and within two weeks, he was sitting down with the CEO of LAW Records. "The biggest thing for me was signing with a record label I have looked up to for years. It made me realize that this isn't some crazy dream anymore. It's possible to do it if you work hard at it. I gave up everything for music; friends, family, the place I grew up, just to take a shot at it!"
With dreams of bigger venues, more people, and more towns; he says that he'll always be thankful for what Santa Barbara has given him. You'll still find them playing here in town as they wrap up a new album and figure out where to go next. I am not a music expert but as a fan, given their style and drive, they'll go from living the California life to living the California dream.