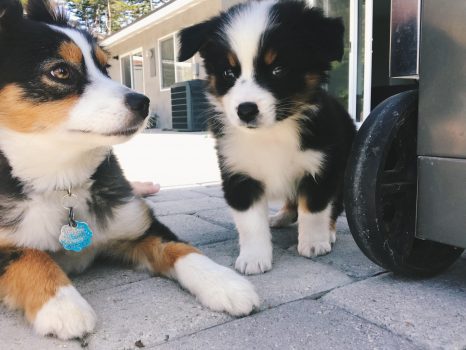 Romeo and Julietta are two Miniature Australian Shepherds from Buellton, CA. Romeo is 10 months and Julietta is 9 weeks, and although they are not technically brother and sister, they are absolute best friends. Romeo's favorite activities include running around in circles and letting other dogs try and catch up with him, and collecting sticks at the beach. Julietta is a new addition to our family, but so far she enjoys chasing her big brother around the house, playing tug-of-war, and napping.
Best place to bring your pup to BREAKFAST: D'Angelo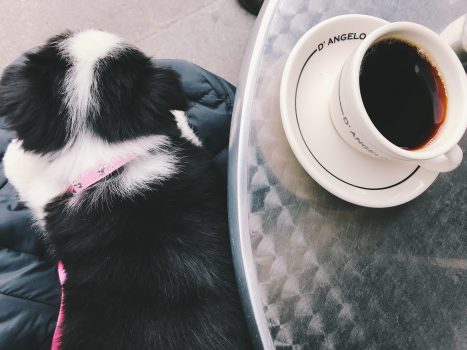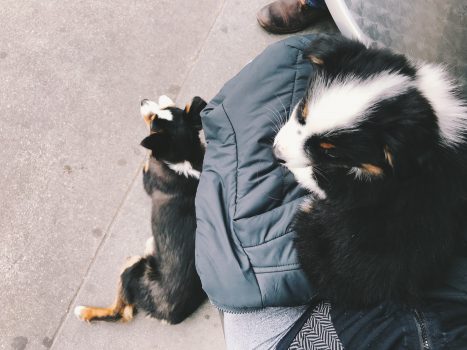 D'Angelo is an absolute "go to" when looking for a great tasting breakfast in downtown Santa Barbara. The small bakery is a complete hidden gem and the outside patio accompanying it is one of the most dog friendly spots in Santa Barbara. It fills up on the weekend, and we consider ourselves lucky when there are still some of our favorite homemade cinnamon rolls left to go with our morning coffee. Romeo and Julietta love to hangout and stare down the other dogs (usually each outside table has a furry friend as well!"
Best place to bring your pup to LUNCH: The Natural Cafe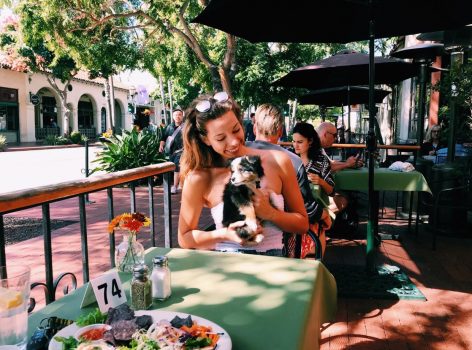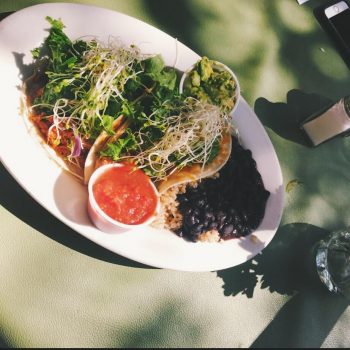 The Natural Cafe has a great patio for a puppy lunch date on State Street. Although there is heavy foot traffic coming from the popular street, and many will stop you to pet your furry companion, the patio of the cafe has great shade spots and the staff brought out a little water bowl to welcome us when we went on a warm day a few months back. Even though this place is very vegan-friendly, went for the chicken tacos. Julietta said: "Casual and cool, that's all I can ask for!"
Best place to bring your pup to DINNER: Arigato Sushi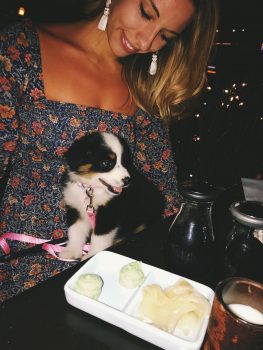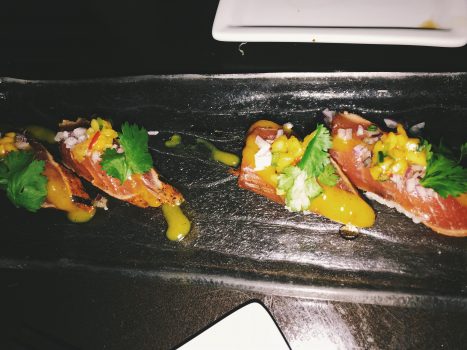 This is a regular night for us. I mean, what more could you ask for me? Dinner under the twinkly lights of Arigato's patio with some good food and good company. Sushi is one of my all time favorites, and there are not a lot of places in town that combine yummy sushi with a pleasant ambiance. Plus- anywhere with a dog friendly patio on State Street has me hooked. My favorite item on the menu is the Mango Ahi Nigiri, and no matter how hard she tries, Julietta will never steal a bite of that delicious plate! Tag wailing and tongue dropping yet?
Best place to bring your pup to DRINKS W/ A VIEW: Deep Sea Tasting Room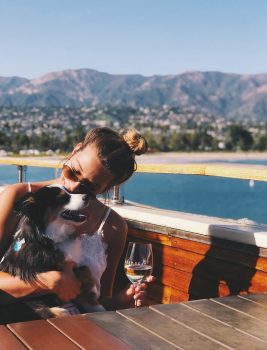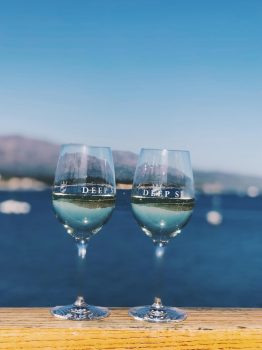 Not hungry? No problem. If the Deep Sea Tasting Room had food- we would be there everyday. But they do have great wine and arguably the best view in Santa Barbara. It is Romeo's favorite spot, probably because the employees spoil him with treats and kisses. With the cool harbor breeze on your face, the Conway Family Wines' Deep Sea welcomes all pups big and small while you can sit back and relax. The pups can't go far on the small patio, which means one more glass of their delicious Sauvignon Blanc. Romeo says, "I can't see the view unless Im picked up, but I'll hang under a chair all day if it means free treats!"
Best place to bring your pup to EAT: The Brewhouse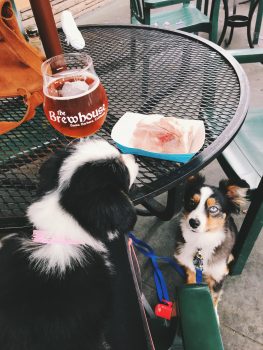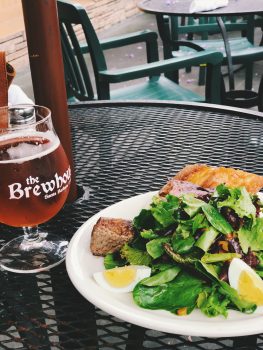 With so many awesome restaurants in Santa Barbara, sometimes there is just nothing that pushes you toward one over another. Some have great food and others a view of the ocean. However, for a dog-mom of two, finding a place that I can lug the two furry rascals to is always a plus, and there's no place like The Brewhouse. Put aside the fact that their ahi salad is one of my favorite salads in Santa Barbara, Brewhouse actually has a Brew-Dog Menu, which offers a selection of different plates for your furry friend. Romeo picked out "The Frozen Marrow Bone" for his lunch, and Julietta watched in agony. When she gets older, I will definitely be back just for this dog friendly menu!