A Non-profit Dedicated to Supporting the Arts, New Noise Music Festival Has Been Influential in Shaping the Santa Barbara Music Scene Since 2009. After Experiencing the 2016 Festival, We Interviewed Founder Jeff Theimer to Get the Scoop On How NNMF Started and What's Up Next.
Photography by: Jillian Fowler
Every October, New Noise Music Festival turns a little corner of the Funk zone into a low-key block party for three days of music, food, and networking with local vendors. The festival and non-profit was created by Jeff Theimer, who still runs the show with his wife Crystal.
Although the festival is small in stature, it provides a unique experience exclusive to Santa Barbara without compromising on quality, or price. The most impressive aspect of NNMF is Theimer's ability to get big name artists to play, while also introducing us to local talent- many who have had little to no exposure up until this point.
NNMF's dedication to helping and including local artists is what makes the festival truly special. This year was certainly no exception, as they chose Young Million to be the kick off band at Velvet Jones Friday night. It was Young Million's first official show in Santa Barbara, founded by Antioch alumni Kyran Million, his brother Michael Million, Erich Riedl and Nate Modisette. They shared the evening with Indie favorites, The Soft White Sixties, an exciting combination for fans and artists alike. Will Ridge band, Dot Plaza, Saint Mesa and Shadow The Wild also played. Due to the beloved intimacy of Velvet Jones, and the strong local presence, the show was exciting and full of energy.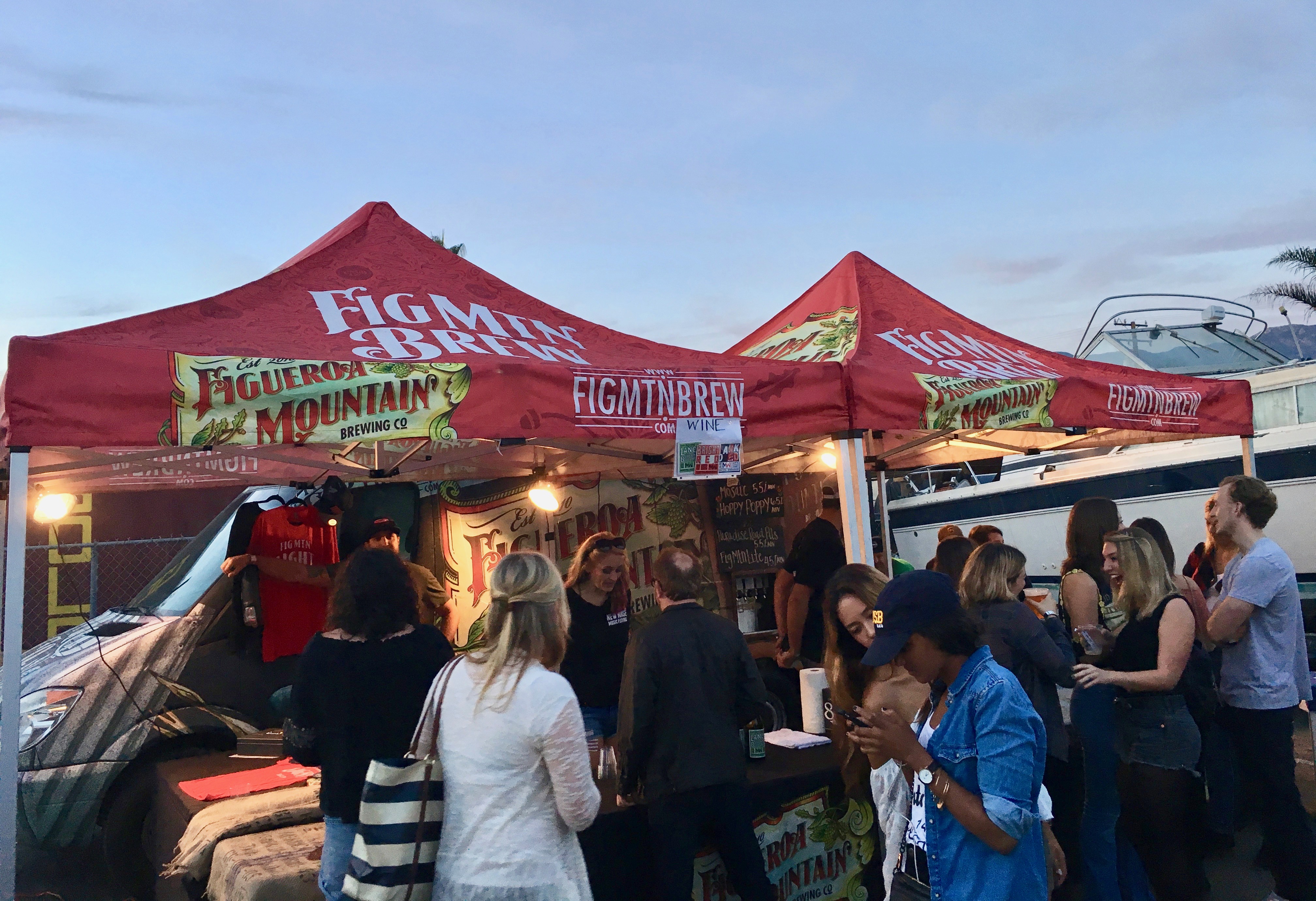 Saturday kicked off around four pm, with a mellow start before the evening. People were enjoying Mony's food truck, and browsing the small strip of local vendors. As the day wore on, it brought in a younger crowd, packing the Figueroa Mountain Brewing Co. beer garden by sunset. Saturday showcased a collection of indie artists, with Unknown Mortal Orchestra, Night Riots, and Kolars. STRFKR headlined, playing a killer set to close down the evening. I've seen them play three times now, and this was by far one of my favorite performances, thanks to the intimate stage created by NNMF. For those who still had enough energy left after their performance, the night of music ended at Velvet Jones with Ho9909.
Sunday was a much mellower atmosphere, perhaps a few patrons were still recovering from the previous evening. The event lasted as long as the daylight did, showcasing various reggae and punk artists with Mad Caddies, a now established band from SB, headlining. By the time The Expanders played the final set, it was mainly passionate fans of the music and kids dancing with their parents, left in the crowd.
After wrapping up a weekend of music, beer and tacos, fellow Odyssey writer Jillian Fowler and I interviewed founder Jeff Theimer about the creation of this unique festival and where he sees it going after wrapping up their fourth production.
Growing up in Santa Barbara, Theimer was inspired at a young age by the shows he frequented, and became deeply involved in the music scene. He started a punk band and began playing with local acts, which he said "was a fun time for sure." It wasn't until he was later living in LA, working for a radio station, that he got the idea for New Noise Music Festival; after seeing the changes the music industry was going through. A long time fan of SXSW, he witnessed it's evolution and "thought there was room for a boutique festival that was more focused on just music."
"Growing the festival into something Santa Barbara can have each year that is a bit different…is the goal. It takes a ton of money and work to produce-even with a beer budget."
After pitching the idea to friends and the Santa Barbara Independent in 2009, the New Noise Music Festival was created and "we haven't stopped since." Creating NNMF may have seemed simple, but actually putting it on was not. When I asked him what it took to get the festival going, he summed it up with "permits, sponsors, politics, community, relations, agents and fun!"
As far as funding goes, the City Arts and Festival's grant they received was crucial to get things going, and they still heavily rely on it. Theimer says that, paired with "a supportive mayor who truly sees the value in the music and arts" is what allows NNMF to keep going strong today. However, it took a lot of work for everyone involved, with a fair share of negotiation with the city and the community in order to build a trustworthy relationship. "But I think they dig us and we dig them," Theimer said. "Hopefully we can grow the relationship in the coming years and add other collaborators to make NN bigger."
New Noise started out as a conference festival, the first festival launching in 2013, with multiple shows a night at various venues across town. This is Theimer's ideal vision for NN, but it wasn't cost efficient as a non-profit, explaining "If we had a ton of money and some staff, we'd definitely be down to do it again that way."
"I really do care about the bigger picture and bringing new music to the streets of Santa Barbara excites me."
Although the unavoidable tight budget that comes with operating a 501c3 non-profit might be a pitfall, what they do with their funds is what makes NNMF unique compared to traditional music festivals. The proceeds are continually distributed locally throughout the year to various different organizations and artists. They fund youth local artists by helping them get performance opportunities, and ultimately use the festival as a promotional and supportive opportunity for local organizations, causes, and artists they want to support. As Theimer explained, "growing the festival into something Santa Barbara can have each year that is a bit different…is the goal. It takes a ton of money and work to produce-even with a beer budget."
So how exactly does a small time music festival with a tight budget get big headliners ranging from STRFKR, who played this year, to bands like Imagine Dragons and Edward Sharpe in past years? Theimer credits the cities accessible location, only a stones throw from LA and SF, to good timing and his stellar reputation."We know going in that we don't have the money others do…we rely heavily on our reputation of taking care of the artists and doing what we can to assist them even after the festival."
At the end of the day, it's all about the music, and if bringing more artists to Santa Barbara "is all that ever happens, that is cool with me."
Each year, he sits down with his talent buyer from Numbskull Productions and creates a wish list of possible artists. What makes an artist possible greatly depends on whose touring nearby come October, since the small budget isn't exactly the motivator for artists to come play. After they've sent out their offers, they wait and see who wants to "pop up for the weekend."
After dedicating seven years to creating, producing and managing NNMF, what is it that makes Theimer stoked and passionate about continuing? Simply put: "I really do care about the bigger picture and bringing new music to the streets of Santa Barbara excites me."
Over the years, his eagerness to "ensure that music and art has a place in the heart of downtown Santa Barbara," has not wavered, and he only wants to continue collaborating and growing in order to make this goal a lasting reality.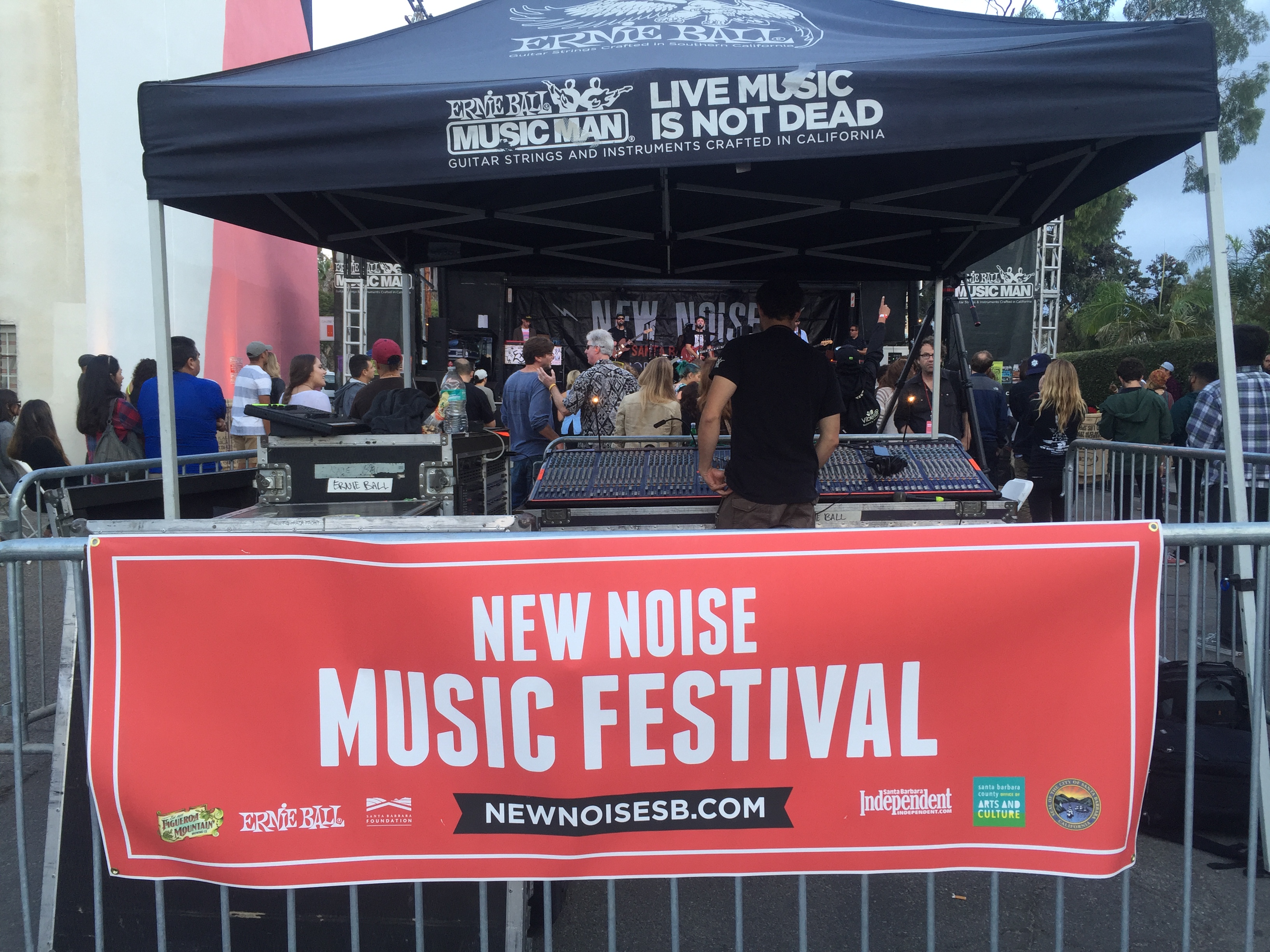 Theimer understands this isn't easy, especially in a small market like Santa Barbara. He hopes that by having NNMF, it will attract bigger artists to preform in a town they might normally pass up. Although Theimer wants to give Santa Barbara access to established talent, ultimately he wants to grow the existing talent. NNMF is "a resource for artists and those who want to work in the music biz." As someone that has witnessed local talent launch their careers from this tiny coastal town in the past, he's confident that that can continue to happen if they supply the resources.
New Noise Music Festival has certainly been embraced by the locals here, but Theimer has plans to make it bigger and better so NNMF can be the best resource it can be. Next up? He wants to bring back the conference style in the upcoming festival, and make the block party bigger by involving more local organizations. At the end of the day, it's all about the music, and if bringing more artists to Santa Barbara "is all that ever happens, that is cool with me."