Today, it seems as if bicycles have replaced cars in many cities. They have become the best way to commute to work, school or simply get from one place or another. Then, along came the electric bicycle, which has been noted as a major technological upgrade from the regular bike. We want to know more about electric bikes and what is so great about them. Mark Gustafson, the co-founder of "Story Bikes," sat down with Odyssey to tell us the story behind his company of electric bikes that are seen everywhere around town.
"Story Bikes started in the fall of 2016 when Jason Lam, Matt Soares and myself were in Santa Monica and rented electric bikes to try for the first time. We realized how fun they were and it was a great way to get around, get us out of our cars and back on bikes like our UCSB days" said Mark. "As a former competitive cyclist, I wanted to find an electric bike that was stylish, well built, and still affordable; but everything on the market was expensive, bulky, and not the look of something any of us would have wanted to ride."
"So I set out to build the electric bike that I was looking for. After multiple prototypes, we came up with the styles we are selling today. Our patented frame design has the battery hidden in the frame and we used the latest technology while keeping it affordable."
Mark said that as friends at UCSB, they had always talked about starting a company together. They didn't just want to create a product, they wanted to build a lifestyle brand with a bigger purpose. Through their various experiences and travels, they have all seen the drastic need for improved modes of transportation in developing countries.
"So we decided we wanted to be a true one for one company, donating a regular bicycle to those in need for every Story Electric Bike sold" explained Mark.
Story Bikes did their research and found World Bicycle Relief. They partnered with them to organize their donation efforts. WBR donates to school children, health care workers, and entrepreneurs in developing nations.
"The power of one bicycle on a community is profound. It helps those overcome the obstacle of distance and thrive," said Mark.
"The Story team will be traveling to Zambia this Fall to help WBR deliver the bikes and we will be able to show the impact first hand to our customers," Mark continued.

Why has Story Bikes been so successful? Mark thinks that "Story brought a unique product to the market at an affordable price. There are many electric bikes out there but they pretty much all look the same and are expensive. Our in-house design and direct to consumer model has enabled us to deliver a great product at a great price. We launched in 2017 on Kickstarter and since then have been delivery bikes to happy customers worldwide."
Here at Odyssey, we love everything local, and so does the Story Bikes team.
"We are very active in the Santa Barbara Community. We work with SB Traffic Solution, the Community Environmental Council (that puts on earth day), UCSB Transportation Alternatives Program. We also have donated Story Bikes to the Unity Shoppe and the local Boys and Girls Club to raise money for their organizations," Mark said.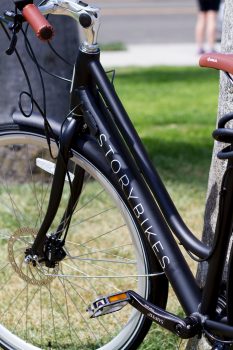 So, how does an electric bike work and what should one think about when purchasing one? Mark explained that their bikes use torque sensing pedal assist technology. It senses when and how much you are pedaling and the electric rear hub motor gives you assistance. The assistance can be set so that the motor is doing most of the work, or you can set it so it's just assisting you a little or even turn it off completely.
"The great thing about Story Bikes is that they still look and ride like a regular bicycle. Many electric bikes on the market are big, clunky and heavy. You can use the motor to assist your community to workout and not break a sweat, then ride it like a regular bike for a workout on the way home."
Odyssey Staff writers Angela Yago and Cecilia Rosell decided to try one of these bikes to get a feel for how an electric bike works and really understand what Mark explained about the technique of the bike. Their reaction? "It was a blast!" Not only does it feel easy and fast to bike from one place to another with the assistance of the motor, but the design is so stylish and modern!
Odyssey gives Story Bikes a 10/10 for trend-setting, philanthropy, and entrepreneurship, which are all qualities AUSB loves in a company.