Santa Cruz Island
Here in Santa Barbara, as we gaze out towards the deep ocean we don't see a horizon, but rather a formation of islands that we all know are the Channel Islands. They are taken for granted everyday by many of us in the Southern California area. As this was and still is the case, I set a course for Santa Cruz Island to see what life on the islands was like; I know that there is more to them than everyone has made them out to be.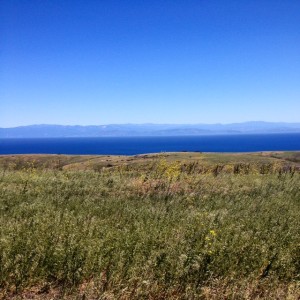 – Standing at the highest point of Santa Cruz Islands, 2400 ft. looking back towards the California Coast – 
Santa Cruz Island was, and is now still the largest island off the coast of the United States. Santa Cruz Island is currently partly owned by the National Park Service. The island just outside of the Santa Barbara coast line is twenty two miles long and anywhere from two to six miles wide. I hiked across the six mile section from the north side to the south side of the island. A round trip of twelve miles approximately. The island is amazing, so quiet and peaceful, flourishing with an ecosystem all of its own.  The plants, the birds, and the few wild foxes I spotted, all share a role in sustaining a life on the island. The view looking back to the main land is unbelievable, truly a parallel world where you are standing looking out twenty two miles at home from a place you only see a glimpse of every day.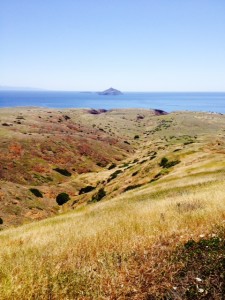 – The view looking East down at Anacapa Islands across the warm, dry, grasslands   –
After spending upwards of six hours on the Island it became clear to me that this is really an amazing National Park that is only a short boat ride away. Everyone should be taking advantage of this. Plus very few people see this as an asset to the Santa Barbara community. I would encourage everyone to make the trip out, and experience something that is hard to find anywhere else in our area. Other than the hiking trails, the Santa Cruz islands also offer kayaking tours, snorkeling in the clear kelp canapés, and over night camp sites. Free of light pollution, the stars and milky way are an awesome sight across the night sky.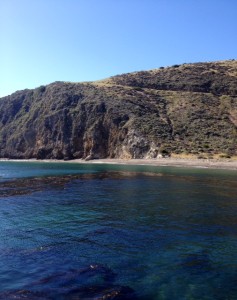 – Scorpion Cove, the main kayak and snorkeling launching point – 
These services are all provided by Channel Island Outfitters located at the Paddle Sports Centers in both the Santa Barbara and Goleta Marina areas. A great adventure for family, couples, and groups of friends. There is no special occasion needed to go and experience nature at its fullest.
Photography by: Lauren Salsbury