Santa Barbara has always been a place of beauty. The rugged, chaparral mountains meet the sea, creating a west coast Mediterranean paradise. It's no wonder that there is a plethora of artists and creators that call this land home. Whether it's performance art venues like the Granada or Arlington, the numerous museums and art galleries, or the weekly arts and crafts fair by the sea, Santa Barbara has a rich community of artists. In recent years especially, there has been a surge of innovative creators opening up shop in SB. Creators like Make Smith Leather Company and Moon Minded Medicine have become familiar names in the Southern California artists tribe.
With the holidays quickly approaching there's no better time to support your local makers. Small businesses and local artists rely in large part on the holiday season for their livelihoods. Holiday shoppers have the option to shop local and support this part of our vibrant community.
Here are the top three makers markets to support this holiday season-

Homespun- December 8th @ Casa De La Guerra
This whimsical makers market has previously been held at the seaside property, Dos Pueblos Orchid Ranch.
This year the venue will be in downtown SB at Casa de la Guerra, the 17th-century adobe museum. This event will be beautifully curated with 60 makers participating.

Location- 15 East De la Guerra Street
"The spirit of Homespun was born out of my desire to create community. A marketplace for incredibly talented people to sell directly to the consumer. I pride myself on making the show affordable for artists to participate. So many craft fairs these days have become corporate and costly. I will stop doing the show if I ever fall into the trap of greed. Bottom line, Homespun is my once a year labor of love. It's a huge amount of work, but it's worth it. I love that we are hosting the show this December at Casa de la Guerra. I was born and raised in SB and I want to do what I can to bring people back to downtown."

-Homespun's founder Beth Kuttner
Poetics of the Handmade– December 1st @ The Lower Lodge
The historic Lower Lodge has a rustic homestead-like feel that evokes a coziness unique to this Santa Barbara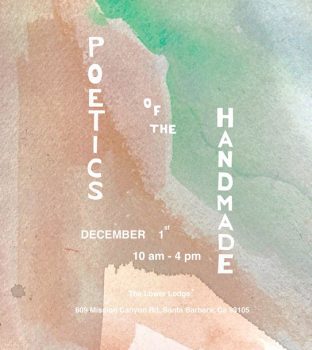 boutique. Located near Mission Creek and Rocky Nook Park, the majestic 19th century Lower Lodge resides in an old carriage house. At the event, Municipal Winemakers will be serving a selection of local wine, and food artist Ayda Robana will be offering decadent sweets and vegetarian bowls. This community-oriented and family-friendly event will have music, craft making, and a variety of local artisans and vendors.   
Location- 609 Mission Canyon Rd.
Santa Barbara Night Market– November 23rd-December 29th / Thursday-Sunday 4-10 @ 701 State Street
Santa Barbara's first European style Christmas market will be a feast for the senses. This type of traditional Christmas market or Christkindlmarkt originated in Germany as a celebration of the four weeks of Advent. The pop-up market will run for five weeks, with food, Christmas decorations, and caroling. Local artisans are encouraged to participate but larger local businesses will also be involved.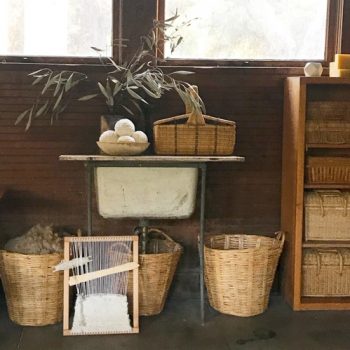 When artists create their work, it feels as if their souls go into it. The hours of labor, the love, the dance of vision and creation. It's a challenging and unbelievably fulfilling process to create something from nothing. And to aid that artistic process financially is a valuable and ultimately necessary part of the continuation of that creativity. It's a wonderful feeling to support a local artisan who has dedicated so much time to their work.