I couldn't believe how the flavors just bounced off my tongue.
Let's be real here…everyone loves pizza. You may say it's against your diet or it needs to be organic. Whatever. But be honest…pizza is the go-to cheat for anyone. So make it a great one.
Taffy's Pizza has been serving Santa Barbara since 1979. And it is right they have been. A little hole-in-the-wall converted house may not look like much from the outside. But like most things…it's what is on the inside that counts. Walking in to order, it looks like any other order here place. Walk up, order, take your number, and get your drink. Walking back to sit is where it gets interesting. The back is converted from an old house into a small dining area with a flat screen tuned to SportsCenter as well as a bookshelf full of classics and interesting children's books. Off to the side is a banquet-style room with windows and the house fireplace. It creates a very relaxed and enjoyable atmosphere. Attached is a very open patio space as well. Closed off from the street gives it a more intimate and safe feeling.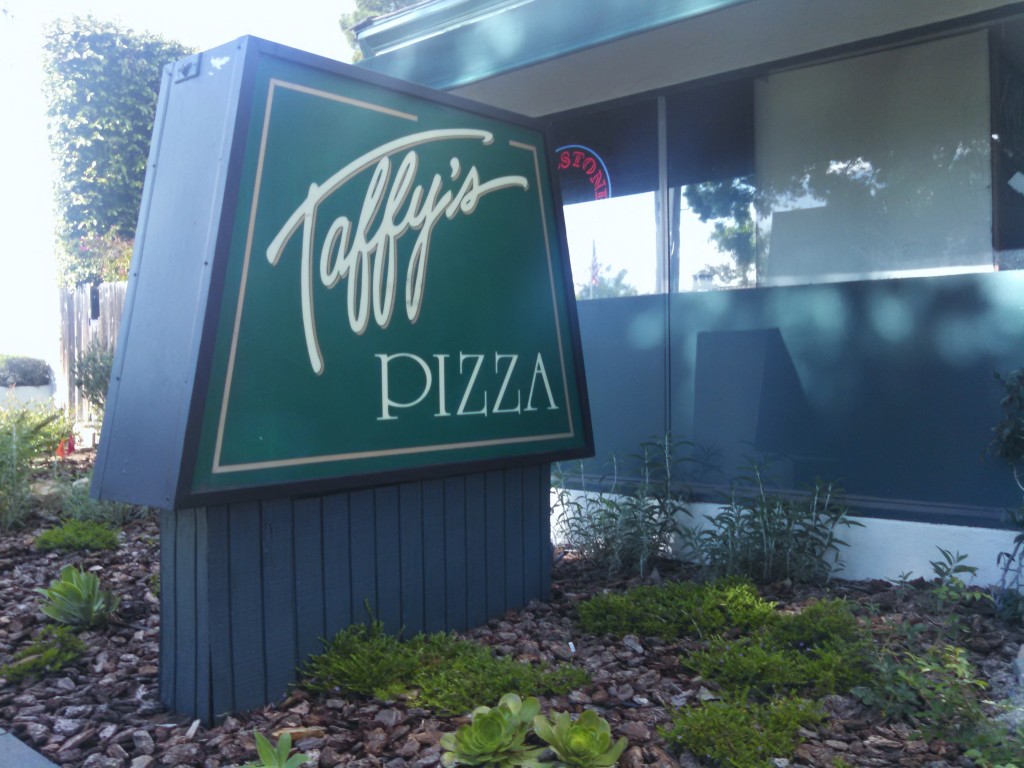 Now the pizza. I am far from a food critic and don't know the technical terms but pizza is clear when it is delicious. I ordered mine to eat in and was served breadsticks with marinara and ranch to munch while waiting. The twisted style looks interesting and is crunchy on the outside and it is soft and warm on the inside. The marinara is sweet and tangy to compliment the bread perfectly. I couldn't believe how the flavors just bounced off my tongue. Then my pizza arrived. I order by default at new places and didn't change that this time: ham and black olives. The common order gives me a chance to compare pizzas at different places and really tell which is good and which I will not order again. I was not disappointed. The size for a personal was immense and the crust was soft and thoroughly cooked. I immediately asked for a box, knowing I couldn't eat it all sitting there. The first bite melted on my tongue. So soft and smooth, the tangy bite of the marinara. It all mixed perfectly.
So will I be going back? Definitely. Those reading this, should you check it out? Go for it. Taffy's Pizza on DeLaVina is definitely a must-go for anyone visiting and for locals to make one of their favorite hotspots. But is it just pizza? Of course not. Taffy's Pizza offers pasta, sandwiches, salads, soups, and lunch specials.