Santa Barbara is known for its Mexican inspired cruisine . Most of them serve some sort of burgers, not necessarily a hamburger though. The building combinations are endless. There are many different kinds of buns, meats, and sauces you can use and the condiments are next to unlimited.
1. Nectar Eatery & Lounge
What used to be Blue Agave, many locals favorite hangout spot, has now turned into a new and fresh place named "Nectar". Although they just opened the owner of the business has been in the restaurant / bar industry for many years. The menu is inspired by many international dishes and brings pleasure for your senses. One specific item on the menu that caught my eyes was their burger. It starts out as any regular burger with a bun, specifically a brioche bun. In the middle is a 1/3 pound of ground sirloin seasoned and grilled to the customer's request. What make the huge difference are the condiments, they offer a handful of hand cut fries and a small salad with wonderful crunchy cheddar pieces on top.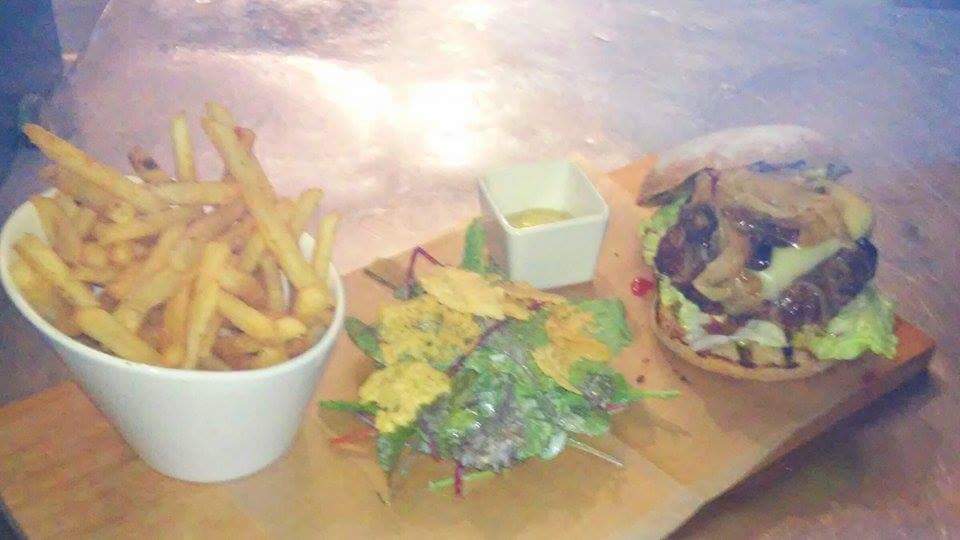 2. The Burger Bus
The owners Cheryl and Michael really know how to make a great burger. Michael has years and years of burger flipping experience working at various prestigious burger gardens and pubs in the Bay area. Their unique concept of never staying in the same place makes people crave their burgers even more. Cutting straight to the chase, their CB&J Burger is served on toasted ciabatta bread, the patty is covered in melted cheese, grilled onions and seasonal Mama's Preserves jelly. Jelly choices will change with the seasons and to finish up, a side of their heavenly sweet potato fries has to be added.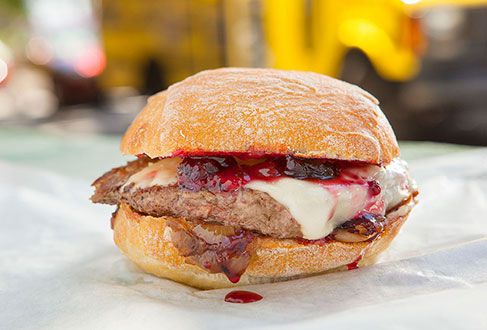 3. Eureka
They proud themselves in their handmade burgers that contains locally sources produce and their fresh baked bread. Rightfully so, the beef they are using is all natural, 100% vegetarian fed, and, hormone and antibiotic free. They strive to give you perfection on each and every plate.
Although they have many great burgers to choose from, one of them beats them all. The Bison Burger with bacon-infused jalapeño jam, charbroiled tri-color peppers, red onion, and smoked mozzarella. All this comes with a side of their delicious signature hand cut fries, yum.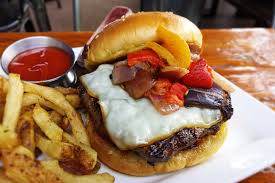 4. Paradise Cafe
Another local's favorite is Paradise. They have been around for decades and are still going strong. They strive to have the freshest and highest quality ingredients and their staff takes great pride in the continuity of their traditions of great food and friendly customer service. Another unique feature about Paradise is that, they are the only ones to use Santa Maria live oak in their grills in the City of Santa Barbara. One of the reasons they have great customer loyalty is signature Paradise burger which features ½ pound of 100% grass feed ground beef stuffed with melted cheddar cheese, avocado and/or bacon can be added but there is no need to.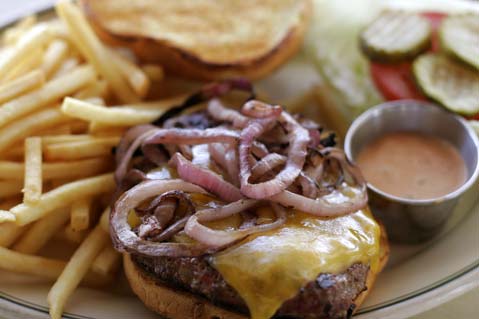 5. American Ale
This one comes as no surprise. If you want great beer and a juicy burger, you go to American Ale. They provide you with a fun setting and great atmosphere and if you are ever in doubt of what to order, always go with the PB&J Burger. It might sound like an awkward combination but do not be afraid of trying it, it is amazing. They use their own homemade Concorde grape jam, crunchy peanut butter, 1/3 lb. 100% natural ground beef patty and not one but two slices of crispy bacon, and as an added bonus you get a whole lot of hand cut delicious fries. What can possibly go wrong?