Antioch students exhibit provocative short films
When was the last time you feared losing your home, being abused, or getting kicked out of the country? Every day, people experience harrowing and life changing events which will shape the road which is their future. As Antioch students, we pride ourselves on having a developed sense of compassion for social justice issues, which we work to raise awareness about through school projects and events. Since the beginning of January, every Thursday morning at 9 AM sharp, I've had the great pleasure of meeting with a small group of students from all different backgrounds to study documentary filmmaking. While we all sat around with our lattes and croissants, trying to figure out how to navigate various versions of movie editors, none of us realized the impact this class would eventually have on us.
This week, eleven Short documentaries will be coming together to form Antioch's Winter 2015 Film Festival. Many of the students chose to pursue research on a social justice issue that they, personally, have been affected by. Although some of the films were first created because of an emotionally charged personal conviction, the level of professionalism and thorough examination of each topic is apparent in each documentary.
The students in this film class not only put countless hours into every minute detail, but have truly poured their hearts into each film. Charlotte Dessens, an international student from the Netherlands, posed a serious question in her film which addresses a problem all international students must face – where do they go after graduation? "Although I have many international friends that will go back to their home country after they graduate, I've lived here for so many years now, I feel like I can't just leave Santa Barbara behind," said Dessens. Her film explores the difficulties that international students face as they must seek forms of sponsorship after graduation, or get booted out of the land of the free. "In my doc I take you on a journey together with one of my friends, Gen. He graduated from SBCC last summer and now works in Montecito as a Graphic Designer. How did he get there and what does his future look like?"
Some of the other films investigate topics such as domestic violence, depression, child neglect, and our volatile relationship with wildlife.
"We had some students at the beginning of this class that I would have bet my house and my dog on that they were never going to complete the class"
– Stan Roden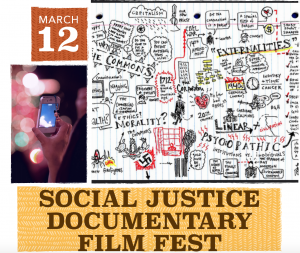 So please join us in the AUSB Community Hall on Thursday, March 12 2015 to explore these incredible films, and discover the fascinating people and stories that inspired them.