On Friday, October 14, 2016- I had the privilege to see my dearest childhood friend,
Anna Ko
, receive the Phenomenal Woman Award. This is the type of woman you look at with admiration and wonder, "How does she do it?"
Building Peaceful Families, in partnership with the Santa Clara County Office of Women's Policy, hosted the first annual Still I Rise Luncheon & Phenomenal Women's Awards. This inspirational event brought  together women from diverse backgrounds to discuss the key issues impacting them today, and to celebrate the power and resiliency of all women.
  The award celebrates and honors 50 women as they receive the Phenomenal Women Award. Anna Ko was recognized  for facing challenges and overcoming adversities, and successfully living a life of resiliency.
In a simple yet powerful definition, I was told that politics determines who gets what, when, and where.  Anna Ko is the Deputy District Director for the U.S. House of Representatives for Congressman  Mike Honda, who represents the 17th Congressional District in Silicon Valley.  Congressman Honda, represents the first Asian American-majority district in the continental United States, and advocates for fighting for the rights of all women. Anna works for the empowerment of women and her community. She is fearless and expresses her beliefs about politics and her place in the world. Her most recent birthday posting is an accurate representation about her ambition and personal struggle. The day before her birthday late October, Anna posted the following message on social media:
For my birthday, my gift to myself was to come out to my parents. For those of you that know my parents, you know that they're very traditional, Catholic and conservative. The outcome was infinitely better than what I had imagined. I've only heard that Korean Americans statistically come out later than other Asian Pacific American ethnic groups. My entire life I've always work to become someone that my parents are proud of because I'm aware that they've sacrificed so much to provide me a better life than theirs. They are proud of me, and I know that we have mutually unconditional love for each other. My biggest concern was their devastation, questions, processing that their daughter is LGBTQ and their own coming out process as parents to their peers and community. My father and I agreed that this interaction would have looked much different if it happened ten or even five years ago. Life is just too short to lose people you love over differences. I realize this will be an ongoing process for them, and I appreciate everyone that has been so loving, accommodating, and supportive of me through my experience. I love the rest of my family so much for respecting and being understanding of my timeline.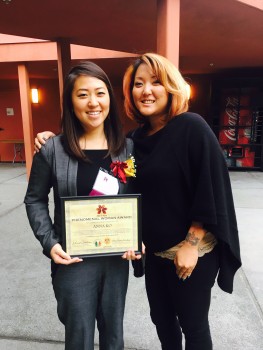 Being a friend of Anna Ko for over 20 years has certainly been an amazing education in itself. Throughout the years, I have learned to continue to question: who I am, my path in life, and how can I grow more willing and brave each day? As I have seen and witness Anna live her life and work in her community with such tenacity, strength, and passion, I am so grateful that phenomenal women like her, encourage respect for everyone's development in this life.  Everyone has a past, present, and future that could be used as assets rather than discriminatory purposes. What has been most inspiring and uplifting is Anna's attitude and labor of love that she puts into family, work, and herself. It is never too late to say where you stand, and fight for where you want to be. While going through your process, you are most likely clearing a new path.