trav·el verb: make a journey, typically of some length or abroad
Traveling. It's something we all experience- and, let's face it- it is hardly an enjoyable experience. When traveling, we have anticipation of reaching our destination regardless of the reason. But, who would've thought that the airport floor would be the Airbnb you've been looking forward to at the end of the travel day. You can't help but be sassy to the airline agents because you've been eating Starbucks Panini's for breakfast, lunch, and now dinner. So, how do we get through travel hell? With these three tips:
1. ALWAYS have the essentials:
If you check your bag, always bring a carry on packed with the essentials that you need. You never want to get stuck somewhere without these items, take it from a girl who has finally learned…
• Chargers: Nothing is worse than forgetting your charger at home. Majority of the airlines have their own apps where you can check updates on flights and are able to easily contact customer service, but it does drain your battery. An easy way to pass then time is to download apps where you can stream your favorite shows from Netflix or Hulu.
• Cleansing Wipes: We have all experienced the uncomfortable feeling of just feeling 'yucky' and 'dirty' when in an airport all day, its something in the air we don't want to feel anymore! Having these cleansing wipes handy are always a lifesaver; a nice little freshen up never hurt anybody!
• Toothbrush & Toothpaste: After eating your last Starbucks Panini, it's always nice to freshen up by brushing those pearly whites!
• Extra Contacts (if you wear them) or Glasses: As a contact user myself, having the same contacts for over 24 hours should be a crime. Making sure to have extras or even throwing on your glasses is treating your eyes with the respect they deserve!
• Neck Pillow & Blanket: Ah, you know the Airbnb you were looking forward to in the heart of San Francisco? Well…that's not happening anymore. Make sure to have a neck pillow and blanket for your, oh so very glamorous airport floor mattress!
• Extra Clothes: Having fresh comfortable clothes to change into is a must. The travel day has been stressful enough, get comfortable in clean sweats that smell like home!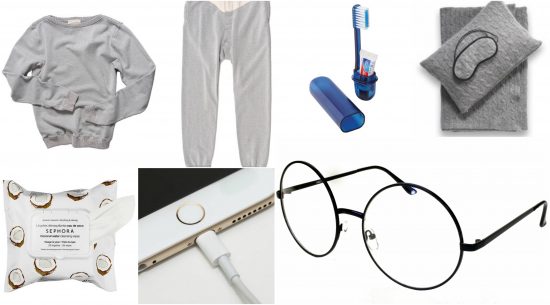 2. Kindle, iPad, Laptop
• Be sure to have a device that allows you to search the web, read a book, or catch up on all of the shows you've missed. All airports have Wi-Fi available that's easy to connect to and free for extended periods of time! Remember that book your mom shared with you to read last summer? Now you actually have the time! Or the season finale of Orange Is The New Black that all of your friends have been talking about? Well now you get to watch it. So, lean back, relax and enjoy the entertainment for the evening.

3. The Carry on Cocktail Kit:
• You can never go wrong with this handy travel item. The Carry on Cocktail Kit has an array of different cocktails: Bloody Mary, Champagne Cocktail, Moscow Mule, Whiskey Sour…seriously, this is genius! These kits are equipped with everything you need to make your carry on cocktail. It will definitely make your trip better. I mean why else would there be a bar in almost every terminal?