Do you feel the urge to travel but want to spend as little money as possible? Going road tripping is the perfect way to explore new places and do activities for free! 
This weekend, my friend and I decided to go on a roadtrip. We are both Norwegian and because we don't know any American families in Santa Barbara, we decided to do something a little different for Thanksgiving. Despite the fact that we are poor students we rented a car and slept in it during our trip.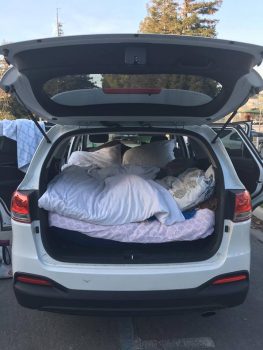 We asked ourselves, how could we spend as little money as possible on our road trip? We slept in the car. Enterprise hooked us up with an SUV where we could pull down the back seats and put in a mattress. We were prepared for cold weather and low temperature so we brought three comforters, six blankets and 6 pillows. We wore warm clothes when we went to bed and in the morning we jumped over to the front seat to turn on the heat while watching the sunrise in Pismo.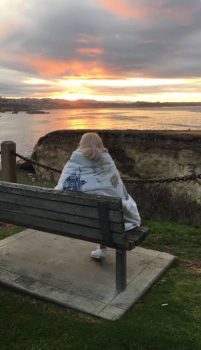 Our first night was over and we slept surprisingly well. Next stop; Carmel-by-the-sea. You must be wondering where we brushed our teeth, removed our make-up and got ready for bed? Well, truth be told I felt a little homeless as I didn't have a restroom to use when needed or a bathroom in general where I could get dressed. We either had to change our clothes in the car, or we snuck in to hotel receptions where the bathrooms are usually cleaner than a restroom at a gas station. By the time we had arrived in Santa Cruz we hadn't showered for two days and felt the need for a shower. Luckily, both my friend and I are members of 24 hour fitness and we thought taking advantage of their showers would be the perfect way for us to feel clean and freshen up.
Our second night in Carmel we decided to park the car close to a neighborhood where we could feel a little safer. We tried to avoid tourist attractions because we didn't want police cars to notice us and knock on our window asking why we were sleeping in our car. Waking up in the middle of the night seeing someone looking through the window is a scary thought. While we were laying there under our comforters and blankets we made up stories about why we were sleeping in our car:
"We are visiting this family's house but as they don't have enough bed space for us inside the house we had to sleep in the car instead".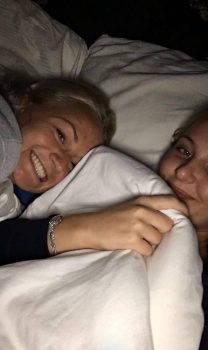 Luckily, no one seemed to notice us sleeping outside someone's house, we went to bed after dark and woke up before the sun had risen. Our second night was over and we were still excited for the rest of our trip sleeping in a car.
It was colder in Monterey and raining, so we ended up trying to avoid sleeping in our car as it turned out be 37 degrees at the coldest during night time. We were lucky enough to have a friend in Monterey that was happy to give us a bed, bathroom and kitchen access for one night. It was nice to finally sleep in an actual bed after three days in a car.

Overall it was a lot of fun sleeping in a car, visiting new places and listen to good music (The Beach Boys).

The reason for why I thought this trip turned out so well, is getting to spend time with my friend. I would highly recommend you to travel with someone adventurous, someone who says "wonder what it would be like to climb up that mountain over there" and then do it. Someone who takes you out of your comfort zone and makes your trip as adventurous as you want it to be. Remember; you are not on a roadtrip to sit still and do nothing.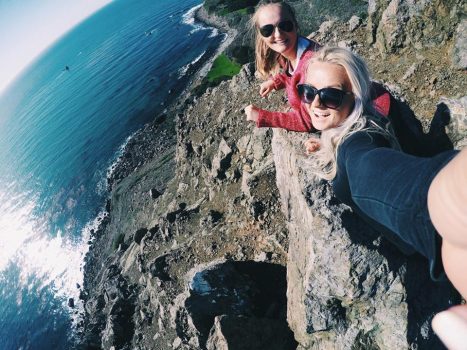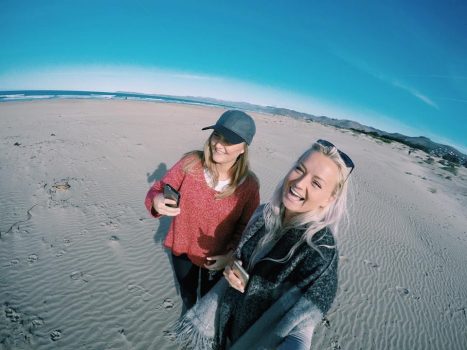 Places we stayed over night:
1. Pismo Beach
2. Carmel-by-the-sea
3. Santa Cruz
4. Monterey
5. Carmel Valley
Free activities along the way!
Road trips in general are cheap if you're smart and think outside the box. It didn't cost us anything to drive through Big Sur,  to climb mountain peaks, to watch waves at Moss Landing or to skateboard at Steamers Lane in Santa Cruz. These are all activities that are so much fun, and free. Another great tip for you if you want to go through Big Sur and up to the Bay area; travel when there's not a tourist season. On our way back to Santa Barbara there were few cars on the road and we could stop wherever we wanted to either just enjoy nature or go skateboarding on highway 1.
So how did we prepare for our road trip? Well, we barely prepared at all. A good tip for you if you want to go on a road trip: travel with someone with the same interests as yours. One of the main reasons why I believe this road trip turned out to be the best road trip ever, is because both me and my friend are completely nerds when it comes to watching surfers, waves and sunsets. We literally watched the waves and surfers at Steamers Lane for about 5 hours straight. Because we knew we were both poor students and neither of us wanted to spend a lot of money on our trip, we made decisions together that would save each of us money along the way. We tried to think as smart and efficient as possible for the trip, so we took turns on deciding what to do or where to go.
My advice to you, if you take your own road trip is to pack lots of clothes. You have a whole car to fill up so you have plenty of space. Instead of buying food at restaurants all the time, stop at grocery stores and buy fruit and sandwiches instead. It keeps your energy up and going during your travel. Stay hydrated and switch drivers often. Last advice, have fun and take pictures or videos of your trip. Trust me, it will be worth it – you just got yourself an experience of a lifetime.