I know what it takes to love someone else the way we all deserve, and I want nothing to do with it.
 A couple of years ago during a therapy session I was ruminating on how much I loved going to bed by myself every night and doubted that I would want to share ever again. Nodding in encouragement, she said it sounded like I was being selfish with my time and it was okay. Recognizing how much I enjoyed my own company felt like a revelation of epic proportion to me. Still I wasn't convinced, especially because I've always thought being selfish was wrong, so I looked up the definition of "selfish;" "devoted to or caring only for oneself; concerned primarily with one's own interests, benefits, welfare, etc., regardless of others." SIGN. ME. UP. If I had known I could be living selfishly, I'd have saved myself the agony of feeling like I wasn't good enough or depleting my energy to fix unfixable situations. Literal years of my life could have been different. I could have felt content, alone.
Instead, I was urged to focus on "become what you want to attract," or, "learn to love yourself before you can love someone else." While this might be true for some…why does the end goal after learning to love oneself automatically lead to being available to another person? You know what I've found now that I am head over heels in love with my life and who I am? I don't want to share it or myself with anyone. I don't want to make time, or talk with them about their needs, or dreams or bad days. This is the truth. I didn't come to this realization because of a tragic heartbreak, or even from apathy, and I think it's unfair that choosing to be single is considered the consequence we have to live with because we were too picky or not picky enough. I also acknowledge the privilege I have to say "no thanks" when there are many women who do not have that choice. Because, you know, we live in a patriarchal society where women weren't allowed to have their own checking account until the 1970s… I digress…
There are great couples out there. I see them. I watch them treat each other with tenderness — willing to face the innumerable challenges of life together, as a team, fully cognizant and willing to do the work it takes (because it does take work) to be 100% of their 50%. I don't even doubt that there is a person who would show up for me in all of these ways, but I won't for them.  It's impossible to quantify the amount of serenity that I feel knowing that I don't have to negotiate "space" or explain my lack of emotional bandwidth, and most importantly, I don't have to be careful with someone else's heart. Half-assing a relationship isn't a solution to loneliness, on the contrary, constantly compromising myself ate away at every piece of any "us" I have tried.
From the time we are children, society wants to couple us up. From crushes we assume onto little kids, feeling pressure to ask someone to a dance, anxiously counting down the years until losing our virginity, who will get engaged first, "finding" a husband/wife; the important milestones seem to center around anything but being single.  Instead of framing a future based on "when you get married" or "when you have kids," I introduced a new narrative to my kids when talking about how they can imagine their lives; "if you choose to get married," "if you choose to have kids." Imagine the possibilities that could open up to children who otherwise feel pressured to conform to a heteronormative coupledom/family in order to be happy and fulfilled if we reimagined a relationship with ourselves as our priority.
Well meaning people in my life, and complete strangers (!) feel the need to assure me that there are plenty of fish in the sea for me and I'll find the right one, someday. But I'm not going fishing, I don't even have a line. Single should not be considered a lonely place where we are supposed to suffer, nor should we be expected to be constantly "working on ourselves."  We can simply enjoy the freedom and settle into being selfish.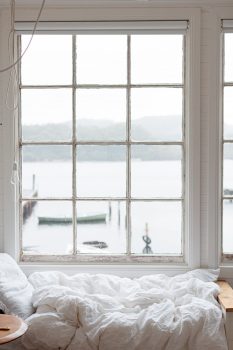 Photo by Luisa Brimble on Unsplash
Featured Image by Ava Sol on Unsplash