Bureo Skateboards and Their Plastic Initiative:
Bureo Skateboards designs and manufactures a unique line of sustainable skateboards by utilizing the growing amount of plastic pollution in Chilean communities and coastlines. By offering recycled high quality products, Bureo enables ethically conscious consumers to support recycling development and job growth for local inhabitants.  Buero was founded by three friends Ben Kneppers an environmental consultant, David Stover a financial adviser and Kevin Ahearn an Engineer. They received GAP funding from Northeastern University's IDEA venture accelerator, Start Up Chile—an entrepreneurial booster based in Santiago, and a very successful kick starter campaign. The boys at Bureo are proving that all you need to do is connect the dots to not only make a successful start up, but also make a difference in the world.
This past weekend my friends at Bureo invited me to attend the Save the Waves Benefit in San Fransisco. Bureo Skateboards is a part of a new generation of environmentally sustainable surf/skate companies with the same common goal to create products out of recycled materials. The Save the Waves Benefit brings all of these companies together once a year to help fundraise certain global initiatives that protect coastal environments.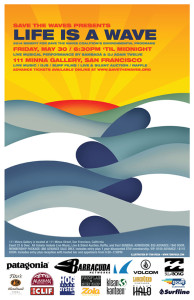 "Plastic is a material that was made to last forever, but designed to be thrown away."
One of the organizations we connected with at the event was 5gyers, whose goal is to raise global awareness to plastic pollution and to stop plastic consumption/production. 5 gyers reminds us that, "plastic is a material that was made to last forever, but designed to be thrown away." Even though it is a recyclable material, currently only 5% of the worlds plastic that is produced is actually recycled, 50% is buried in landfills, and the rest is unaccounted for. 5gyers goal is to understand the impact of plastic pollution by sailing through the 5 subtropical gyers and conducting research on how much plastic exists within them. They are also focused on communicating their research data publicly and implementing changes that will help create solutions to plastic consumption and increase recyclable programs for the plastic that already exists.
Bureo Skateboards has joined 5gyers to help continue their research on California beaches. To do this research 5gyers has created a Beach transect process that will provide data to show how much plastic exists per square meter on our Beaches. To create a transect you create a 100 by 100 meter grid on the beach, create four random lines from the ocean to the top of the beach  within that 100 meter grid, 25 meters apart, and create three 1 square meter quadrants on each line; at the high tide line, middle of the beach, and top of the beach. The quadrants enable random sampling and within each quadrant two samples are collected. The first sample is all plastic particles on the top of the sand and the second sample is taken from collecting plastic particles below the surface by scoping the top layer of sand into a bucket and sifting all the contents to reveal all the plastic particles. For each sample, particles are counted, categorized and documented based on the type of plastic debris. Once all of the samples are counted you calculate the average for both sample groups and your result will give you the amount of plastic per square meter on the beach being analyzed. Over the next few months Buero will be conducting transects at Beaches around southern California including Santa Barbara County. Volunteers are always welcome to join their beach transects or you can conduct your own! Doing a Beach Transect is easy and only takes about a half hour  Here is a link for instructions to carry out your own Transect and below is a  list of the supply's you will need:
1. 1-meter by 1-meter square or rope (1-2)
2. 100-meter tape measures (2)
2. 2.5-meter stick (2)
3. 5 gallon bucket
4. 5 mm sieve and 1mm sieve
5. Shovel or scoop
7. Data sheet
8. Sample bags or jars (please reuse sample bags if plastic and use alternatives, such as glass jars, if possible)
9. Digital or hand scale