On October 24, 2014 horror struck for hometown hero Daniel Meynet. Growing up in Santa Ynez Valley, only about 30 miles from Santa Barbara, California is a great life for local motocross and Supercross professional Daniel. Ever since Daniel was able to walk he was out on the track in his back yard riding his motorcycle. It was the family sport. His older brother Charlie participated in riding and racing and the one that started it all for them was their dad Jean-Charles. Jean saw their passion in riding motorcycles from an early age, but as the kids got older and explored new interests everyone could tell that Daniel was one hundred percent dedicated to becoming the best racer in the world.
He is one of the kindest, funniest, and most loveable kids you will ever meet, but once he throws his leg over that bike and gets on the starting line, no one was his friend. He meant business and to become a professional in the sport of motocross and Supercross meant it was going to take one hundred and ten percent dedication day in and day out. Studies show comparisons to NFL Football, Soccer, NBA Basketball, Hockey, and Track, yet results show that motocross racers, overall, were at a higher level of physical fitness. The sport is brutal, racing a motorcycle in temperatures well over 100 degrees fahrenheit for two, 40 minute long races at an all out sprint. Sometimes hitting speeds as high as 75 MPH and jumps over one 100 feet long.
When Daniel wasn't racing he would wake up early and go practice at one of the few local tracks, get home around lunch time and go for an intense cycling ride and workout with his trainer. Of course while maintaining an extremely disciplined and healthy diet with his mom Connie. This was a full time job and after the first year being professional, Daniel saw a lot of progress within himself.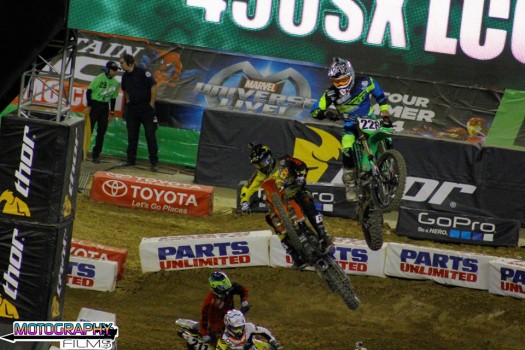 Although being a professional motocross racer sounds fun and glamorous, there is a lot more to it than what meets the eye. Turning pro in 2011, Daniel had to come through the ranks and proven himself as a force to be reckoned with before he even though about getting paid. It took a year as an amateur pro then a year racing a lower level series to earn his AMA pro card. Once he earned his pro card, he raced two years in the 250 lites class, which is known as proving grounds for younger racers that don't make much money. In January 2014, he started racing in the 450 premiere class, which is the most desirable class to be in. In his first year in that class, he was already making every show and even a few main events. He was known as the youngest racer in the field and a strong contender for the Rookie of the Year title. During the off-season he was practicing for a few different European races to represent his co-national country of Switzerland. On a beautiful day training in Los Alamos, Daniel was in the middle of his practice laps when disaster struck.
The sun was out, Daniel was feeling good as he continued to go through the motions of putting in his practice laps preparing for the upcoming 2015 Supercross season starting in January. His dad and himself were at a local track about ten miles south of Santa Maria, California when the back tire of his Daniel's motorcycle spun off the lip of a Supercross triple, not giving him the speed to clear the 75 foot jump. As Daniel jumped from his motorcycle in mid air he landed violently on the upslope of the landing. When he hit the ground he broke his left femur, left kneecap in two places, left wrist, left elbow, bruised left lung, broken cheekbone, and went completely unconscious snoring into a deep sleep. As his dad heard the bike sounding different than it normally sounded on that part of the track he instantly sprinted over. Immediately Jean saw his son lying there motionless. Jean then got Daniel onto his back in a more comfortable breathing position as instructed by the paramedics over the telephone. The helicopter very shortly after arrived where they rushed Daniel to Santa Barbara Cottage Hospital.
While Daniel's family rushed to the hospital following the helicopter, Connie and Jean had no idea the severity of what had just happened. When they arrived to the hospital the parents of twenty-one year old Daniel Meynet were informed that their son was experiencing severe swelling in the upper left frontal lobe of his head and that they were attentively working on Daniel in intensive care. He was unable to be seen by anyone other than the doctors. What the doctors instantly did was drill very carefully into Daniel's head to relieve the swelling before his brain applied too much pressure onto the skull. There was no telling what was going to happen to Daniel. A few hours later Daniel's status was very bad as he laid there, tubes breathing for him, and he went into a coma. Being one of Daniel's best friends, as soon as I received the call I rushed to the hospital as fast as my truck would allow. Upon arrival, family, friends and myself all fell into each other's arms in complete sadness and heartbreak.
I visited Daniel and his family in the hospital multiple times a day, everyday, after the crash. Daniel seemed to be making progress considering the quality of shape that he was in and was truly fighting for his life. On the third day in the hospital Daniel was still in a coma as they performed surgery on his left femur by putting a rod down the middle of his bone and performed a tracheotomy. The surgery went great and Daniel was stable. A few days later, Daniel started to slowly come out of his coma with worry by all of his friends, family, and doctors as to what brain damage had been done. There was no way of telling what exactly was going to be wrong after seven days in a coma with a tramatic brain injury. Similar cases showed little to no signs of improvement once the damage had been done. As Daniel came out of his sedated state he was unable to talk and walk for the following month.
As we all continued to worry about Daniel he was slowly but surely making progress. After four weeks of being in the hospital Daniel was then transferred to Pomona where he would start speech therapy at Casa Colina. As Daniel continued to make progress I went down to visit him and over our few hours spent together I was relieved to see him doing so well. I had not lost my best friend or his brain and I am so thankful for that. Daniel now roams the Santa Barbara City College campus and gets straight A's in all of his current courses. He is still cracking jokes every minute we are together as we approach the one year date of his crash.