On February 24th, 2022, Russia invaded Ukraine. German chancellor Olaf Scholz called Russia's assault a "Zeitenwende." An end to an era. A turning point. Overnight, this war became personal for many Europeans, including myself. I was born and brought up in the European Union which is why I was raised to have a strong sense of unity, social responsibility, and solidarity towards the countries around me. I knew I needed to not only loudly and clearly position myself as an artist and student, but also become active as a fellow European.
While having a gap between my work last summer, I took the opportunity and traveled to Poland and Ukraine. I found myself in full train cars beside millions of Ukrainian refugees. Train Stations became transit hubs for Ukrainians sheltering in tents. Everywhere there was a Ukrainian flag posted on walls, directing people to food, shelter, childcare, and information. My friends and I helped mothers with children, and grandparents, carry their luggage and pet carriers. Friends considered and acted on taking in a Ukrainian.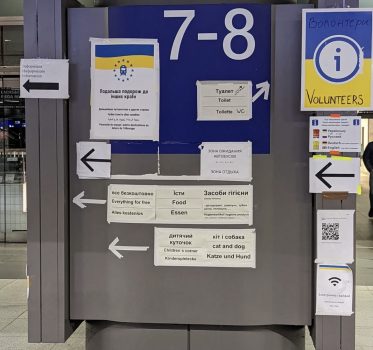 I got on a bus, steadily heading South-East, first through the Czech Republic and through Poland, to Przemyśl. We drove through the dark streets of Przemyśl, the little Polish border town nearly 20 minutes away from Ukraine. It had become one of Europe's largest refugee transit points. I rented a cheap one-bedroom apartment. Communicating without being able to use English would become a very common practice for me in the weeks ahead of me. The city's negative headlines involving rising homophobia and their extremely conservative administration were washed away by international praise. The town of roughly 60,000 residents became the working ground for highly acclaimed, international media and the first pit-stop on the rough journey of millions of Ukrainians fleeing. 
Another thing I learned was that, unlike in the USA, Wifi is absolutely not a given in most parts of Poland. Therefore, if you are planning to volunteer at the border try to learn some basic Polish and Ukrainian words. I only encountered a few people with English skills. Przemyśl really needs helping hands now more than ever as people are getting tired and less enthusiastic about helping.
I had read in Facebook Groups that the former Tesco Supermarket-turned refugee transit center was the location where most help was needed and to "just show up." When I arrived on my first day, it took less than ten minutes and a quick check-in with police officers for me to become a part of the refugee center. Almost immediately after entering the large, loud and people-filled complex, two women came up to me asking for diapers. This is how I automatically became a part of the mother and baby room and was begged to cover the nights. The room held about 200 beds and almost each one of them was continuously taken. The main purpose of this center was to offer rest after a long journey. Typically, this is the first stop on a long journey to refuge for Ukrainians. They arrive in buses, cars or by foot with luggage, pets and family. They walk up to a specific registration table flying the flag of their desired end-destination, register, get tickets and travel information for this destination, are put up in a room matching the flag of their destination and finally rest here for a few days.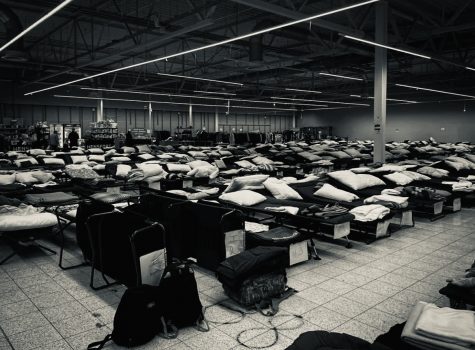 I worked night after night in the musky mother and baby room where there was always at least one baby crying. Before the end of my shift, my newly won friend Ilga and I would take a sunrise break and step out onto the parking lot to stretch and breathe. I would silently watch people leave on the 5AM bus to Germany every morning. Dozens of refugees would roll their suitcases and carry their sleeping toddlers wrapped in blankets across the parking lot. The increasing number of injured men would roll their wheelchairs or limp with their crutches. All of them were up to enter the bus into their new, unknown lives. On my early morning bike ride home, I would usually listen to the radio news. It gave me glimpses into the rest of the world but it also was particularly odd to listen to reports about what I myself was an active part of aiding during these days. I was a 20-minute car drive away from the war.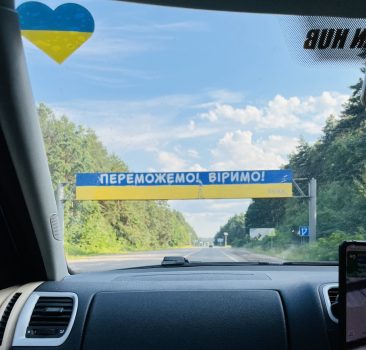 After over a week in Przemyśl and a brief stint in Ukraine, I decided to teach English to the most wonderful and eager Ukrainians at a long-term facility in Warsaw. At this time, Warsaw, a.k.a the big city, was just what I needed. The drill was the same: Hardly any English, spotty Wifi, connect with volunteers and organizations on Facebook, cheap ride-shares and safe hotel, eat well and stay hydrated thanks to World Central Kitchen, a large lack of sleep and wonderful, open and kind co-volunteers and Ukrainians.
During my weeks in Poland, I witnessed the darkest of suffering and grief countered by hope and strength. The drive and determination of the Ukrainian people is what fueled me during that time and it still does to this very day. Being complacent is not an option for me and nor should it be for anyone. We are lucky enough to be alive and to be able to help. Slava Ukraini!
You can listen to my Podcast for more stories on my time in Eastern Europe HERE
Concrete Ways to Help Ukrainian Citizens Fleeing the Invasion

1.Stay Informed and Spread the News: Ukraine was invaded more than 15 months ago and while most have gotten tired of this war, including the media, it continues to be important to spread truthful and fact-checked information. This war is not over. Use your voice! Advocate for those who have been done wrong. In the era of social media, it has never been easier to do so. But remember to make sure that what you spread is indeed truthful. 

Media and Pages I find helpful:

-Kyiv Independent

-State of Ukraine Podcast (NPR)

-UNHCR

2. Donate Money: A few American dollars go a long way in Ukraine. While there are many organizations who are worthy of receiving donation, here are my favorites: 

-Razom For Ukraine

-Hope Shelter Przemyśl

– World Central Kitchen

3. Learn more about Ukraine: Ukrainian culture and the country itself are extremely diverse, complex and noteworthy. I myself was mind-boggled over and over again when educating myself more on Europe's largest country that for example functions as "the continent's breadbasket" (my little brother found this one out painfully on his birthday which took place shortly after the invasion as Ukraine could no longer supply wheat. He did not blow out candles on a cake that year because a cake could simply not be made. The country went without flour and oil for weeks). But beside this, especially Kyiv has an exceptional music and art scene that has been flourishing ever since the fall of the soviet union.

Learn more about Ukraine here:

-www.kolomiec.com (Daria Kolomiec), Ukrainian Music Selector and DJ

-Ukrainian National Women's League of America (UNWLA)

-The Ukrainian Institute of America

4. Volunteer: There are plenty of ways to volunteer both on the ground and in your own community. If you have the time, resources and strength to volunteer in Eastern Europe, your help will be greatly appreciated. Similar to the news-drought, there has been a volunteer-drought at the border of Ukraine while refugees are steadily still arriving. I have found that manual labor, childcare, medical or educational skills are all valuable ones when volunteering both abroad or in your Community.

Volunteer opportunities:

-Hope Shelter Przemyśl,

-PTAK Warsaw

-World Central Kitchen (In Ukraine)

-Teachers For Ukraine

5. Sponsor and Support: U.S Citizen and Immigration Services states: "On April 21, 2022, the United States announced a key step toward fulfilling President Biden's commitment to welcome Ukrainians fleeing Russia's invasion. Uniting for Ukraine provides a pathway for Ukrainian citizens and their immediate family members who are outside the United States to come to the United States and stay temporarily in a 2 year period of parole. Ukrainians participating in Uniting for Ukraine must have a supporter in the United States who agrees to provide them with financial support for the duration of their stay in the United States". While this seems like a very serious and sacrificial step to take and commitment to make, I truly believe that this opportunity is one of the most impactful, sustainable and fulfilling steps one can take. What seemed scary and complicated to me at first when looking into this myself as I was trying to help my friend flee to the USA, another friend who has sponsored countless Ukrainians and I had our minds blown at how fast and uncomplicated this process actually is. By 2023, the US government had issued 102.000 Uniting For Ukraine Visas to those meeting the basic requirements. While a supporter must legally guarantee to in one way or another ensure that the refugee is housed and essential needs are met, it has been my and many of my friends' experiences that once Ukrainians arrive in the USA, they have own housing opportunities as well as the opportunity to earn money fast. My advice is to read up on this process at www.uscis.gov/ukraine, ask questions galore and have an honest and direct conversation with the person(s) you are considering to support. More Infos Here: https://www.uscis.gov/ukraine