The pandemic shifted the entire world as we knew it. What we first understood to be a threat to people's health, spiraled out of control and became a threat to the livelihoods of businesses across the world. Its impacts disrupted industries far and wide, and now as the world begins to reopen, we are beginning to see the destruction to small businesses it left in its wake. 
Small business is risky business. In normal economic times, over 40% of small businesses simply break even and many are operating at a loss. Now, with the impacts of COVID, small businesses are hanging on by even less of a thread. Since the beginning of the pandemic, $932 billion in small business loans have been provided by the federal government over the past year. These loans came through the Small Business Administration in the forms of the Paycheck Protection Program (PPP), Restaurant Revitalization Fund. Even with these loans, it has been reported by the U.S. Census Bureau that 40% of businesses have been moderately negatively affected by the pandemic, and about 25% have been largely negatively affected by the pandemic. A shocking 53% of businesses have estimated it will take a minimum of four months to return to normal levels of operation, if at all. The small businesses here in Santa Barbara are no exception to these statistics.
All industries here in Santa Barbara have been impacted by this pandemic, but the wrath on restaurants and breweries has been very strong. In an article published by the U.S. Small Business Administration Office of Advocacy, they stated that some industries were hit harder than others, highlighting the largest declines being in restaurants. Additionally, this article states that coastal areas were some of the hardest hit. This outlines a grim reality for the restaurant industry here in town. These businesses rely on people dining in and high volume sales to generate profit and pay their bills. With the lockdowns, restaurants and breweries were forced to operate doing "to-go" only sales, if any at all. As lockdowns were lifted and restrictions were put into place, these establishments were expected to adapt to extensive guidelines that continued to stress businesses financially. The guidelines include but are not limited to: increased sanitization expenses, limited capacities, and outdoor dining. Many establishments here in town had to spend extra cash to build parklets to simply allow guests to dine with them. You see, COVID has not just been a hit to local businesses simply because they were closed, the hit continues because it has taken so much money and time to open again. Since last year, we have seen the closure of iconic restaurants in town that have been part of Santa Barbara for decades. Unfortunately, there is a possibility we could see more even though the world is beginning to open. It is important to understand that just because we are getting vaccinated and venturing out again, does not mean that the wrath of COVID is behind us.
I had the opportunity of interviewing local brewery owner and brewmaster of M Special brewery, Josh Ellis, and Director of Retail Operations, Megan Lunger. They were kind enough to share with me their own experiences of maneuvering a small business through COVID. What I learned from them, was that the trials of tribulations of maneuvering a business through this time are even greater than I had initially expected. One of the questions I asked them was "What has been the biggest challenge so far and what will be the biggest challenge in the future?" Collectively, their answer was that the biggest challenge was the unknown that the pandemic brought.
They were faced with questions like "How long will this last? What should we spend money on?" The multiple closures and re-openings caused them to spend money on putting new systems into place, with no guarantee of how long they would last or what would change next.
Josh and Megan talked about how now with restrictions lifting, they are faced with the unknown of the future and tasked with how to climb out of the hole that this pandemic put them in. Another question I asked that was also the main focus of my research was, "What help were you offered if any?" Josh took the reins on answering this question and did so eloquently. What he said was there was help out there, however, the help in forms of grants and loans both locally and federally came with guidelines that were lengthy, arbitrary, and slow to come by. At the end of our interview, I asked "Do you think that small business is vital to the place that Santa Barbara has come to be?" Without hesitation, the answer was "one million percent."
In Santa Barbara, tourism brings in $1.9 billion dollars annually. Without these businesses that make this town the charming, welcoming place it is, this would not be possible.
With the debt that COVID has but businesses in though, it might not be possible, and the future of small businesses in Santa Barbara remains uncertain. It is hard not to question the government, or point the finger at who or what could have been done differently. Could things have moved faster, could restrictions have been less, was all this necessary? Well, as they say, hindsight is 2020. Right now, the best we can do is patronize our local businesses. Spread the word they need help. The community can help them get through this, and come out on the other side.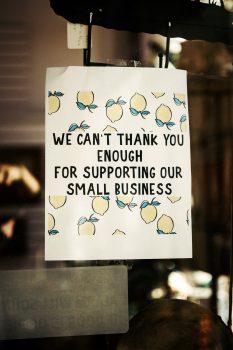 Photo by Tim Mossholder on Unsplash