Snapchat is one the the most used mobile applications. More than 400 million Snapchat stories are created per day and on average, 9000 snaps are being sent every second. Since the 10th of november, the tech giant has been selling it first product, the Spectacles. Here's everything you need to know about Snapchat's first hardware product.
On September 24, Snapchat's CEO Evan Spiegel, announced that his company Snapchat Inc would change its name. Spiegel told the world that he decided to drop the "chat" and go with Snap Inc because they would start developing other products. A few hours after his announcement, they released a trailer for their first product and it has been hyped ever since. Spectacles are designed to capture individuals daily adventures. This product can be described as a Gopro, but for your face. The glasses are capable of capturing the human perspective with a 115 degree field of view, with the purpose of providing a viewing experience very close to how the human eye actually sees.
The sunglasses record a 10 second video as a normal snap and can also record a 30 second video. The sale started on the 10th of November. However, the only way to purchase a pair is from their own vending machines. These vending machines are switching cities every 48 hours. Before explaining exactly how you can purchase a pair with a completely new sales approach, let's go through how the stylish sunglasses work.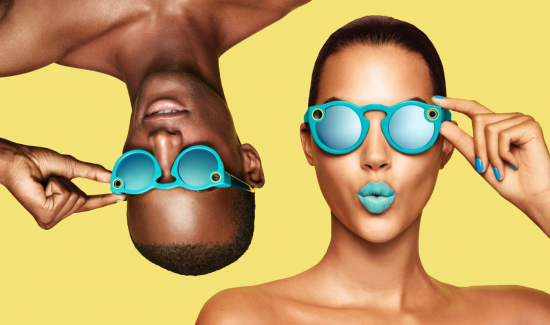 The Spectacles are one of the smallest wireless video cameras in the world, capable of taking a day's worth of Snaps on a single charge. The Spectacles connect directly to Snapchat via Bluetooth or Wi-Fi and transfers all the snaps taken by the sunglasses directly into the app.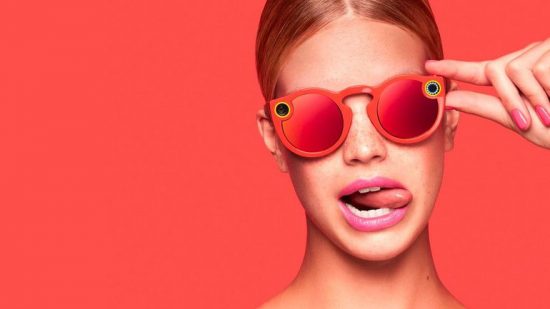 To record a video or take a picture, all you need to do is to tap the button on the top left-hand corner of the sunglasses. When you are taking a video, the Spectacles will provide a red light around the camera lens to show your surroundings that you are recording. That said, people can easily see if you are recording or not so don't record while on your spy mission.
The Spectacles work with Android and iOS devices. So what if you need to charge your phone or forgot to bring it with you but you still want to film your daily adventures? The Spectacles have got you covered on that issue. The sunglasses work as a standalone device – they will store your snaps until you connect them again to your iOS or Android device via Bluetooth or Wi-Fi.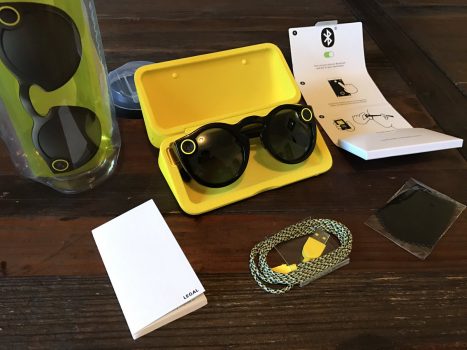 Each pair of Spectacles comes with all the necessities: charging case, charging cable, a cleaning cloth, and the good old instruction book. The case is also the charger and it can recharge the Spectacles four times before needing a charge of its own. Each charge will give you approximately 100 snaps. The glasses cost $130 and they come in one size, but are available in black, teal, and coral colors.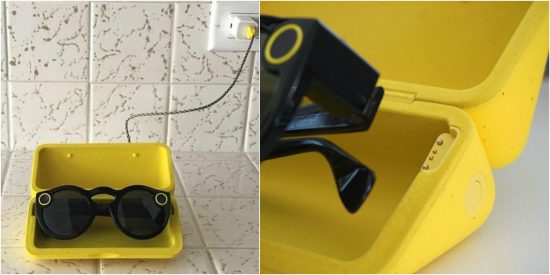 The yellow charging case is a combination of simplicity and style.
The number of Spectacles being sold are to some extent limited, but there is absolutely a chance to purchase a pair. The whole marketing and sales idea is extremely unique and interesting. The Spectacles are only being sold by a vending machine called Snapbot. The first Snapbot was located right by Snap's headquarters in Venice Beach. The snapbot will be at a specific place for 48 hours before it is moved. When the Snapbot closes down for the day, a 24-hour counter starts on the Spectacles website. When the countdown reaches zero, the location of the next Snapbot will appear.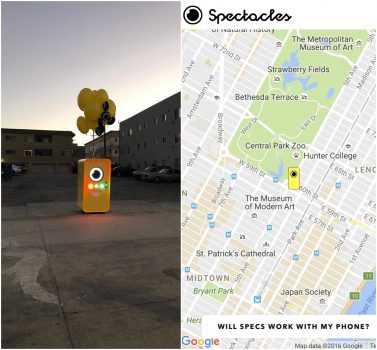 The Snapbot posing in Venice Beach and how to locate the Snapbot on their website.
This whole campaign is a touch of marketing genius. Snap Inc, will not make a much money for selling the Spectacles from a vending machine that is moving to a new location every 48 hours. High numbers of sales and large revenues is not Snap's main goal. Instead, the company has created excitement and a buzz around a product, which is their first hardware product. The reality is that Spectacles aren't going to be big business for Snap, at least not anytime soon. The company wouldn't sell them out of vending machines if it was trying to make money here. I believe Snap Inc is doing this exclusiveness to build a hype around the product and receive feedback from the public about the glasses. My bet would be that the Spectacles 2.0 will be announced during next summer and at that point they will be available online and not only from a cute yellow vending machine.
If you desperately want them, check Spectacles website for daily updates if the bot is close to your area. Otherwise, I would recommend Ebay but then you are paying multiple times the original price. I would describe the Spectacles are a success because they are stylish pairs of camera-equipped sunglasses, not a computer on your face.