"As much as humans can build, and create, weather can destroy much faster" – Sara Hetyonk, SB local
For those who've grown up in cold climates, El Niño might not sound like such a big deal. In fact, people in Midwest might not even know what El Niño is as we have our own anomalies to worry about, one in particular with a scarier name, the Polar Vortex. We know that each year, the leaves will fall so that our scarves can make their debut and our sandals can slip into hibernation. Once the snow melts, the rain will pour for a month or two before the flowers begin to bloom and the humid months pull our sandals from the cobwebs yet again.
El Niño is often described as a phenomenon that occurs periodically in the tropical pacific every few years. The trade winds are then affected and sea temperatures begin to rise which sets of an atmospheric domino effect. Though this unstable weather can be both weak and strong, this year has been projected to be the strongest El Niño in eighteen years.
In places like California, El Niño is a force to be reckoned with. Sara Hetyonk, Santa Barbara local, learned early in her life that, "as much as humans can build, and create, weather can destroy much faster." She, like many other Californians, has witnessed the disasters that too often are associated with the irregular El Niño weather. On the west coast, in particular, rain and flooding are common which has historically sparked mudslides due to the terrain and coastline.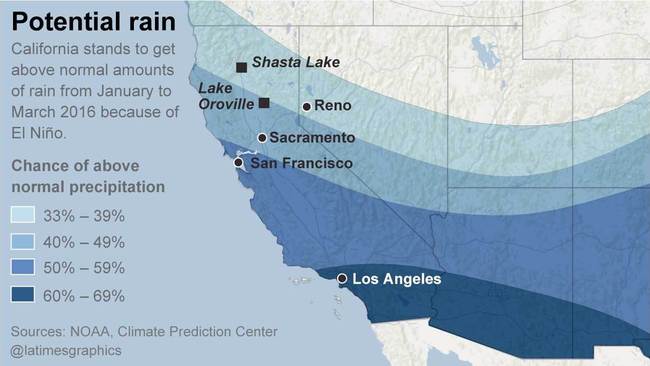 According to the National Oceanic and Atmosphere Association, this El Niño will bring much needed rainfall through January. They also reported that although precipitation and temperature is likely to resemble the El Niño anomaly, cold-air outbreaks and unpredictable snowstorms are also likely to occur this winter.
For those experiencing their first El Niño like I am, there are some recommended safety precautions that are important to note. In the event that electric power is affected, store batteries and flashlights to hold you over. It is also recommended that you store some "long life," non-refrigerated foods, just in case flooding, mudslides and downed trees prevent you from accessing grocery stores.
For more information on how to prepare for an El Niño winter, click here.