"It's not gambling because it's the skill of an athlete that determines the winner".  – Nigel Eccles, DraftKings, C.E.O.
1. Fantasy Football sports online gaming is illegal in most states.
**Many politicians are criticizing the fantasy sports industry. This underground sports industry is allowing for the rules to be bent in the business marketplace of the online gaming sphere. There are many rules and regulations on a state level that can date as far back as the 1992 Federal Law.  Some financial experts believe that there are some states that will not put into regulation to legalize "under-the–table bets", per say.**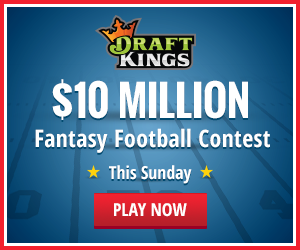 2. There is more money than you think pouring into the pockets of the professional sports league advertisers that will gain millions.
**According to an article posted this past April, referring to major million dollar signing agreements with DraftKings and the National Basketball Association, there are more than just one investor in the company but millions of players ready to dump money into the stakeholders of not just the DraftKings & FanDuel, an older brother fantasy sports mobile company, but also into the major leagues heavy bonus salaries also.
3. This type of game play is dancing on the fine line of illegal gambling guillotines. 
** Addiction is a real concern. There is a lot of adrenaline that is being used when creating player purchases through the online gaming environment. There is also a lot of stress going through the gaming process. This can lead to having the feeling of wanting to play and watch all the time because the dollars amount you put in are won in a minute of game play on both screens!
4. Insider Trading is the bloodline of the game play in itself.
** The NewYorkDailyNews.com online reporter, Justin Tasch, posted a recent article that discusses the scandal of the DraftKings employee,  Ethan Haskell, and how his clandestine insider trading tactics as an employee and player won him an almost illegal $350,000 in Week 4 of this years NFL season. There are team lineups that are made various players and friends that create the inside need to know information that distinguishes the sharks from the minnows in game research depending on how much your buy in amount is.
5. The money is NOT REAL in comparison to how much the players are profiting versus the sharks also playing in the same pool.  
** Posted on the DraftKings website, the average amount of money one player makes within the weekly contest from Thursday to Monday night. One in four players on this site are creating a .0005 chance of winning the million dollar payout that is promised the moment you log into your home or mobile screen. Who would want to even test those odds? It does not even seem like one would be in the same boat as a winner or get a huge pay out when comparing prices versus winnings.
According to Joshua Brustein, a lead writer for Bloomberg.com, You Aren't Good Enough to Win Money Playing Daily Fantasy Football, DraftKings total payout for the first week of the NFL season was a whopping $426 million dollars, that is also priced at over $1 billion. Whoa! Also, a local game player in Santa Barbara, stated that when you play you only make maybe I'll become a millionaire with the $20 dollar buy-in versus going to the casino and wasting gas".
~~Here's a recent DraftKings commercial that shows on air every seconds with the millions of dollars DraftKings purchases for advertising.~~
"There is an ongoing debate over whether daily fantasy sports constitutes gambling. At a federal level, fantasy sports are legal because they were left alone by the 2006 Unlawful Internet Gambling Enforcement Act. At the state level, 45 states allow daily-fantasy contests because they are deemed a game of skill (rather than games of chance), but five states still disagree". Daniel Roberts, Lead Writer at Fortune Magazine
Check out more information at Everything you need to know about the DraftKings & FanDuel data scandal to follow new updates and alerts on DraftKings.