Busy at the office? Did the roommate forget to pay the cable bill? In case you missed some of the top sports news the past couple of weeks, here are a few highlights to keep you updated.
NBA Playoffs Heating Up

The second round of the NBA playoffs are heating up. Who are the top guns so far? With the San Antonio Spurs always being consistent play-off winners, it was no surprise that they came out hard in the first game of the semi-conference finals. The Spurs beat the Oklahoma City Thunder by a whomping 30 points. It seems that the Thunder are going to have a hard time getting passed the seasoned Spurs in the second round, however the series is tied as of now.
Heading over to the defending champions, the Golden State Warriors news. The Warriors are up 2-0 against the Portland Trail Blazers. However, it is still unknown is Curry will be able to play through his injury in third game. Check out the rest of scores here.
NFL-Draft News 2016

One word; Goff. By now, I'm assuming most NFL fans know that ONCE again, Los Angeles has an NFL team. The Los Angeles Rams signed a highly talked about quarterback and some would say its' hard to argue his good looks, Jarad Goff. Goff was the Rams number one pick this year, and with Goff also taking number #1 on his jersey, he has a lot to live up too. Twitter reactions suggest that some fans are happy with the La Rams decision, while others seem to have their doubts.

Jimmy Garoppolo—Again, the New England's second string quarterback will be getting time at least the first four games of the 2016 NFL season, so for any sports betting, this is good information to keep in mind.

Need Week 1 Match-ups? Click HERE to see which teams will be battling in the season's opening games.

For other suggested NFL news—Visit Chad Reuter of NFL.com has to say about whom the top seven undrafted free agents post 2016 NFL draft. here to view week 1 match-ups.
Fantasy Football Sleeper Picks for Your 2016 Season—You Can Never Start Too Early

Sleeper players always play an important role in sports betting. Having been playing Fantasy Football for nine seasons, I have learned the hard way that .002 points can matter. If you don't know already, the purpose of a 'sleeper pick' is to ultimately provide your team with unexpected points or extra points. A sleeper player is usually under the radar, or is on the second or third string. In other words, its' good to have back up, am I right?
One prime example of a sleeper player to pick for the 2016 Fantasy Football draft is the New England second string quarter-back, Jimmy Garoppolo. Garoppolo was picked by the Patriots in the second round of the 2014 NFL draft, but hasn't gotten significant playing time behind 3 time Super Bowl MVP, Tom Brady—Why is Garoppolo a great sleeper pick? Superbowl winner, Tom Brady is suspended for the first four games of the 2016 NFL season.
The Chargers picked up Joey Bosa, a DE and being 6-foot-5, 269 pounds and top 10 in NFL sacks in 2010 season, he is someone to keep in mind. Eric D. Williams, an ESPN blogger thinks that Bosa is a good choice and a gives him a big thumbs up about adding Bosa to your 2016 Fantasy Football team roster.
La Rams second-string player(s)— I say this because being a previous athlete and playing for a variety of teams, new teams usually need time to develop and gain rhythm. It can be hard to predict what first-string players will be vital and consistent starters until some games have been played. It would be smart to pick up one or two second string players from the Los Angeles Rams.
Los Angeles Lakers get a New Head Coach

Luke Walton is heading back to Los Angeles. This time of round, he won't be playing, but instead the he was hired as the Lakers head coach. That's right; Luke Walton was just announced as the Los Angeles Lakers 2016 head coach. Luke Walton was the third draft pick in the 2003 NBA season, and played with the Lakers as a forward for nine seasons. He was second string, however always made his minutes count. He did play a key role in contributing to two of the Laker's NBA championship titles.

Walton took over the Golden State Warriors head coach position temporarily as the beginning of this season for Steve Kerr. Walton demonstrated he could handle a lot of pressure—with the Warriors having an undefeated season at that point, he kept their record going for a good amount of time.

However, as much as Luke enjoyed his time in San Frisco, according to the general manager of the Los Angeles Lakers, both the Laker organization and Luke are very excited to be working together again. I wonder if there's any chance Kobe will be involved with the coaching process being that he also has maintained a good relationship with Walton? I have a feeling Kobe won't be able to stay away from the Lakers for too long, but time will only tell. It will be exciting to see how the Lakers plan to revive their legacy.  We all know from the Lakers history that their organization doesn't go to long on the losing side before they make some changes.

MLB News—Who's Battling for First Place?
The Chicago Cubs and The Nationals are in first and section place. However, on May 4th, the defending champions, Kansas City Royals gave this year's first place team a run for their money. The Royals beat the Nats (first place team) in a 9th inning show down with a score of 7-6, Kansas City.
 A quote from the Official Kansas City Royals website homepage, "Those are the kind of wins to help you get going. It was a rough week for us. The character of this team … they never quit, and keep battling. It paid off for them again tonight." – Kansas City Royals, Ned Yost.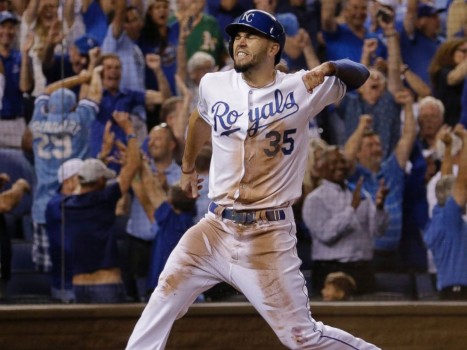 Those were a few of top latest sports highlights. I can't wait to see what happens next!