The answer is they aren't, yet.
Tesla is marketing to those who are looking into the FUTURE.
Everyone claims to know exactly what Tesla does and how they are doing it, but I guarantee everyone is feeding you the same lies that Tesla is busy, making fast Toyota Prius knock offs. That's not the case at all. I kept a close eye on the horizon the last few years and finally have a good understanding of what their true goal is.
Very recently,  Tesla has single handedly taken the automotive enthusiast world—and industry—and flipped it inside out. They stared out doing this by designing sleek, powerful, luxury cars at a price that would beat most cars in its class. Plus the new 100% electric motor is a very appealing selling point for many people who are intrigued by the growth of technology of the 21st century.
Most automotive enthusiasts have always been about roasting tires, burning rubber, and large high output V8, V10 and V12 engines; even more recently companies have been strapping large turbos to diesel power engines to add fuel economy, while at the same time keeping the horsepower and fun to an all time high.
However for daily commuters this all makes no difference either way. That being said, Tesla Motors have made their target market essentially everyone who needs a car in today's world. It is without question however that their target market lies within when not whom.
• Who is Choosing Tesla, and When?
Coming from an automotive enthusiast background one would feel that jumping to a Tesla now seems too soon. Kevin Klein a Tesla employed engineer in San Francisco mentioned that,
"The market is still flooded with fun, quick, and eco friendly petrol cars for only pennies, when compared to the Tesla. The difference lies not in the car but in the buyers."
This of course makes so much sense when we think long and hard about it. The world is changing at an exponential rate in almost all categories. The end of the age of driver-powered cars may not be in our generational life, but it will be happening sooner than later. The thought is that soon petrol and hybrid cars will receive large sums of taxation to be allowed on the road, while those with EVs (Electric Vehicles) will be exempt. Not to mention the driverless cars that will no doubt be unveiled in the years to come.
• What Tesla Is Doing Now: The Game Changer, P85D.
The all new recently designed Tesla Model S P85D has not only redefines clean speed but has broken many previous production car records, the most noteworthy being the 0-60mph set previously by the Porsche 911 Turbo; Plus the new car has also set a new company standard.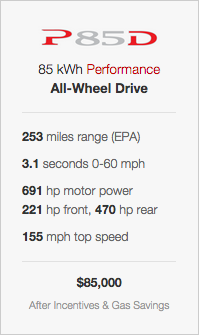 That being said the Model S now, even more so than before should be convincing enough for automotive enthusiasts and commuters alike to make the switch over to the only realistic choice for the years to come.
Selling point features.
"Tesla engineers made creating a 691-hp supersedan seem easy. The new 221-hp electric motor and front-drive differential fit neatly between the 85-kWh battery pack and the electrically assisted rack-and-pinion steering gear. The only downsides are the 291 pounds of extra weight and a front trunk reduced in volume from five to three cubic feet. In your dreams, Tesla's creative types are hard at work on a Model SS powered by two 470-hp motors."
Car And Driver magazine, as i mentioned earlier also tested the Tesla Model S P85D at the track and while doing so broke the 0-60mph record that Porsche held at 2.9 seconds with the 911 Turbo. To put things in perspective, bellow is an astonishing video of the P85D's acceleration. The pull is almost 1.5 G's, it is so strong that is is able to hold this lucky passengers phone to the seat as if it were glued there!
• Just Keep In Mind, Tesla Motors = The Future.
Tesla is not trying to tell you they are the say all end all, but Tesla Motors definitely knows what they are doing, and when they are doing it. The future of transportation is going to be evolving very soon, and clearly it already is. Not only are these new electric vehicles 100% eco friendly, but according to the reviews everything else on them is better too. Truly futuristic car. Hopefully we can soon also find out how these electric motors are disposed of, and if they are disposed of properly. I know that is also a huge concern of many earthly buyers out there. After all whats the point of a 100% eco friendly car if the decomposition of the car(s) is more harmful than good. 
Personally, if and when the day does come when we all have EVs and driverless cars, I will think back to the days when the sweet sounds of petrol engines filled out streets, to when driving was (its still is) about connecting with the road and enjoying the drive. Not simply getting form point A to point B. After all…
 "Speed has never killed anyone, suddenly becoming stationary… that's what gets you."  
– Jereme Clarkson (Top Gear BBC) 
For more information on Tesla Motors click here.