Where do we feel the most comfortable to be ourselves? We all have these places where we get to be the loudest most uninhibited versions. While dressing up in drag, Ramon Reynaga, also known as Mona Lot Moore, always sees his true self in the light of day and the night.
I dressed carefully, the way I would for a special date. I was especially mindful in consideration as to what clothes to wear for my interview with Ramon Reynaga. This was my second time meeting him in person. The first time I met him, I met a lively personality exuding confidence, a charming sense of humor, and styled and put together fabulously like acclaimed singer, Celine Dion. My nerves and heightened self-consciousness were probably due to the first and last impressions I had of him. My  prerogative was to to look as fly, trendy,mod, and cool as ever. I was meticulous in how I applied my makeup to display a presentable face to complement the chic vibe I hoped to radiate. As I drove to San Jose, I could not help but notice how nervous I was to meet Ramon the second time for an in depth interview. I arrived at his door and was welcomed in with a hug and inquiry if I would like something to drink before the interview. While following him towards the back of the house I could not help but notice a beautiful dress, and casual wear for men.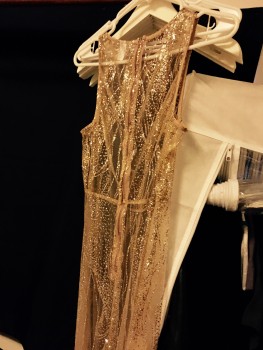 I stopped to put my notepad of questions down, and walked into his bathroom where he prepared to get ready to dress up in drag to perform at  Splash Night Club.
While interviewing Ramon, he was holding a glue stick and I asked:
What are you doing right now?
 I am gluing my eyebrows, so I can draw them in a  new location.
 Who are you going to be tonight?
 I'm always Mona, at the end of the night, and end of the day. But I      am going for a Cher look. The number I want to do is Cher, and it is her birthday today.
Who's your favorite person to perform as?
Each personality has their ups and downs. Cher's nice because of her costumes, so you can be wild there. Celine's fun because you have the mannerisms with the you know, (as he taps his chest, and raises one hand) kinda stuff. And then Mona, just in general, is fun to be. Everybody has their performer persona. Mona is my outlet and I can be as outlandish and fun as I want to.
  What is it like day and night for you?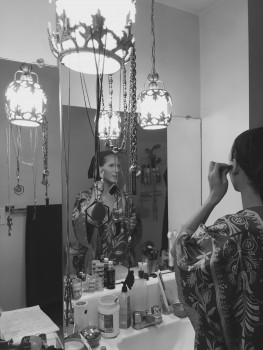 In the day, I work as a supervisor. I  work at a job where I sit in a cubicle, answering phones, being on a computer and what not. But, I am always Mona. I am always the same person. I don't ever change my personality. Maybe it's toned down because it is a work environment. Other than that, I am not  in full dress costume in drag at work. There is a crossover and a  separation.  The day job keeps the food on the table, and am able to have the sources for  all the fun stuff  I want to do.
The night gigs, I get to be more  creative and free to do as I please.  Technically, I dress up twice a month, or at least once. One is drag queen BINGO, once a month, and the other is Splash– where I am going tonight. Sometimes they do charity events that are thrown or hosted by me or other people. I'll lend my voice in my personas in events as needed. Normally, the person in the day and the night are separate, but one cannot live without the other. 
"I wear makeup everyday. My smile is my makeup. You may not know what is going on inside. I may be busted and broken inside crying, but I'm going to smile so you don't know."
How did the name Mona Lot Moore come into being? Is it like a "Sasha Fierce/Beyonce," kind of deal?
The way that the name happened, was my friend who is also my drag mother, had came over and painted my face one day. I became her daughter, and took her last name "Moore." I had the last name, cool. I still did not have a first name, so the next day a different friend had come over to the house and she had always called me "Mona." She yelled across the house, "Hey Mona," and then me and my friend looked at each other and said that's it, "Mona Moore." Then a few weeks later,  a different friend said she was telling her co-worker she has a friend who does drag, and his name is Mona Moore," and her co-worker started laughing and asked," What's his middle name, 'A Lot?'" And I was like that's perfect! It was a work in progress, to become Mona Lot Moore.
What was the process like starting to dress up in drag?
I knew I kinda wanted to dress up, but that didn't start branching out until I was around 18. It's kind of like the whole geisha training, to where it's somebody who helps you learn makeup tips, tricks, and costumes, and hair, and the way of life of drag. Because my drag mother was the first person to paint me, that's normally how it works. The person that paints you ends up being your drag mother and you are their drag daughter. Moore became my one piece I standed on after she painted me, because that was her last name.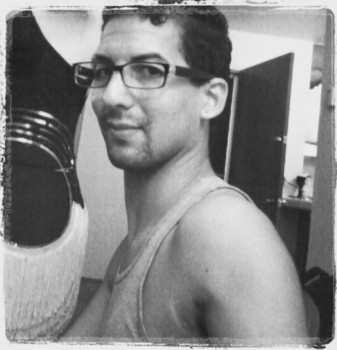 How has dressing up changed you, or has it changed you?
It helps you grow as a person, well, it depends on what you do. When I got into it, I ended up getting into it through a charity organization. First time I performed in drag was for a charity function at the original Splash in downtown San Jose. People that knew me were apart of another non-profit saw me, and invited me to their charity events and I got wound up in the Imperial Court at that point. For me, it helped nurture the giving side and being able to bring awareness for different causes and concerns. Also, learning and   finding myself as a performer-so it helps you do more shows and get to know your looks, your makeup. It took me a while to grasp even that! It helped me grow and learn how to network even more and talk to people. It helped me learn how I can make a difference in somebody else's life. If I can't do that financially, I can do it by makeup and gowns, and performance to help raise awareness and money for somebody else.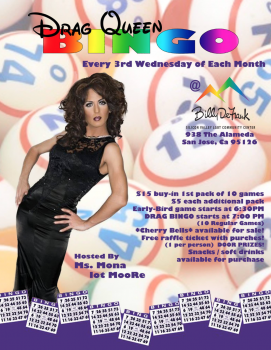 Do you have your own fundraiser once a year?
Yes, that is at the Billy De Frank Center . It is called the Closet Ball.
What is the Billy De Frank Center?
The Billy De Frank Center is the LGBT community center here, in San Jose, for Santa Clara County. So it has different things like groups for seniors, NA, to HIV testing, and all of that. It is also a hangout zone for people of LGBT or questioning group or people, to go and feel comfortable in a safe space. My Closet Ball for the past couple of years, 
The Billy De Frank Center is the LGBT community center here, in San Jose, for Santa Clara County. So it has different things like groups for seniors, NA, to HIV testing, and all of that. It is also a hangout zone for people of LGBT or questioning group or people, to go and feel comfortable in a safe space.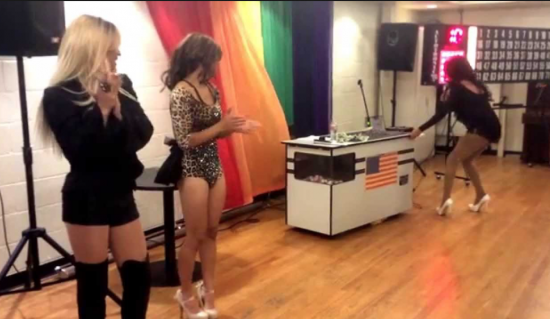 When is the Closet Ball and what does the event entail?
Normally every November, at the Billy De Frank Center. It's an event where boys and girls who never dressed up or done drag before, have the opportunity to do drag. They come out as their natural  persona in front of a panel of judges and an audience. The boys try be butch (masculine), and the girls try to be fem, (feminine) as possible. They will go upstairs at the Billy De Frank Center into the dressing area. Their sponsor then has one hour to transform them- boys into girls, and girls into boys. Then after the hour is up, they come back downstairs, and they will perform for the very first time in front of judges and an audience. The judges gauge the transformation, from beginning to the end of the event by the costume,lipsync, and performance. At the end of it the winner wins the title Closet Ball King or Queen. The winner holds the title for a year, and if they want to have a fundraiser of their own I help them put together a fundraiser. If not their only obligation is to come back to the next Closet Ball to step down, and crown the new Closet Ball King or Queen. I have been doing that ever since I have been involved with the Imperial Royal Lion Monarchy Organization.
Everybody has a 'D.' Not everybody per say, some people drink, some people do drugs, I do drag. Well, I do drag and Disneyland, that's another D. Drag is my getaway. That's my outlet, and my outlet helps other people forget, because that is why people do drugs and drink, to forget about life. They want to forget about their woes. They want to get that high. To me, I am taking you on a high because I don't drink, I don't do drugs, but I still try to have a positive outlook. Tori Amos once said, "You can't change what happened to you but you can change how you react to it." Things happen, and I will let it get me for a while, but then after while I''m like OK. I'm good. Let's  just move on and grow. Because at the end of the day you have to.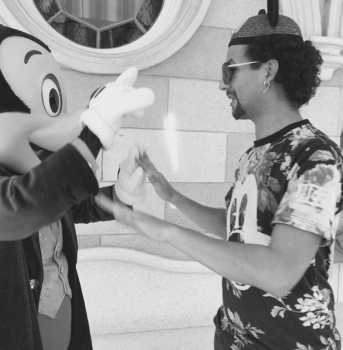 The world keeps moving, with or without you, and you can miss out on so many opportunities that people would kill to be in your shoes to have those opportunities. That's why I'm like let me do what I can do give people other opportunities that they may not normally have or may not know about. This is my outlet, to be able to help others. It's fun for me, I enjoy performing. It's fun to try to be creative, but the performing aspect and then the other aspect that I am trying to help with my business. Like my underwear business line.
Inside tip, 6 products Mona Lot Moore swears by: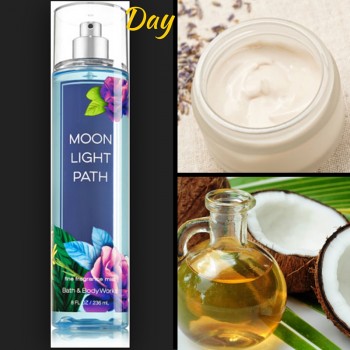 By Day: Moonlight Body Spray (Bath & Body Works), Facial Moisturizer, Coconut Oil
By Night: Lashes, Powder and Glue.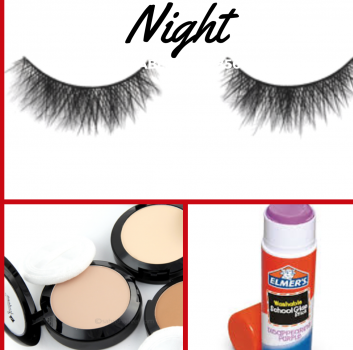 At the end of the day or night, whether he is gluing his eyebrows to perform in a dress or showing up to the office as a supervisor to help customer relations management, ultimately- Mona Lot Moore always sees himself.