Fashion Buzz with Taiana Giefer
Taiana Giefer: The Wonder-Woman of Wool
The day before I met Taiana for coffee she sent me a picture of her adorable pup who she said would be with her when we met. She did this so that I would be able to identify her in the bustling coffee shop, which was a smart idea. As I sat there sipping my coffee and scanning the room for Taiana and her little friend; I wondered what she would be like. All of a sudden I spotted a little dog and I looked up and I saw Taiana. I was taken back by her silent elegance and her youth. All I knew prior to meeting Taiana was that she was a local fashion designer that made handmade wool scarves and wraps. Due to her success, I pictured her to be much older and in all honesty a "diva." I was pleasantly surprised when I realized that she was neither of these things. Instead she has a strong and graceful presence that exudes from her soul. Her story of success may sound like good luck, however, it was her hard work and dedication that got her where she is today. She told me that she learned how to make her wool scarves from a process called felting that she learned from her Aunt when she lived in Germany for a few months.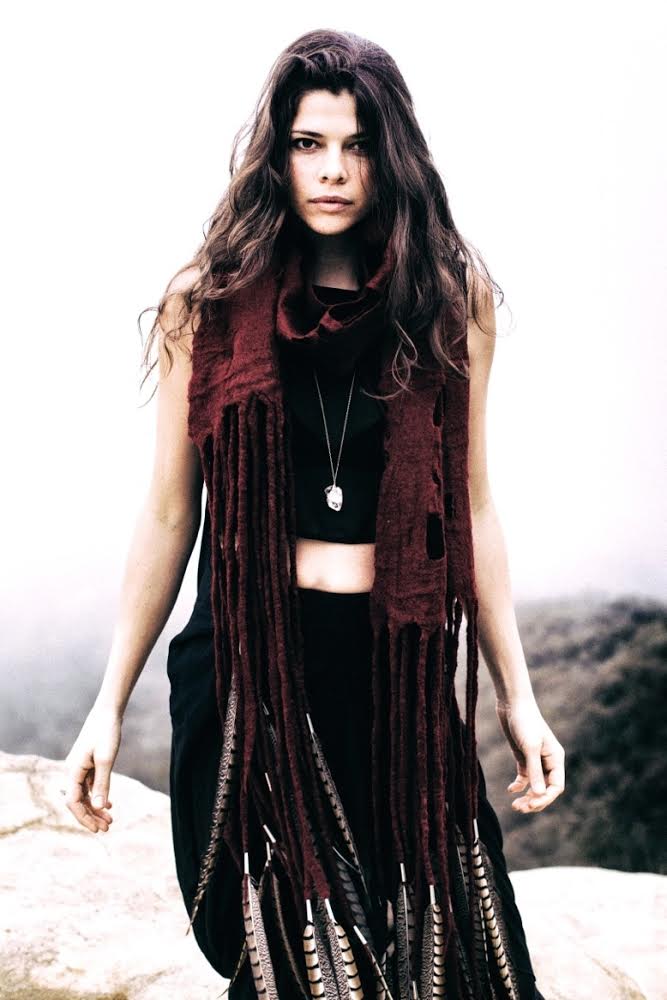 Fast forward to a few years later to when Taiana was living in New York city with her then boyfriend who was a jewelry designer. When he was asked to bring his designs to Calvin Klein he asked her to come along as well and to bring her felted creations because he felt that they would really like them. Sure enough the head designer loved her work and asked her if she would bring panels of the wool to a meeting the next morning. Even though this was a ridiculous request she agreed to do it because she did not want to pass the opportunity up. She frantically called every store to find the materials she needed. Finally, the last place she called had just what she needed to take on this big project. She worked all through the night and miraculously produced the panels for the meeting in the morning. In a funny twist of fate her creations ended up on the runway, but her boyfriend's jewelry did not.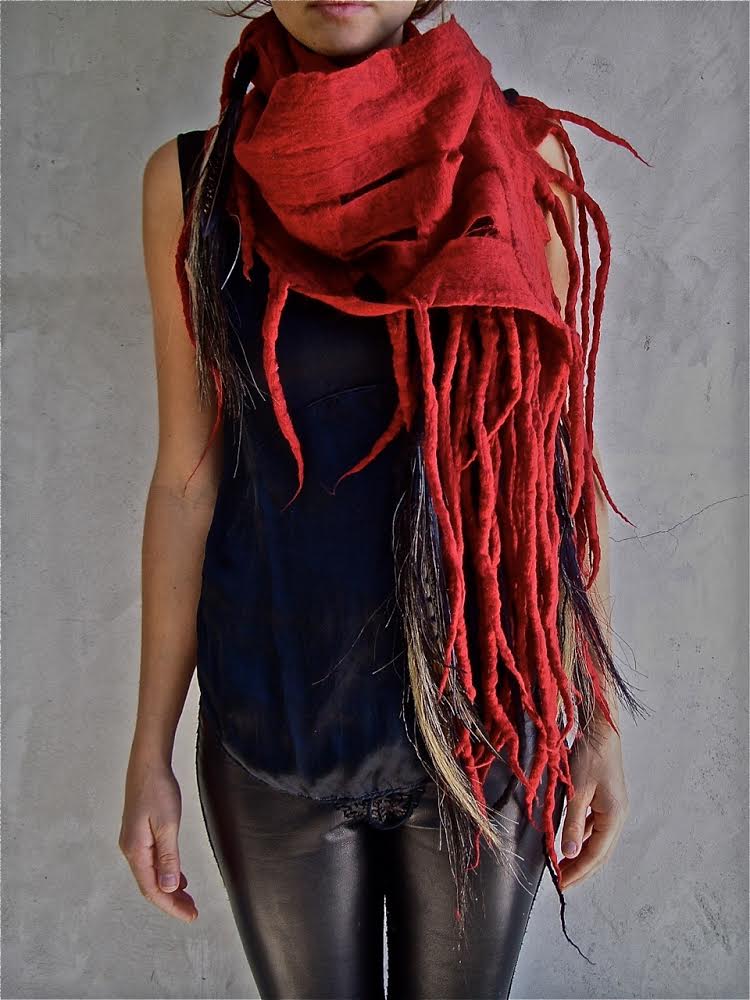 After getting this experience to showcase her work on the runway she realized that she needed to sell her scarves in a store. Her friend Kendall Conrad, who is a local designer, suggested that she contact her her friend at Maxfield. Not only did she land a coveted interview at Maxfield, but they loved her designs and bought her collection. As if fate weren't on her side already, the morning that her scarves were put out, owners of a showroom saw them and contacted her to sell them in their showroom which ultimately got her in to many more stores. "I went to the showroom and sold to 30 stores right off the bat." Her road to success was a quick journey. "This all happened within two weeks. I was a starving artist thinking about going back to school and then this happened." The launch of her career is like every aspiring fashion designer's fantasy.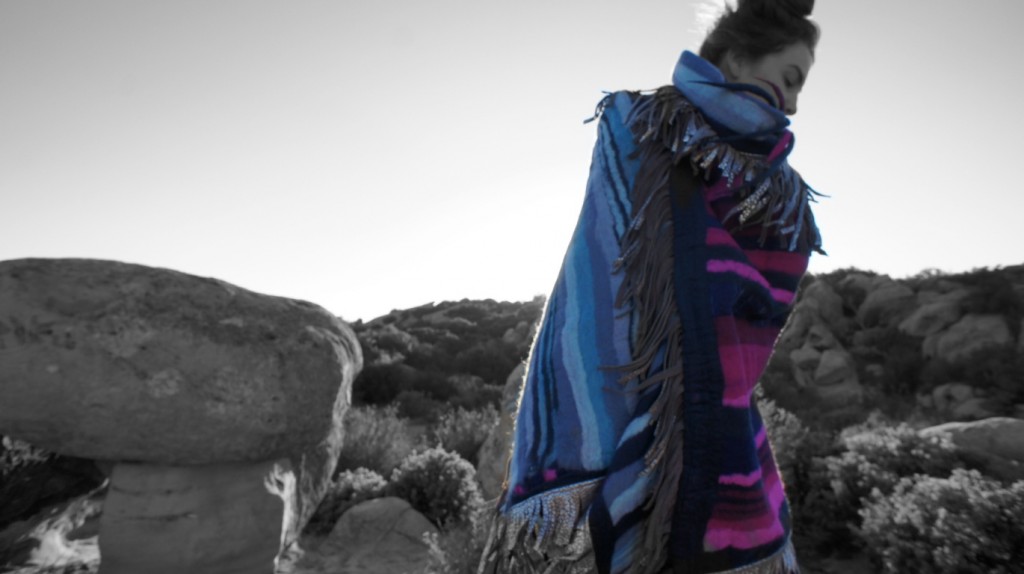 Her hard work that helped jump-start her career is what keeps her thriving today. She is a one woman show and does all of the work on her own. "I have turned down all offers for PR… any offers to expand my company because I want to keep it just me. It's very strange, most people don't do that. I do all of the packaging, all of the sales, all of the PR, and all of the accounting. I am very obsessed with keeping it artisan based." She told me that she also likes to have a condensed work schedule. Her typical work week is 4-5 days a week for about 9-15 hours a day. She makes her work week like this so that she can free up a month or two to travel. I was completely impressed and inspired by her business model.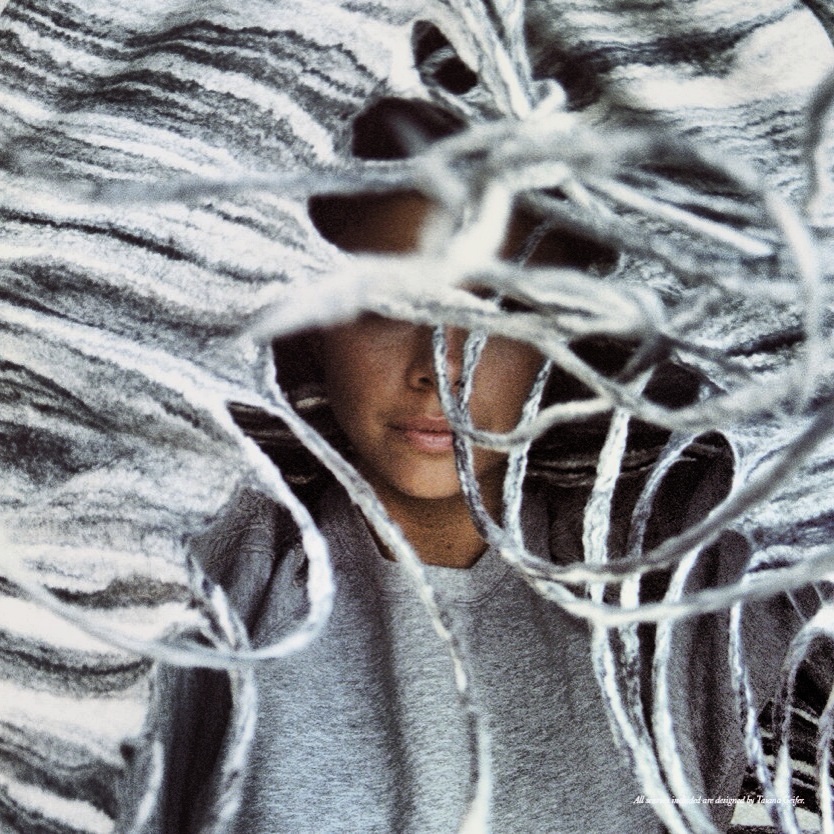 If strong work ethic were not enough, her consciousness towards the environment propels her and her company to the next level. "All of my dyes are low impact. All the wool is from farms in Europe that are animal friendly. Everything I use is organic even the soap I use. I try to recycle as much as possible and use as least amount of packaging as possible. I don't print anything. Everything is emailed. There is very little waste." She is remarkably ahead of the game when it comes to environmentally friendly business practices, and yet she doesn't feel the pressure to constantly reinvent herself. "Instead having to change my scarves all of the time, I just let new people discover them. For me to constantly evolve that product it is too hard. I think it is special enough that it is still exciting and new to people because it never looks dated. It also fits all demographics such as: age, gender, and style." Her passion for her company is in a way a reflection of her passion for life. "I think for me the most exciting things in life are challenges. They are the things that I don't know how to do, yet knowing that I have enough will to figure it out is what drives me. I thrive in those moments."
To hear more about Taiana's journey  with Calvin Klein listen here:
Photos provided by Taiana
Video: Jacob Kistner