Here at Antioch University in beautiful Santa Barbara, CA, we are lucky enough to have a community of caring, intelligent, and genuine people here to help us with every up and down of our college career. 
Behind every door on each of Antioch's 3 floors, students can find a kind face willing to be a resource. During my time at Antioch, I have found two faces to be especially helpful: our Career Counselor, Lee Yarborough, and Shira Minerd, our new Academic Success Advisor.  
Lee and Shira both work under a grant that funds the College-to-Career Program here at Antioch. Under this program, "students learn pre-employment skills such as résumé writing, networking, and employment interview skills," according to Antioch University's webpage.
I decided to interview both Lee and Shira to spread the word to my peers on campus, so that everyone knows that they don't have to suffer through their studies, but instead have support.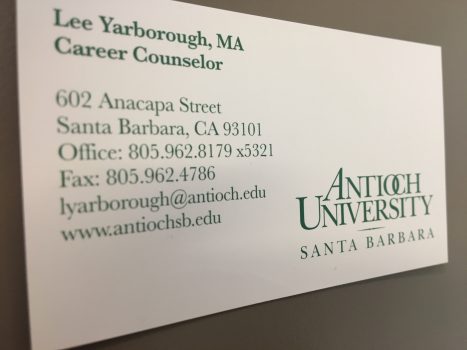 Lee Yarborough grew up in Alexandria, Virginia. She graduated with a Masters in School Counseling from Long Island University in Brooklyn, New York. She's lived all over the US, from Washington, D.C. to San Diego, and has found Santa Barbara to be a good place to call home. She is married, lives in Carpinteria, CA, and has an adorable three and a half year old and another baby on the way.
Lee has been a Career Counselor for over eight years. At first she thought she wanted to work with high school students, but after doing her internship for grad school, she realized her passion for higher education. She has worked at many universities around the US, but finds Antioch students to be the most "inspiring and creative" to work with. Lee says that the best part of her job is "seeing that a student's confidence has increased in either their academic skills or in terms of finding a career."
The services that Lee offers to students is invaluable. She has helped me to land both of my current jobs, an internship, and she helps me with career development for after graduation. She can also help with perfecting resumes, cover letters, doing vocational assessments and career inventories, career planning and exploration, networking, interviewing techniques, getting internships, job shadowing, post grad career plans, and the list goes on. Everytime I go into her office, I always leave feeling less stressed and more empowered.
On the first floor, you will find Shira in the lovely corner office. Shira has only been at Antioch for about a month, but lucky for me, Lee introduced me to her in her first week. I have already had the pleasure of checking in with her weekly to talk about how school and life are going for me.
As for Shira's background, she is not only a Santa Barbara local, but also an Antioch alumni! She received both her BA in Liberal Studies and her Masters in Education, Leadership, and Social Justice at Antioch University. Her thesis for her Masters was focused on "adult student wellness on university campuses." Which is perfectly fitting because that is what she is now doing as Academic Success Advisor.
Shira got her start working as a preschool teacher. When she realized that wasn't for her, she joined Americorps  for two years, living in Maryland and Washington working for state parks. She then became an EMT and began teaching first aid and CPR classes. Out of that, she realized that what she really enjoyed was the teaching part of it, and thus her interest in education blossomed. She moved back to Santa Barbara, finished her credits at SBCC, and then came to Antioch. She worked at an elementary school level at that point, but realized that it was the planning lessons and supporting her peers in their lives that she was passionate about. From there, adult students became her focus.
For Antioch Students, Shira can be an important resource for managing daily stressors and making the most of your time in college. If you go see her, she can help you with study skills, time management, work-life balance, searching for scholarships, applying to grad schools, resumes and cover letters, outside referrals (for counseling, child care, etc.), academic support tutoring, skills on the computer, and so on. Just like when I go see Lee, I always leave Shira's office feeling like a weight was lifted off of my shoulders.
Now that Shira is working at Antioch, she says that the most rewarding part of her job is "helping students find their balance and flow" and "seeing them through the process, whether it's a brief check in or an hour."
In closing, I asked both Lee and Shira the question:
If you could tell students one thing at the beginning of their time at Antioch, what would it be?

Lee: "

So many things! To get to know your classmates and other students at Antioch because that's going to be your network and realize that there's so many different individuals here; grab hold of someone because that's going to be who you walk across the stage with. And do your homework!

Shira:

"Get to know your professors and use services on campus! Students think professors will look down on you, here it is the opposite! Instructors here want you to reach out and want to help you!!"