From a hobby to a MTV Video Music Award nomination, Derrick Denson, a 28-year old student at Santa Barbara City College, started his own a production company called A-Plus Filmz. He has produced music videos for artist such as Kendrick Lamar, Juelz Santana, Chris Brown, Schoolboy Q, and many more.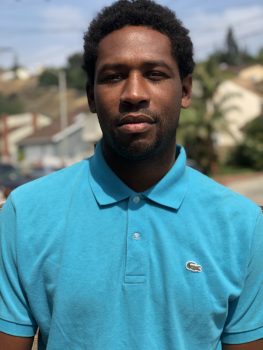 After graduation in 2009, with a associate degree in Business, Derrick landed a job for Universal Music Group in distribution department as an assistant. He worked for an independent record label called Tantrum Entertainment that is a part of Universal music Group. Derrick Denson gained four years of experience in the music industry. Shortly after this he started A-Plus Filmz.
While I was looking into internships and wondering how to effectively pursue a successful one, I decided to sit down with Denson and hear his story first hand. Here is a Q&A between Denson and I in regards to how he went about contacting employers and building a network that will ultimately lead any student to success, as it did for him as well.
Author: How did you land a job at Universal?
Denson: "I sat down with my uncle who works in the music industry, and expressed to him my passion I had for the music industry and the imprint I wanted to leave. From there he told me I can follow him around and observe how he was working and ask as many questions as I wanted. One day my uncle had a meeting with Miles Copeland at Mr. Copeland's house that was at this time president for Universal Music Group. Towards the end of the meeting Mr. Copeland asked me what it is that I do? I told him that I wanted to manage and produce artist in the music industry, and I was willing to start at the bottom. I asked him if there was my possible way of me working for him or his company, even as an intern just so I can learn as much as possible. Mr. Copeland gave my uncle a call 2 days late and offered me a position as an assistant for an independent company that was sign to Universal called Tantrum Entertainment."
Author: How was is to work for Tantrum Entertainment, and why did you leave?
Denson: "Working for Tantrum Entertainment where I started as an errand boy. The record label headquarters was located in North Hollywood. All I did the first 8-9 months was get food and coffee orders, check emails, and mail contracts. This was nothing I enjoyed but I knew something had to change. I had to think outside the box. I always had a good ear for music which leads me to finding an unsigned artist that the label ended up finding interest in. After signing that artist to Tantrum Entertainment I no longer was the earned boy. I managed the artist that I discovered and became assistant A&R. After about 4 years the label went bankrupt and that is the reason I left."
Author: What was your plan after leaving Tantrum Entertainment?
Denson: "I didn't have a plan, I woke up one day, and found out that the company that I have been working for the past four years had zero money and was closing. From there I knew I had to make money and did not want to go and work a regular job. I thought about everything that Tantrum Entertainment would outsource people to do. At the top of this list was visual content. YouTube was becoming the biggest thing at the Internet at the time and that lead me to believe that everyone needs some kind of visual content. Which lead me to A-Plus Filmz."
Author: What is A-Plus Filmz and how did you start it?
Denson: "A-Plus Filmz is a visual production company that I started in 2013 with my childhood friends, Alfredo Sandavo and Nick Hayes. No one at the time wanted to let our company shoot videos for them, but we knew we needed to shoot something to convince the industry that we were good. We started shooting videos of our homies [friends]playing basketball and putting dope [cool]effects on the videos. From there we sent emails out to producers in the music industry asking if we could film their studio sessions. One production company called 
1500 or Nothin
responded and asked us to come to their studio in Inglewood. We recorded footage of their studio sessions for 3-4 months, and we were able to network with artists. Which lead to future music videos and a meeting with
Top Dawg Entertainment
."
Author: How was the meeting with the record label Top Dog Entertainment?
Denson: "In retrospect it was one of the most classic moments in my life. I'm meeting Kendrick Lamar who was known as K-dot at the time and the label owner of Top Dog Entertainment Top before any fame. In the meeting they expressed to us that they were starting a label and wanted to work with us exclusivity for the next couple of years in regards to their visual production. We were excited just because we found someone that would pay us a $1000 to shoot a music video."
Author: How was it to work with the superstar Kendrick Lamar?
Denson: "What I liked the most working with Kendrick was him being so humble and down to earth. From my own experience, today's artist can be needy and difficult to work with. Another thing that I like with Kendrick is that he pushes the boundaries on creativity; he is a very detailed and intricate person. But my absolute favorite thing about working with Kendrick Lamar is when he lets us hear a preview of his unreleased music."
Author: Who is your favorite artist you have worked with?
Denson: "That's a tough one; I would have to say either Chris Brown or Juelz Santana. Chris brown just because I have never seen an artist come on set and kill his dance scenes in one, or two takes max. Juelz Santana was just one of my childhood fave [favorite]artists so it was an honor and a dream comes true to work with him."
Author: Did you ever receive a reward for the videos that you have produced?
Denson: "No, not yet. I have been nominated for a MTV Video Music Award (VMA), for a Schoolboy Q video that I produced in Hawaii called Man of the Year."
Author: What do you want to do next?
Denson: "That's the same thing I ask myself. With the music videos, the label or the artist owns the content. So we can only post the content after they do, if allowed, and we do not receive revenue based off streams or views. I want to produce original content. I'm currently working on a YouTube series called "Cooking and Looking". I produce and directed it myself, it's a comedy self-help cooking show based on my real life."
Derrick Denson is looking forward receiving his real-estate licence from Santa Barbara City College in the fall of 2018. In the mean time Derrick will be working on different music videos, TV shows, producing his own YouTube show "Cooking and Looking".