Santa Barbara is home to many Scandinavians who are either working professionals or students. The Odyssey interviewed one of the many Swedes residing in Santa Barbara who took a 180-degree turn to change not only her career path but also her lifestyle. Mellat Temesgen is a biochemical lab technician who moved to Santa Barbara from Stockholm in 2015 to pursue a new study path in Communication Studies at Santa Barbara City College. Mellat expresses,  "Even though the analytical part of my job was intriguing, working as a "biomedical laboratory technician" was too routine oriented for my liking. It was not a career that I wanted to pursue in the long run" says Mellat. That is when she decided to take a time off work to explore other career options by going back to school again.
Why study abroad?
"The college enrollment process in Sweden is a system designed for an individual to apply for a specific programme at different universities with a single application. After the selection process, a student is then enrolled in a specific study programme with a set class schedule, decided by the University" explains Mellat.
In order to broaden her choices, Mellat then decided to look at other options in foreign countries.
Why the US?
One of the beauties of studying in the US is having the opportunity to enroll in a college where students are allowed to set their own schedules, and easily switch majors as they learn more about what they want to pursue in the future.
Why Santa Barbara?
Prior to attending college in Sweden, Mellat had made a brief visit to California and left the US with a feeling that there was more to explore.  "As I started researching CA colleges, I saw that SBCC was rated as the number 1 college in the nation in 2014 which made it an easy choice for me! That is how I ended up moving to the American Riviera the following year."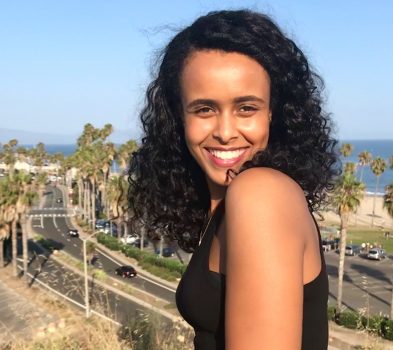 During her first semester in school, Mellat enrolled in diverse courses in Arts and Humanities which gave her a chance to explore more subjects. Eventually, she majored in and successfully graduated in Applied Communication.
Life in Santa Barbara
Like most students, Mellat's first week was full of excitement and time spent adjusting to jet lag and settling in her new home. "A European roommate and cozy home decor items from the World Market on State Street made my new environment somehow familiar to what I have left behind."
It is not a surprise that Mellat attracted to the beautiful beach scenery and epic views of Santa Barbara. By managing her school time, Mellat made sure that her time in Santa Barbara was balanced with both studies and taking time off to enjoy the city.
"Moving cross country is not a walk in the park. It is inevitable to make mistakes navigating a new culture. Don't be too hard on yourself, laugh and find the humor in the culture-shock" says Mellat while laughing and adjusting her comfort in her chair as she described her experience.  
Here are few "Culture -Shock" experiences that distinguish the Swedish culture from the American.
Walking Vs Driving Around
Coming from a thoroughly integrated Swedish public transportation system, Swedes in Santa Barbara are usually seen walking around a lot. Gradually, many tend to get their driver's license. "Driving opened a door to a greater American adventure," says Mellat.
The Variety of Brands in the US is Overwhelming.
" A simple trip to the grocery store to get orange juice, can potentially leave you doing "paired comparison analysis," says Mellat as she laughs and explains the huge range of consumer choices in American stores.
Things are done bigger in the US.
"The houses, the cars, the food portions, you name it, you just have to find the right amount for you in the midst of the excess."  
American College Outfit Culture
College students in Santa Barbara tend to enjoy sweatpants which gives them more of a "laid back and relaxed" style that is influenced by the beach and surf culture. Often it is easy to recognize freshman Swedes at SBCC wearing "a well put-together" ensemble. Gradually, Swedish students learn to blend into the " college outfit culture" to some extent.
Few of ways of integrating the American culture…
Extracurricular Activities Help you Get Integrated
In addition to professors and school advisors, having a healthy support system is essential in creating a home away from home.
Mellat explains how activities like working out at local gyms, joining the Sigma Chi Eta Communication Honor Society and also volunteering at places such as Transition House and Walk MS helped her make friends who made her feel more at home.
Many Swedish students live collectively in apartment complexes such as Beach City and Buena-Vista apartments in order to get a culture balance. It gives them a chance to have fun together in familiar ways while enjoying to get to know the American culture and make friends throughout Santa Barbara and more.
Mellat explains the importance of having a mentor.  "Having someone who keeps you accountable to your goals and helps you track your progress is vital to your professional as well as personal growth".
What's Next?
Mellat is enjoying her third summer in Santa Barbara and adjusting her life to a new career path. "I am currently on my Optional Practical Training (OPT) program at the Scheinfeld Center for Entrepreneurship and Innovation. The center is where Entrepreneurs exercise and develop their skills in Business planning and launching, where I get the opportunity to attend and work with many activities involved in that process."