El Nino's first shot at Santa Barbara has left some major effects.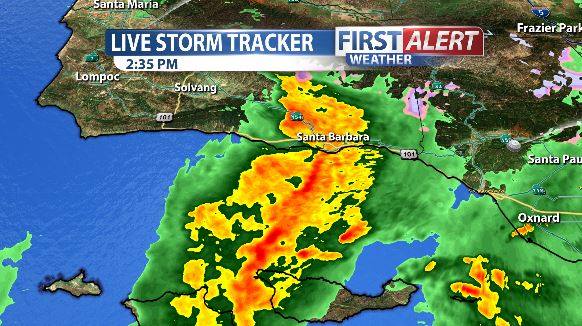 It's important to know the beast we are up against. Winter storms are flooding roads, leaving cars stranded, damaging houses, canceling classes, causing accidents, and closings roads. So what is El Nino? Well according to the National Ocean Service it is decribed as,
"El Niño and La Niña are opposite phases of what is known as the El Niño-Southern Oscillation (ENSO) cycle. The ENSO cycle is a scientific term that describes the fluctuations in temperature between the ocean and atmosphere in the east-central Equatorial Pacific (approximately between the International Date Line and 120 degrees West). La Niña is sometimes referred to as the cold phase of ENSO and El Niño as the warm phase of ENSO. These deviations from normal surface temperatures can have large-scale impacts not only on ocean processes, but also on global weather and climate."
Antioch's campus had some negative effects also from the rain and flooding. Some teachers cancelled classes due to the weather conditions. Water on Anacapa St. flooded so much that water was coming in under the door and damaging carpets. The roads caused accidents around campus as well. Cars around campus were flooded in leaving students stuck at school. From Milpas to Mission there were many city workers trying to get all of the flooding under control.
Torrential rain, dumping as much as 2.7 inches of water per hour, coupled with strong winds knocked down power lines, and over 50 000 people in South California were without power. In the Santa Barbara area, a Southern California Edison power outage affecting more than 250 customers, was reported in Montecito.
Road closures were present throughout the Santa Barbara country. Most were due to replacements on flooding, power poles or residential development.
There was an accident on Tuesday, January 5th, involving a semi-truck just before 7:30 a.m. on U.S. 101 Southbound at the Castillo Street off ramp. Commuters had to wait patiently as the scene was cleaned up. Although the accident is still under investigation, the causation is thought to have been caused due to the heavy rain fall. It is recommended to use extra safety precaution when driving through this weather.