On a beautiful Saturday morning, young kids sit on the bright green lawn with their eyes open wide and their mouths open in 'awe". These kids are seeing something they didn't expect to see at the Zoo… a roaring Tyrannosaurus Rex.,
This Tyrannosaurus Rex is named Duncan the Dinosaur, and he is an 8ft tall and 16ft long, state of the art puppet whose purpose is to educate, motivate, and excite kids about animal health and world conservation. Duncan was created for the Santa Barbara Zoo in 2011 by the Chiodo Brothers, a professional special effects company, that have worked on such projects like Will Farrell's hit film "Elf" (2003) and Team America World Police (2004).
Today, Duncan and Maddy Haines, his handler, go over the importance of brushing teeth – as this is a task that is important to children and applied to some animals for health reasons. Maddy brings out a giant toothbrush. She gets a laugh from the audience when she says she received the toothbrush from her sister because "she has a big mouth".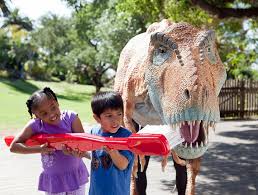 Maddy, who worked previously at Disneyland before making the jump to the zoo two years ago, enjoys every aspect of the job. "My favorite part of working at the zoo and with Duncan is I love interacting with all the kids, and seeing their eyes light up."
After the performance, Duncan heads back to his star locker room where the performer gets to rest. This day the performing puppeteer was Daniel Colohan, who has been with the Zoo for over 3 years. Though the dinosaur suit weights upwards of 80lbs, Daniel is all smiles. "I get to work outside, I get to be part of a supportive team, and its all about making those kids smile – which I think we both accomplished."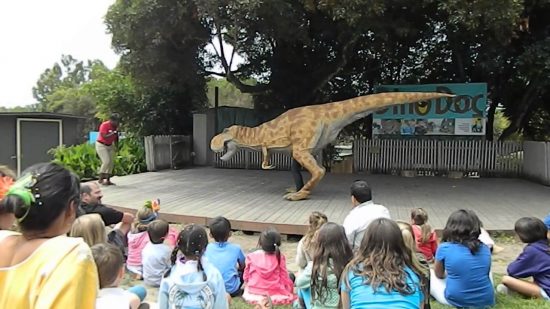 Maddy believes in the importance of teaching a young generation about the importance of conservation. "It's wonderful to see kids get excited about Duncan because they get excited about the zoo, and conservation". Since the zoo does not bring animals on stage for performances – Duncan acts as a substitute. Instead of the impossible like bringing an elephant, giraffe or a lion on stage, the performers mimic how keepers take care of these animals with Duncan.
The Santa Barbara Zoo, which was established in 1963, is the local leader in Conservation. For example, they have a big hand in the restoration of the California Condor species. Back in the 1980's, the California Condor's population was down to roughly 22 birds in the entire world. Thankfully the Santa Barbara Zoo has worked with the U.S. Fish and Wildlife Services, Los Angeles Zoo, and San Diego Zoo to bring these wonderful birds back from near extinction. Though there is still continues work to do, the population of the California Condors has risen up to over 450.
With this new generation that is falling in love with Duncan, the zoo is creating a generation that will grow up to care for the natural world.
For information on the zoo's visiting hours, how to apply to become a performer, or to know how you can support the Santa Barbara Zoo and local conservation efforts visit SBZoo.org.