Along with the amazing food the Santa Barbara Pier has some fun activities! Amongst these activities the Santa Barbara Museum of Natural History brings us the Sea Center!
The Santa Barbara Sea Center is located on the Stearns Wharf Pier. The Sea Center was built in 1987 and is an extended section of the Santa Barbara Museum of Natural history. The hours are great for a child adventure or a romantic fun afternoon date. The hours are from 10am to 5pm. Sea Center Admissions fees are also cost efficient with prices being free for members, $8 for adult (18–64), $7 for senior (65+) and teen (13–17), $5 for child (2–12), and children under 2 years are free.
My visit to the Sea Center
I decided to take a trip through this Sea Center to see what it was all about. I also wanted to see the exhibit called JELLIES and friends. After walking to the pier along side the gorgeous beach we quickly got to the Sea Center. There was a sign for the JELLIES and friend exhibit. After paying they announced there would be a shark feeding within 5 Minutes. We wasted some time crawling around the Surge tank tunnels that were clearly not made for anyone taller the about 4 feet. It was fun from above and inside.
Then we only had about 2 minutes left till the shark feeding. So, what better to do then pet some sharks! The sharks definitely knew it was feeding time and were very excited. The Sea Center collects shark eggs and grows them on sight. They have infant sharks growing in a safe environment. The sharks have two areas. A small tank where they are growing out of their eggs and learning to use their bodies correctly. The larger tank is the petting tank. It sits about 2 feet off the ground and is easy for children and adults to pet and interact with the sharks.
Finally it was feeding time!
After indulging in feeding the sharks and petting them. We walked over to the tide pool section. All the creatures in the tide pool section are local creatures you can find in any of the tide pools around! They had things such as anemones, starfish, sea urchins, sea hares, sea snails, and sea cucumbers. The workers were very knowledgable and answered all our questions. All the creatures in this area are also allowed to be touched. It is important to remember in the sea center and in real tide pools to be gentile with all the creatures you find. Ripping creatures that have tube feet such as starfish, mussels, and sea urchins, can seriously damage and injure them. There are some great sources of tidepool etiquette.
Then we were off to learn about the local fish in the area. They have a fairly large fish aquarium of larger local fish. However I found the small fish aquarium much more interesting. It focused on the Santa Barbara Rockfish. It had some interesting facts about Rockfish and the struggle that they face. It was also extremely interactive. The display has a wheel that lists all the hardships the Rockfish faces while trying to survive. Only a small amount of Rockfish ever reach adulthood. Even doing research while writing this a lot of the only information I could find about Santa Barbara Rockfish was fisherman guides to catching Rockfish. I think it is important for us to be aware of and protect the creatures in our area!
Next we went into an area with an opening to the ocean. They drop down a basket to the ocean floor and bring it back up for observation. At the end of the day they release all the things they catch back to the ocean. They help identify and use microscopes to show people the small things they catch. The day I went they had caught a small crab and a large spider crab. This is a great activity for creative and curious children.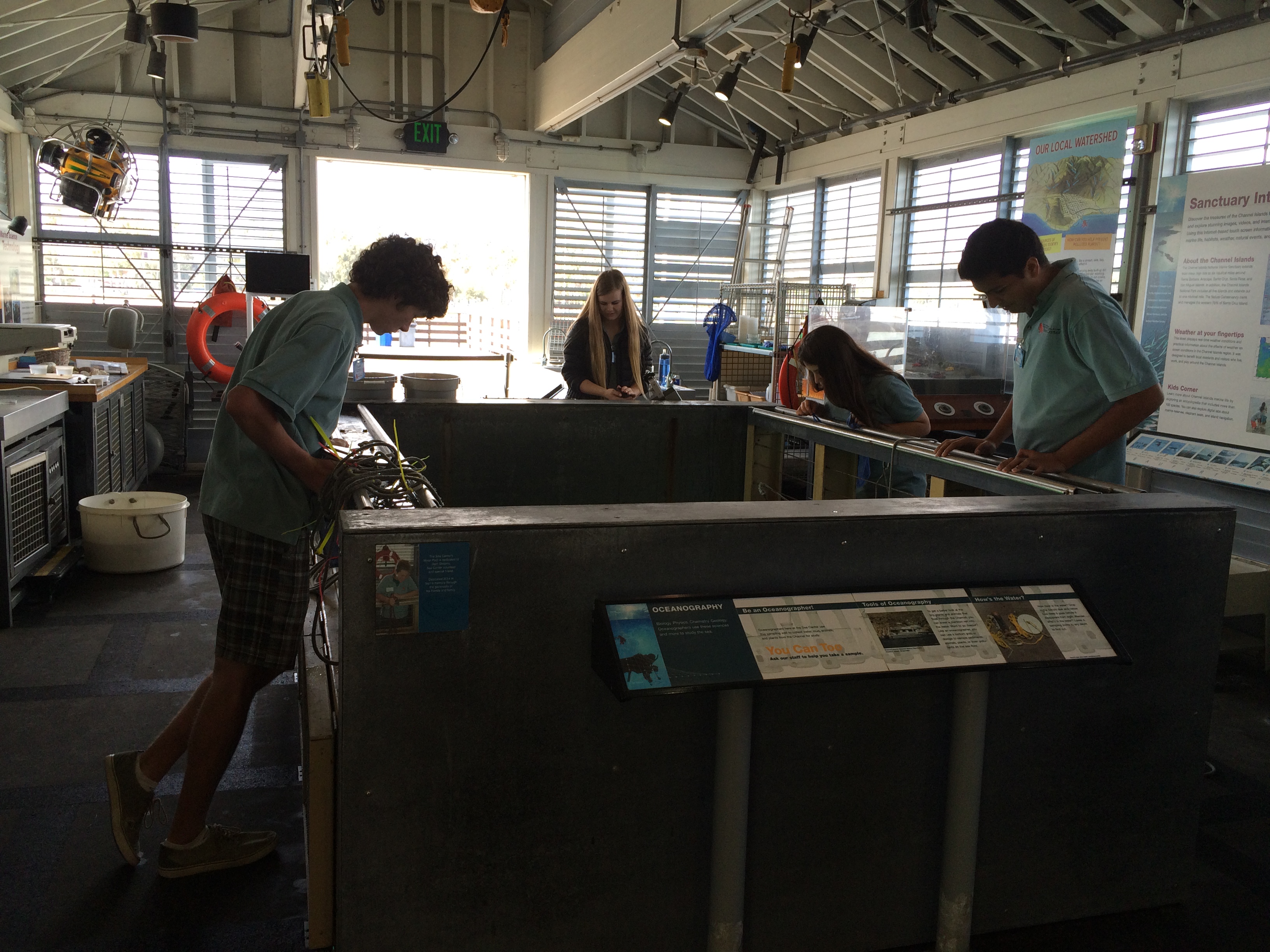 It was now time to see the JELLIES and friends! We went up to the second level to see them! The first thing in the dark lit room was the Spanish Shawl Nudibranch. The vibrant see slugs can be found in most of our coastal region. They move very fluidly with the water and many of them are very good at hiding despite their bright colors. The bright orange fringe on top of the slug is actually it's gills. Scientists believe the bright colors are for camouflage while feeding. The other reason is that in the animal kingdom brightly colored animals are a warning to other animals that they are poisonous. Unlike most slugs these slugs can actually swim by wiggling their body. This is actually where they get the name the Spanish Shawl. When they swim they are very reminiscent of the fringe shawls Flamenco dancers wear. They are also hermaphrodites so they don't have a sex. These are the prettiest slugs I've ever seen!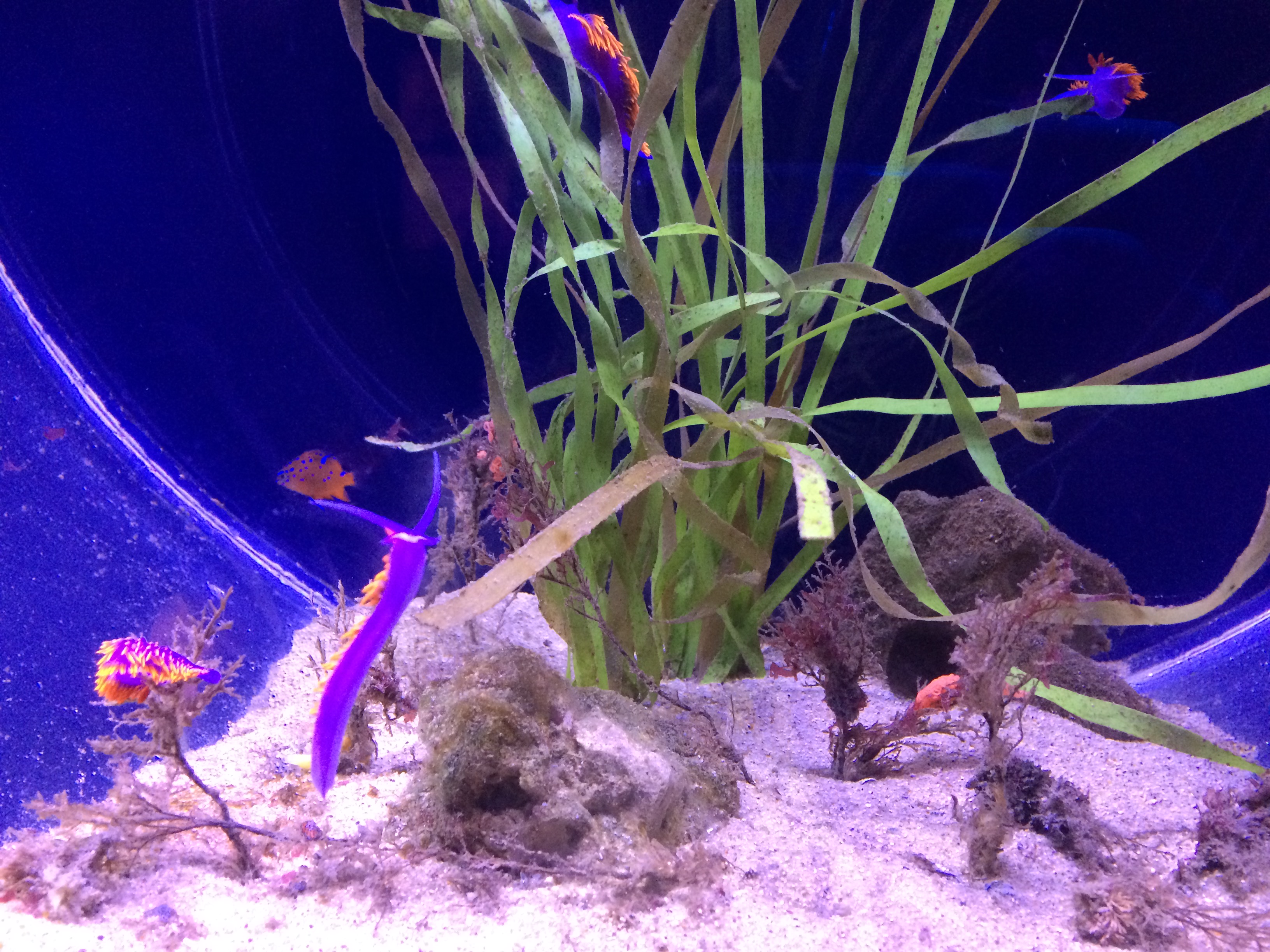 There were a few other friends there such as the Strawberry Anemone. These are small anemones that only grow to about one inch and are usually red or pink in color. These anemones are also known to be very aggressive carnivores despite their small size. There is also a Two-Spot Octopus who was unamused with our presence. They even were feeding all of these while we were there and the octopus was so not interested in food. They tried to wake it up and the octopus just turned into the smallest shape in the corner and didn't bother to open it's eyes. The octopus with a cat personality! The third friend aquarium was a lot of local fish. There was also a very small eel in this collection.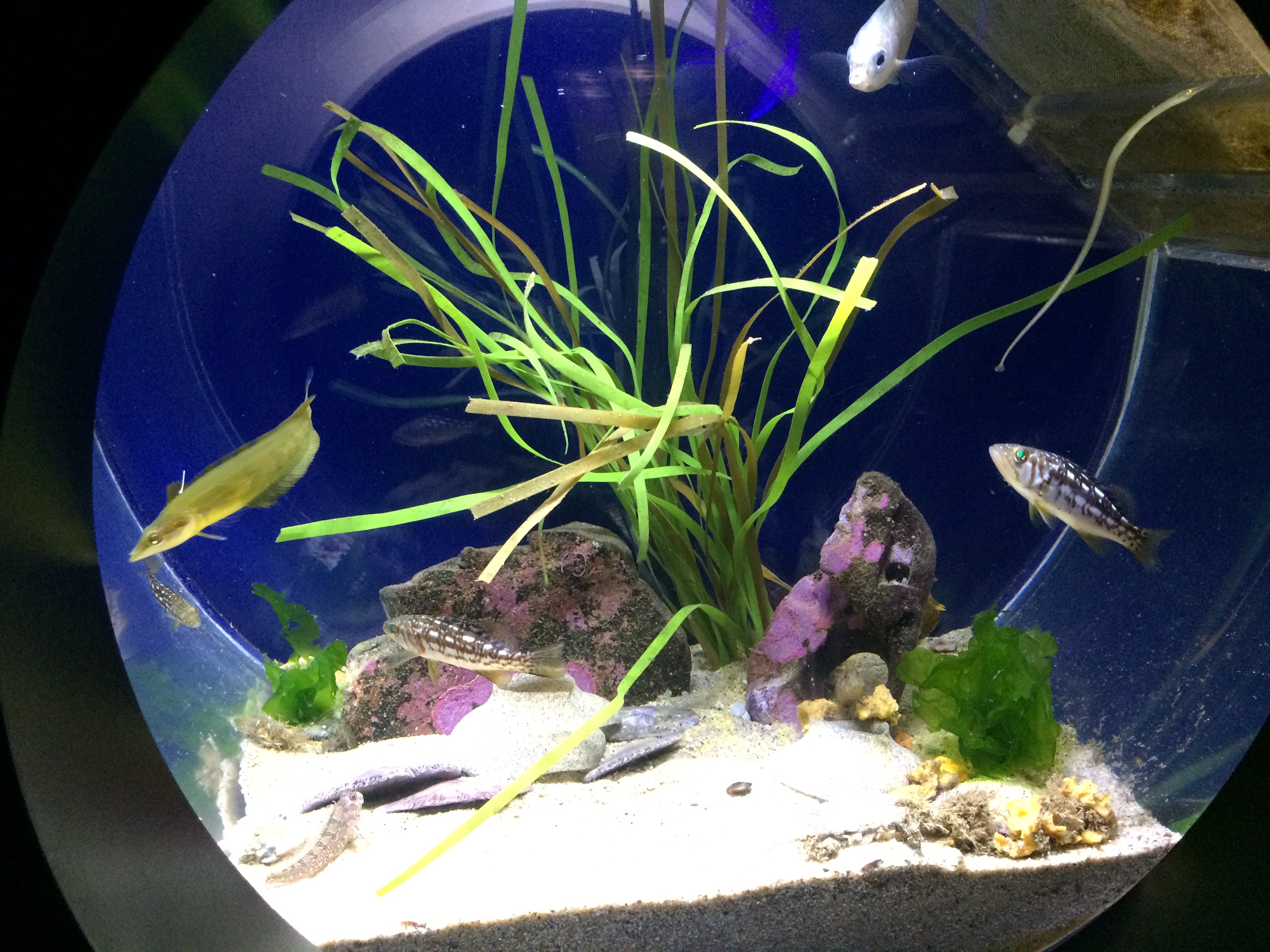 Next was the Jellies!!! Most of the Jellies are Moon Jellyfish! They describe the life cycle on the wall along side them. They go from basically floating genetic material, to planula larva, into a polyp that looks like an anemone, then the polyp grows, they begin to break apart into an ephyra, until finally they show as a medusa we know as a jellyfish.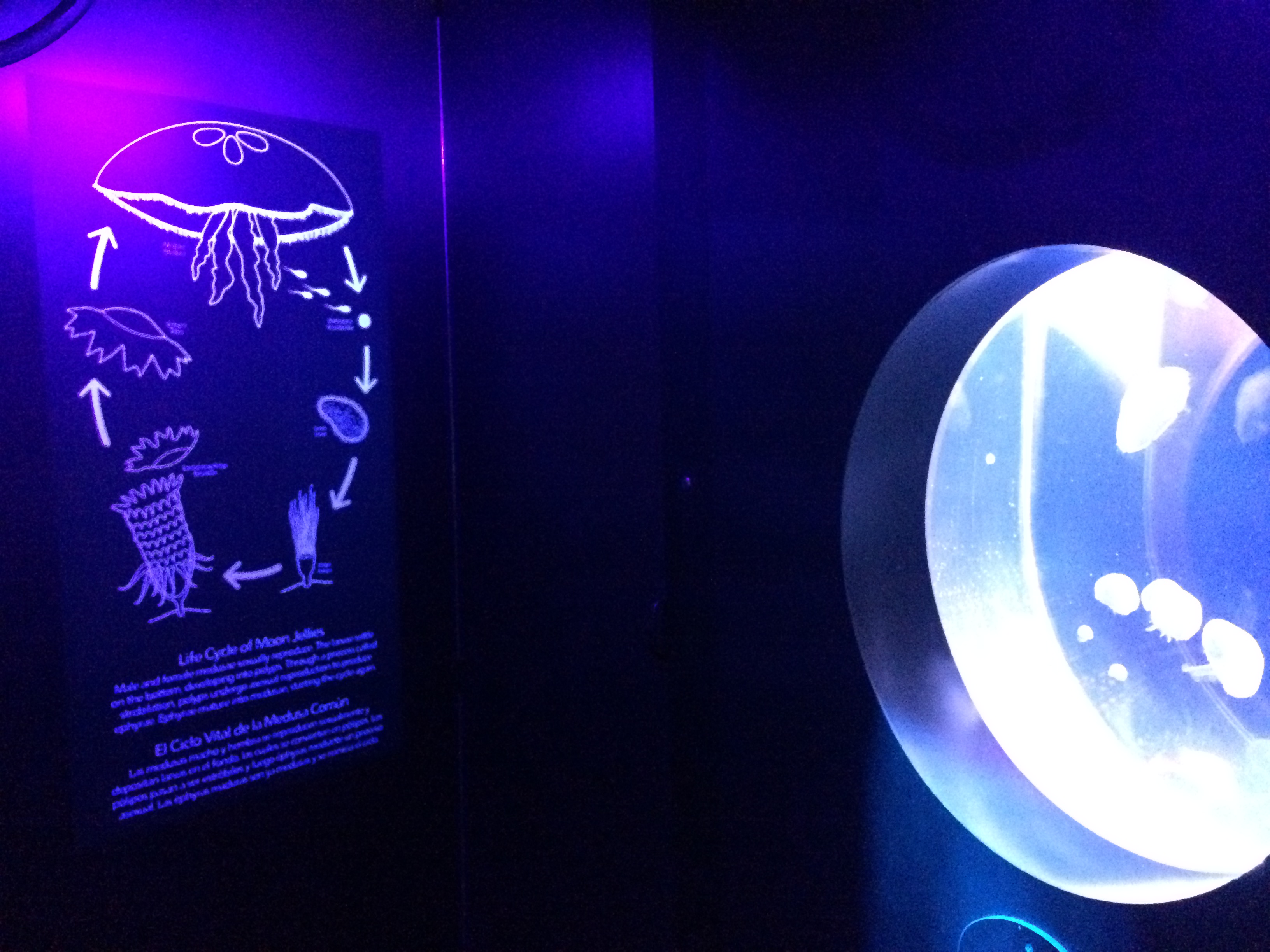 The jellyfish are all different shapes and sizes! Here are some pictures of the jellyfish that definitely mesmerized me!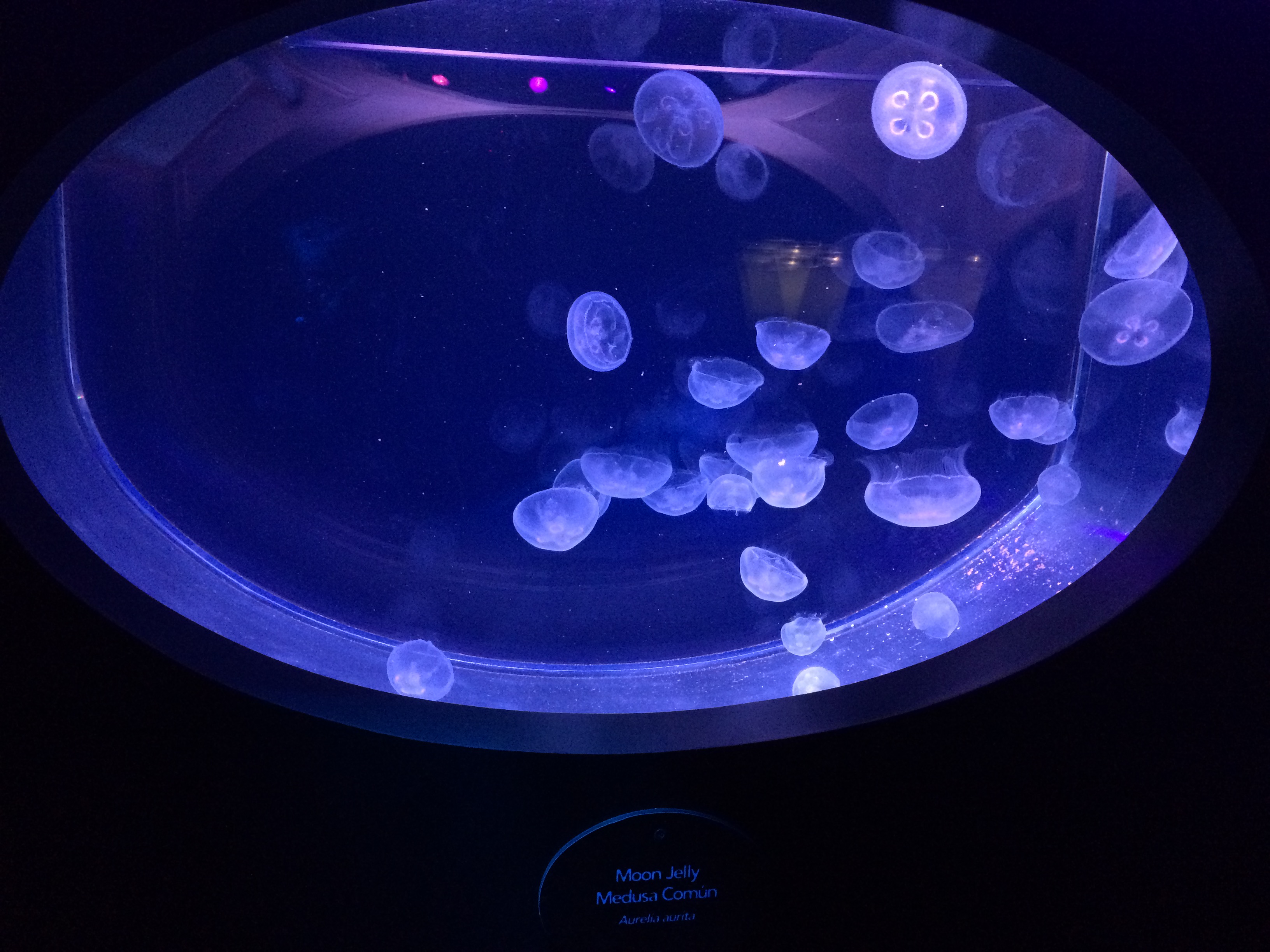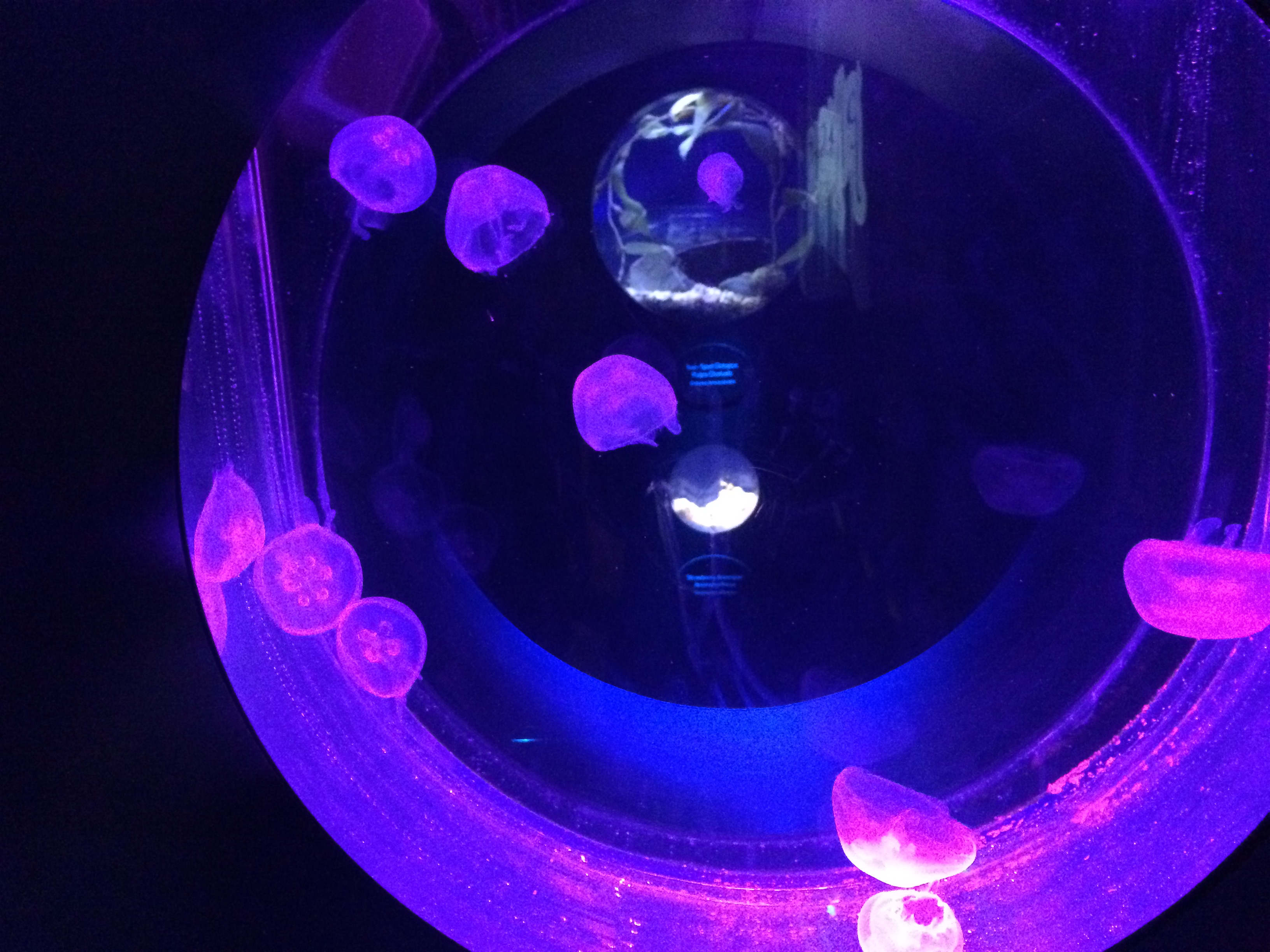 In this exhibit there are also some children activities like a jellyfish puppet show area. There are also a lot of diagrams about the biological interworking of a jellyfish. There is a krill farm for all the jellyfish to feed on. Just make sure on the way out to not get caught by the giant jellyfish on the way out!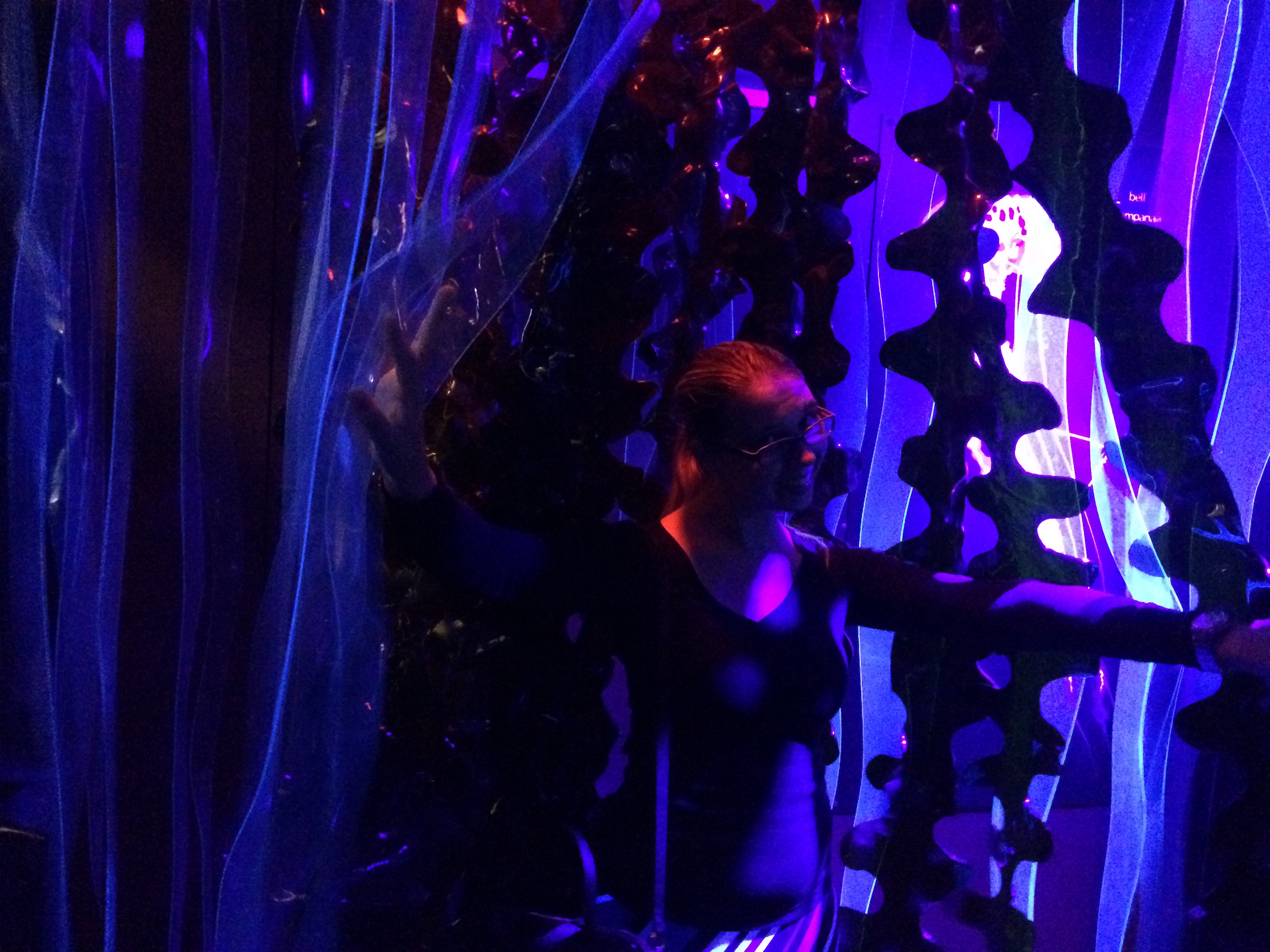 The last area we visited was an exhibit about sustainable food and how you can help. They have a list of local restaurants from Carpinteria to Goleta that serve sustainable local seafood. It also talks about problems like overfishing and trawling. Trawling is a fishing practice where a net scrapes the bottom of the ocean and collects not just fish, but destroys the ecosystem living and collects unwanted creatures. They show the types of fish that are easily sustainable in our area and the foods that you shouldn't eat. I love sea food and I eat a lot! This section really spoke to me the most and helped me realize exactly what we are doing by overfishing.
And of course the last attraction of this beautiful place is the awesome gift shop! I have no idea how anyone can get out of this place without buying something. I know I sure didn't! They have anything you can want. For all the little ones and 90's kids they have ocean creature Beanie Babies. For any tourist looking for some awesome Santa Barbara shirts they have all kind of apparel you could imagine. They have great beautiful jewelry. For kids or someone that really loves toys they have sea creature puppets and plastic little figurines. The best part is that all of the things in this awesome gift shop are so reasonably priced!
So what's my verdict? This place is amazing! I have lived in Santa Barbara for almost 5 years and live two blocks from the pier, yet I have never been to the Sea Center! This is a great destination for families, couples, curious people, tourists, and anyone looking to learn a little something! Go on down and discover the Sea Center!
211 Stearns Wharf, Santa Barbara, CA 93101
(805) 962-2526