"A spoonful of sugar makes the medicine go down." This is, after all, the famous tidbit of advice said by the great Mary Poppins. But why does medicine assistance in order to be easy to swallow? If pharmaceutical remedies are intended to bring our bodies ease, why do our taste buds react with an indication of poison? From one perspective, prescription drugs have undoubtedly benefited our society by saving people from disease and aiding certain disabilities. However, we're starting to see the negative side effects that many synthetic drugs have on the human body and our society. Today, many former prescription users have sought out natural alternatives to aid their ailments. 
Ashe and Christin Brown opened Pura Luna Women's Apothecary in 2017, and have since been dedicated to their mission: "to provide safe alternative methods and modalities for women to heal themselves and empower them to do so with the help of the community." In 2018, the shop was awarded by the Santa Barbara Independent for Best Herbalist/Holistic Practitioner. Pura Luna's storefront is providing herbal alternatives to promote healing while also creating events that both celebrate womanhood and educate people about the power we have to heal ourselves holistically. The carefully curated apothecary offers a range of all-natural, plant-derived personal care items ranging from organic feminine hygiene products to teas and tinctures that all people can use to cure a common cold.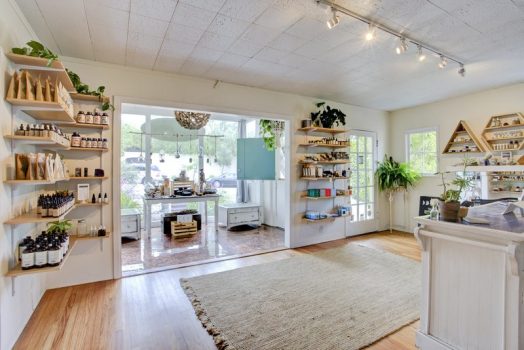 There are many organic self-care items and medicinal remedies that your local CVS (or even farmer's market) will probably never stock: a Mugwort herbal tincture to benefit sleep and support lucid dreaming, or a tobacco-free alternative for smokers: the Pink Clouds herbal smoke blend. Before the existence of Pura Luna, options for alternative medicine in Santa Barbara were largely restricted to the extensive and uninviting wellness departments at natural-food stores like Lazy Acres and Whole Foods. The perfume of vaporized essential oils, floral soaps, and incense sticks had always lured me in at these stores. However, after seeing hundreds of identical amber vitamin bottles, I was never able to spend the extra $42 on a blend of herbs that had been sitting on the same shelf for far too long.
My first steps into Pura Luna were opposite the typical fluorescently-lit grocery store vitamin section: I was greeted first and foremost with a warm smile. I made the recurring promise to myself that I was there "just to look," but inevitably found myself leaving with a brown bag of herbal allies including my all-time favorite Lady in Red tea blend.
So why is access to alternative medicine important for our health? Medicinal herbs provide an alternative to some pharmaceutical drugs that cause negative side effects – especially as a solution for mild illnesses or discomforts. The concept of medicine was originally developed based on plants that were discovered to aid physical pain and other adverse symptoms of injury. Today, mainstream pain management is held tightly in the hands of pharmaceutical companies that develop medications while only focusing on the mitigation of one problem. Many modern pharmaceutical companies rarely consider the negative side effects caused by synthetic compounds that otherwise seemed like a solution.
Pura Luna Women's Apothecary is located at 2009 Chapala Street in Santa Barbara; a space that was formerly a shop under different ownership that sold wedding dresses. This space has now been transformed into a bright and inviting herbal hub that truly feels like home. Beyond the storefront, Pura Luna is pioneering the movement of events that are centered around women's wellness and also maintaining a safe space for women of color in Santa Barbara. Recent events hosted by the apothecary include Women of Color Womb Work, Staying Nutritionally Nourished as a Woman, and a talk hosted by a naturopathic doctor about the causes and natural solutions for eczema.
Regardless of your familiarity with natural medicine, I would encourage you to visit Pura Luna if you're interested in self-care, holistic wellness, herbalism, and the many events that address social justice issues around the female body. In part, it is Pura Luna's mission to "support women in accessing and tapping back into their bodies' healing wisdom with the assistance of plant medicine and self-care." The next time you need to reach for a bottle of syrupy synthetics, remember that the apothecary is staffed with knowledgeable herbalists who can help you find a healthy alternative that won't require a spoonful of sugar to go down in the most delightful way.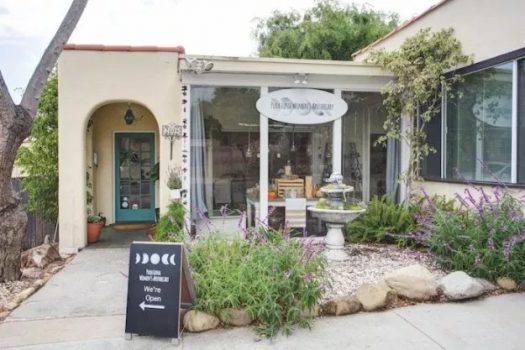 Visit their website to shop online and learn more about the self-care services and events held at Pura Luna Women's Apothecary
Featured Image Photo by Brooke Lark on Unsplash