Lotusland is a 37-acre estate that belonged to Madame Ganna Walska.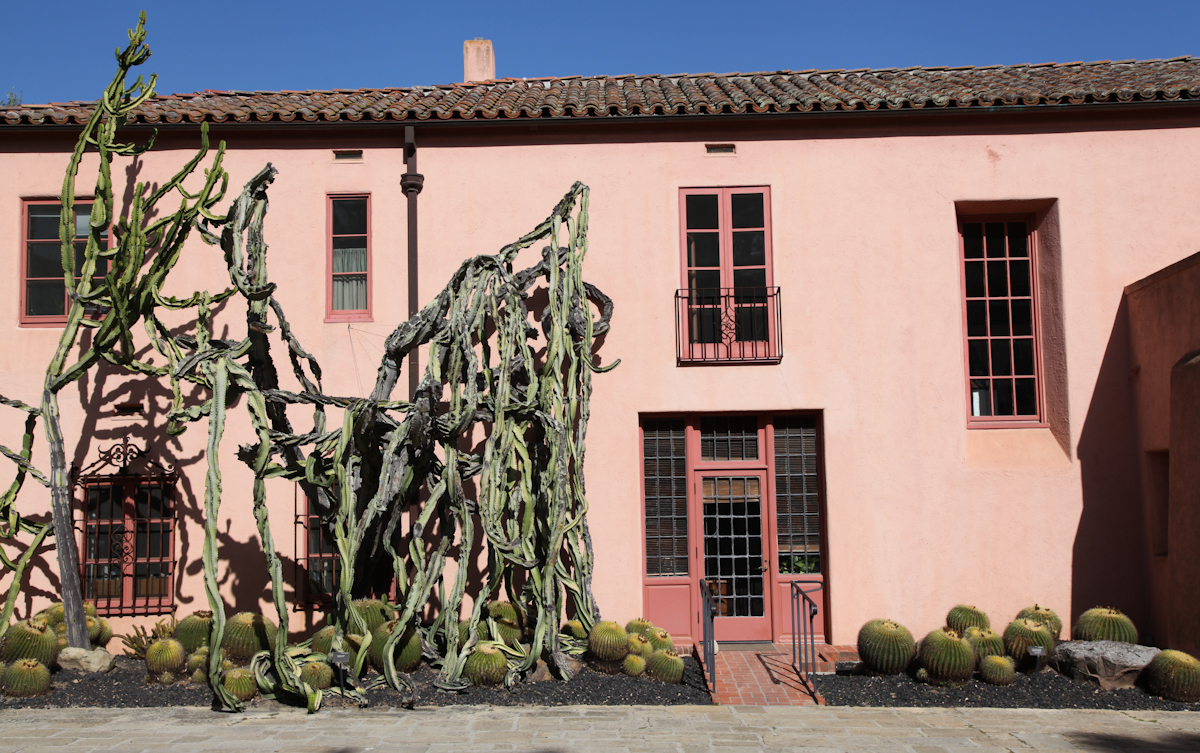 When you come visit Lotusland you might be shutter happy taking photos trying to document your time here because it is a once in a lifetime experience. I advice that you do take some photos to remember you time, but most of all make sure to be present and take in the moment.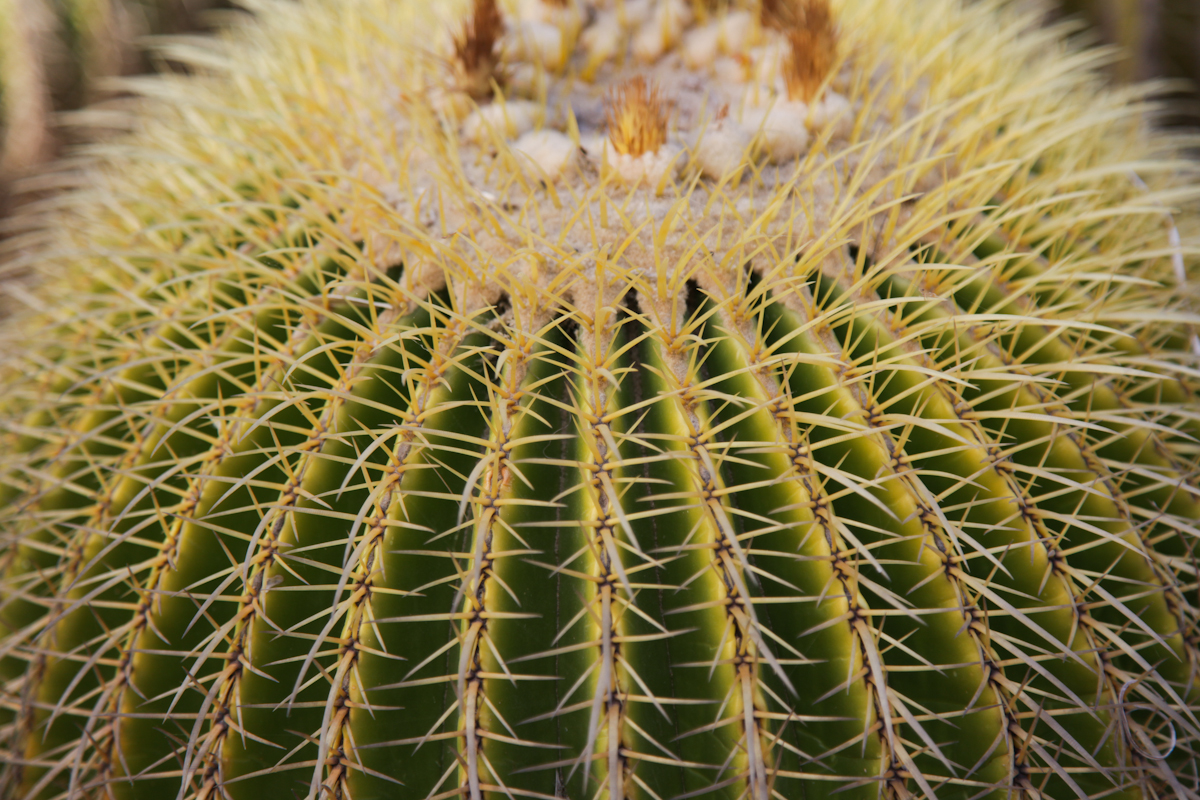 Lotusland is a 37-acre old estate that belonged to Madame Ganna Walska. This wonderland has around 3,000 varieties of plants from all over the world. It is easy to see why people from every continent flock to Lotusland every day for their guided or self tours. In order to come to Lotusland you must either set up a tour reservation, or become a paid member at various levels. This is because it is located in the heart of a residential neighborhood, and there are only a certain number of people let in each day to keep their conditional use permit. Montecito is known for being the home of the wealthiest people, and Lotusland is rich in its own ways. From its huge cactus garden and the Lotus ponds, to the more than life size horticultural clock, Lotusland must have been forgotten to be listed as one of the wonders of the world!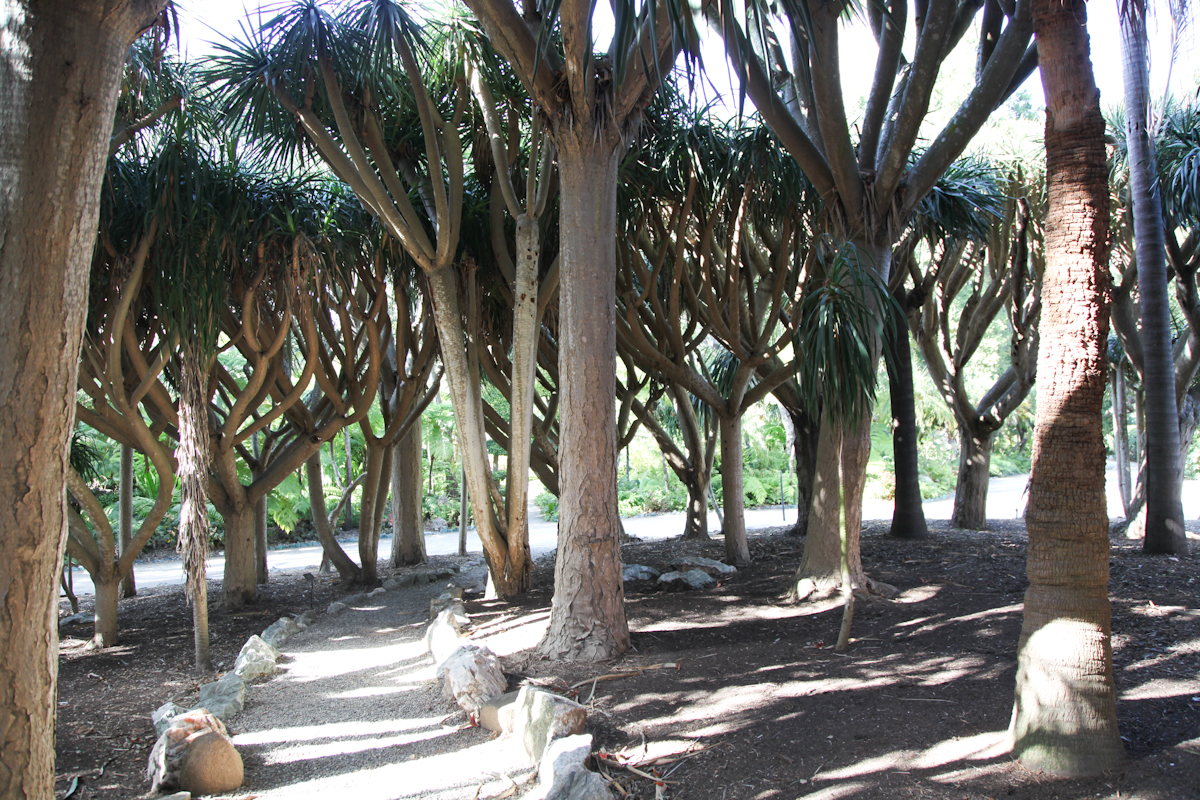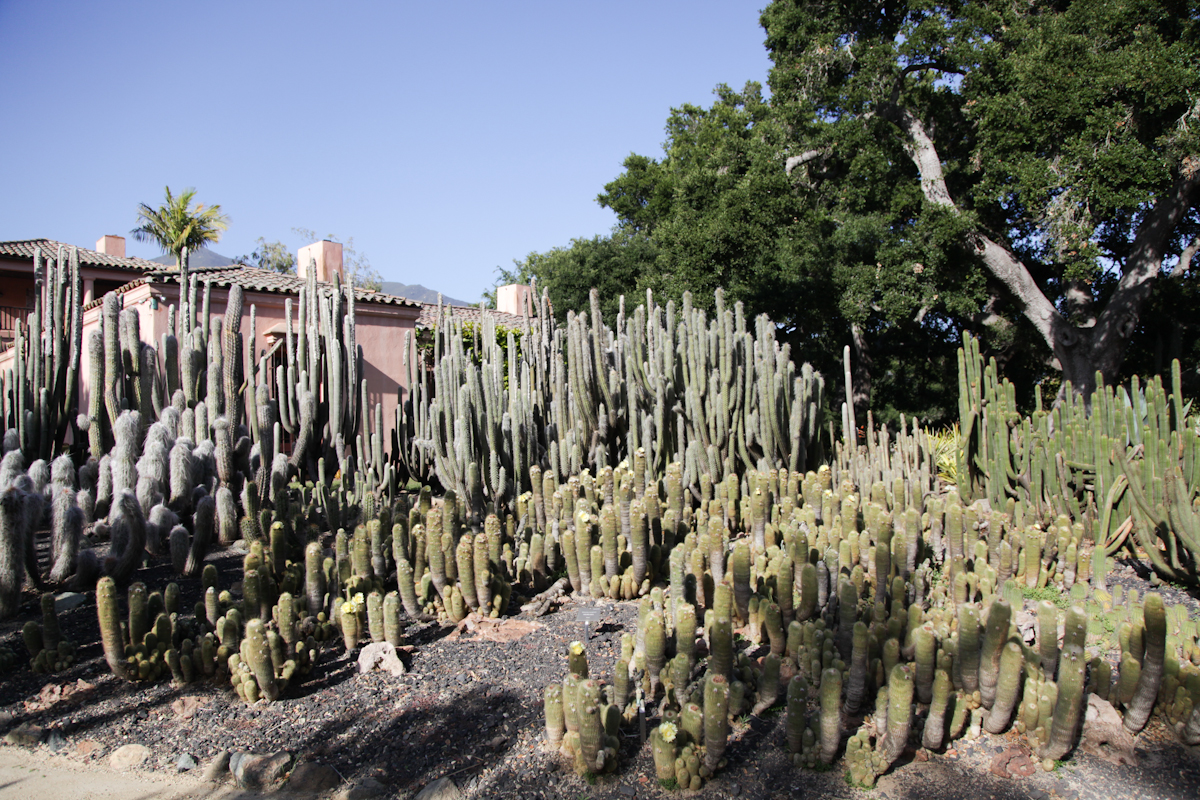 Lining The Paths
As you wander through the lush scenery of the garden, you might want to take a moment to look down at where you are walking. When you do this you will notice the unique slag glass that borders the path. This slag glass is special because it comes from the days when Arrowhead water bottles were made out of glass, when they had extra glass build up in their furnace, it was turned into these stone looking products. Naturally Ganna wanted an excessive amount of these for her garden. You can not find these specific pieces anymore, and they are unique to Lotusland.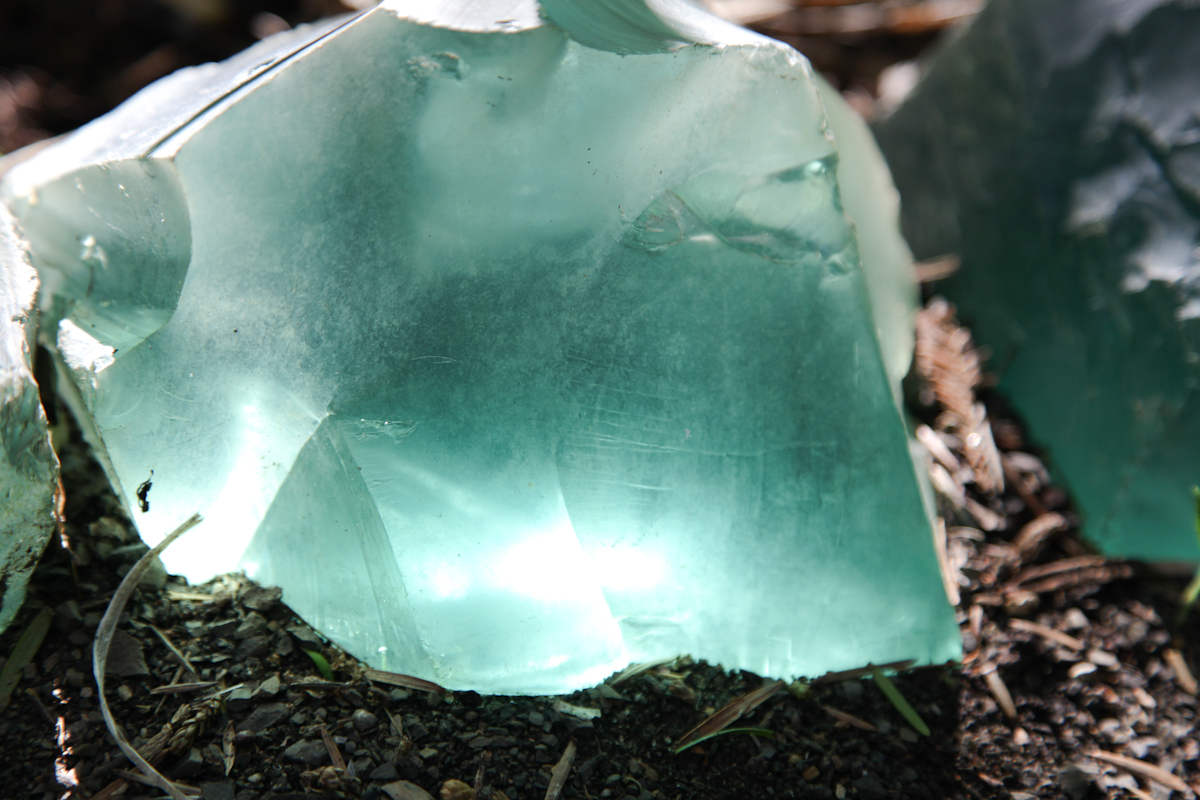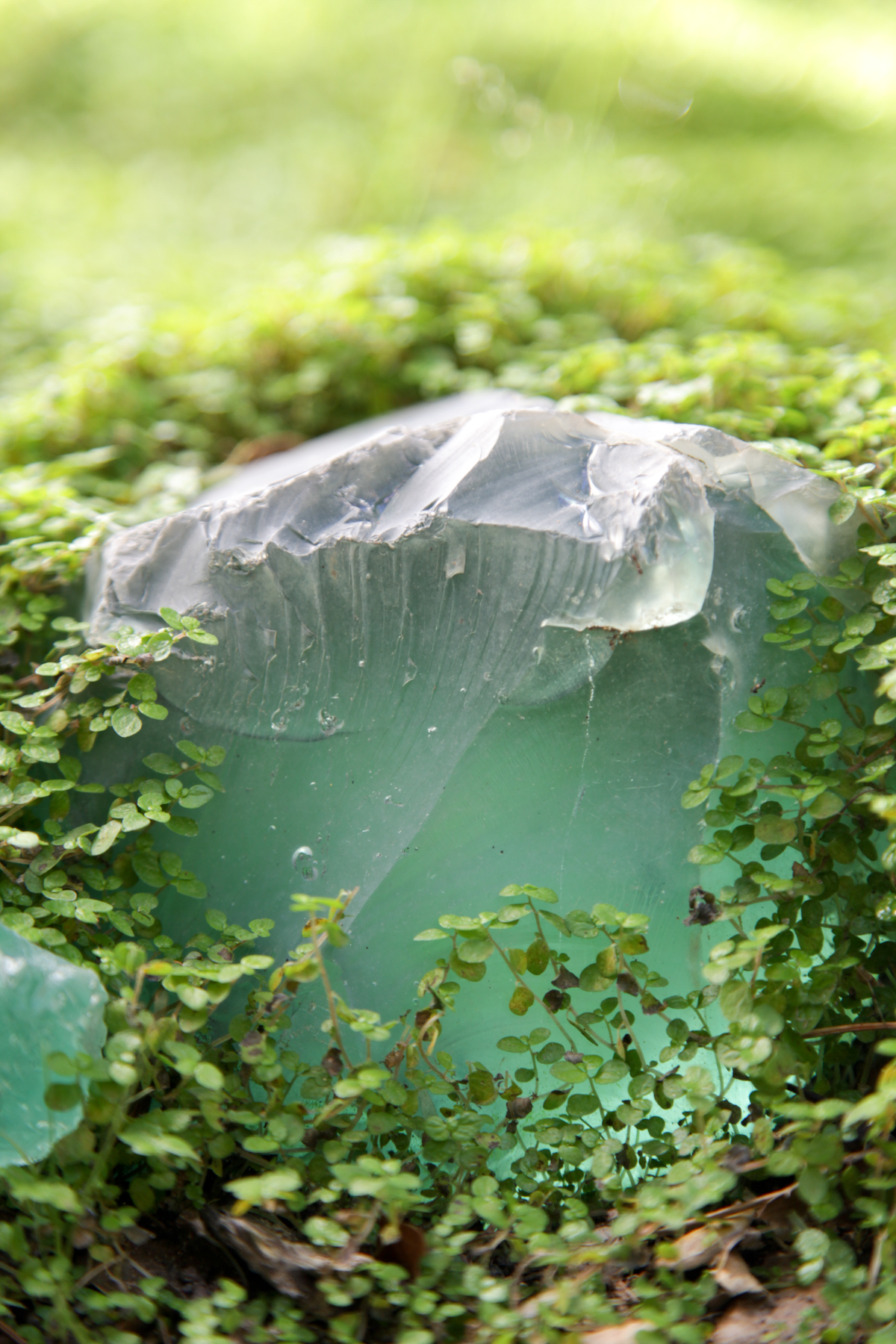 Time Warp
While you are in the Cycad garden with over 900 specimens, you might be overwhelmed with all of the prehistoric looking plants and landscape. When you get to the koi pond you will find the last 3 Cycads of their kind in existence the Encephalartos woodii. These three sit atop the koi pond and serve as a reminder of how precious plants can be.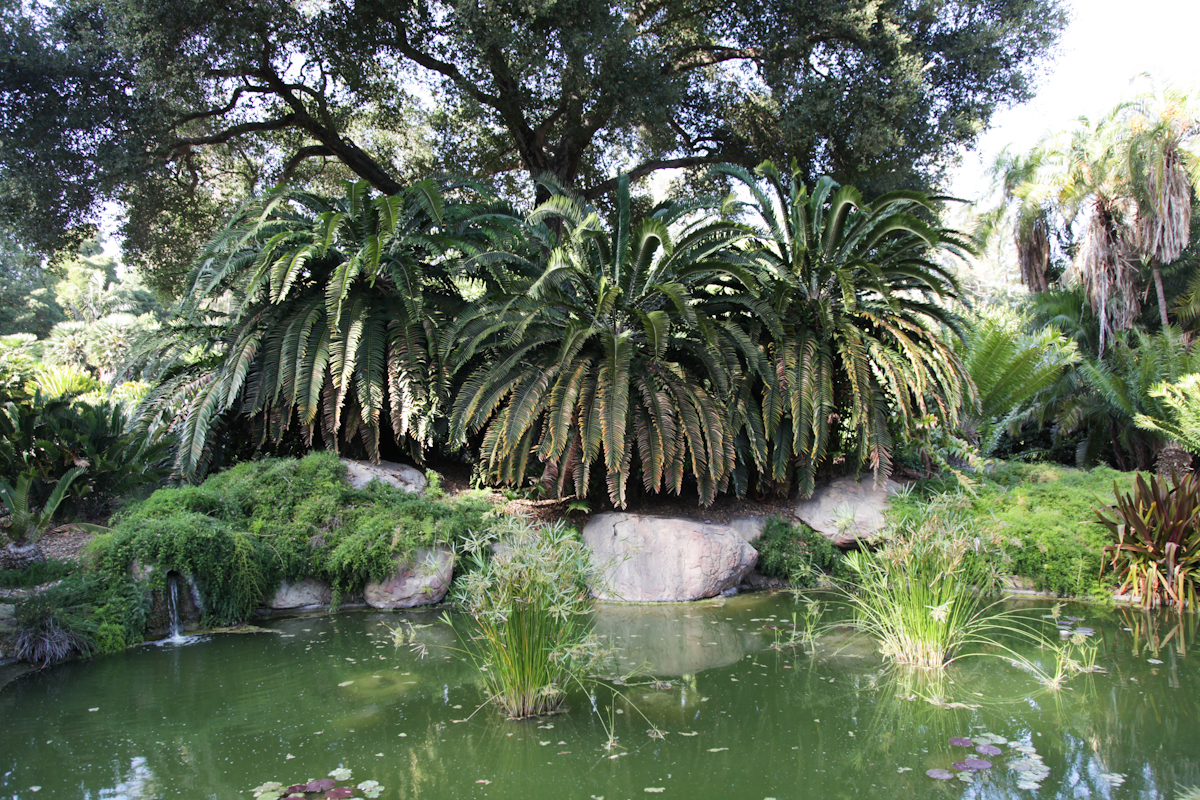 Expect The Unexpected
Speaking of the koi pond, there is an interesting little known story that goes along with them. Ganna Walska wanted to expand her koi collection and she turned to her head gardener to look for him to purchase some fish. After selecting specific koi of her choice they were delivered to the pond. Soon after she received the bill, and was not keen on the price. So she decided to send them back. Little to anyone's knowledge the koi fish were pregnant and they had babies in her pond before she sent them back, and ended up with new koi fish anyways.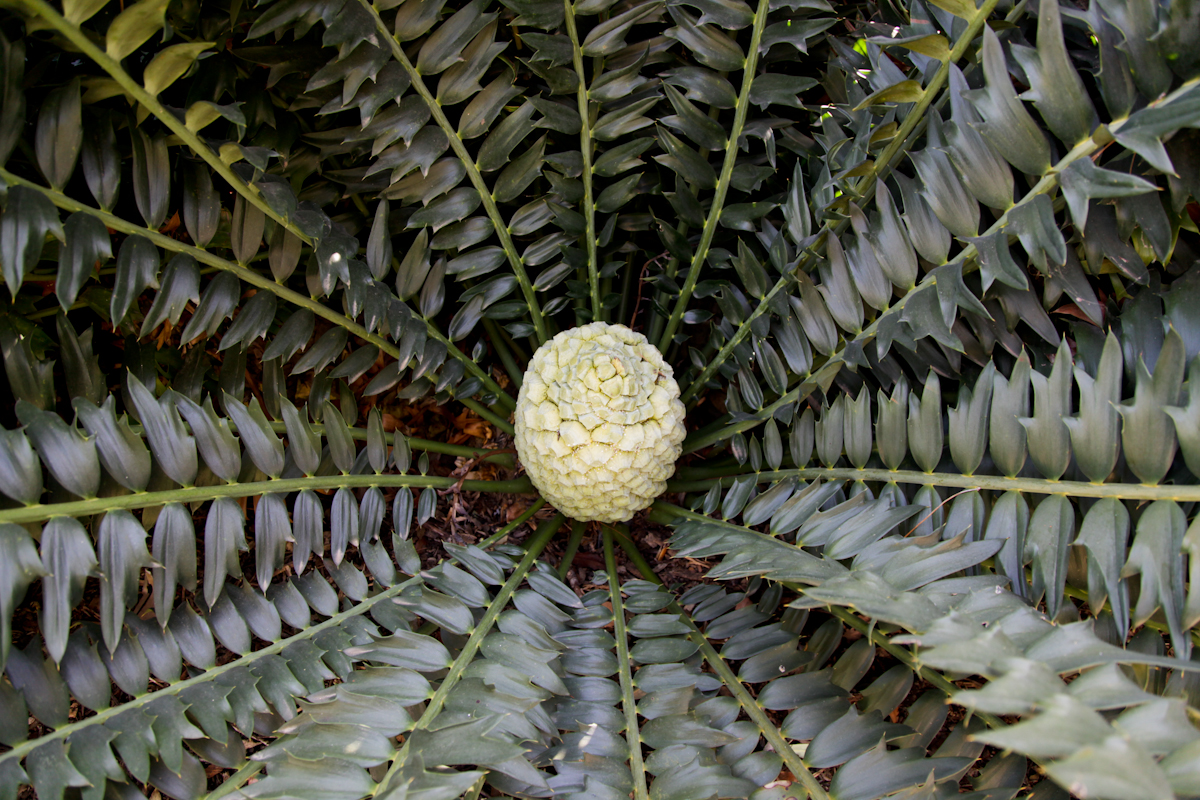 Lightning Strikes
On your way out of the Cycad garden you might stumble upon a precarious rock. This rock is special because it has been struck by lightning. When a rock gets struck by lightning it creates a magnetic pull that allows you to place metal on it, and have it stick. You will see various paperclips for you to try it out for yourself on the rock.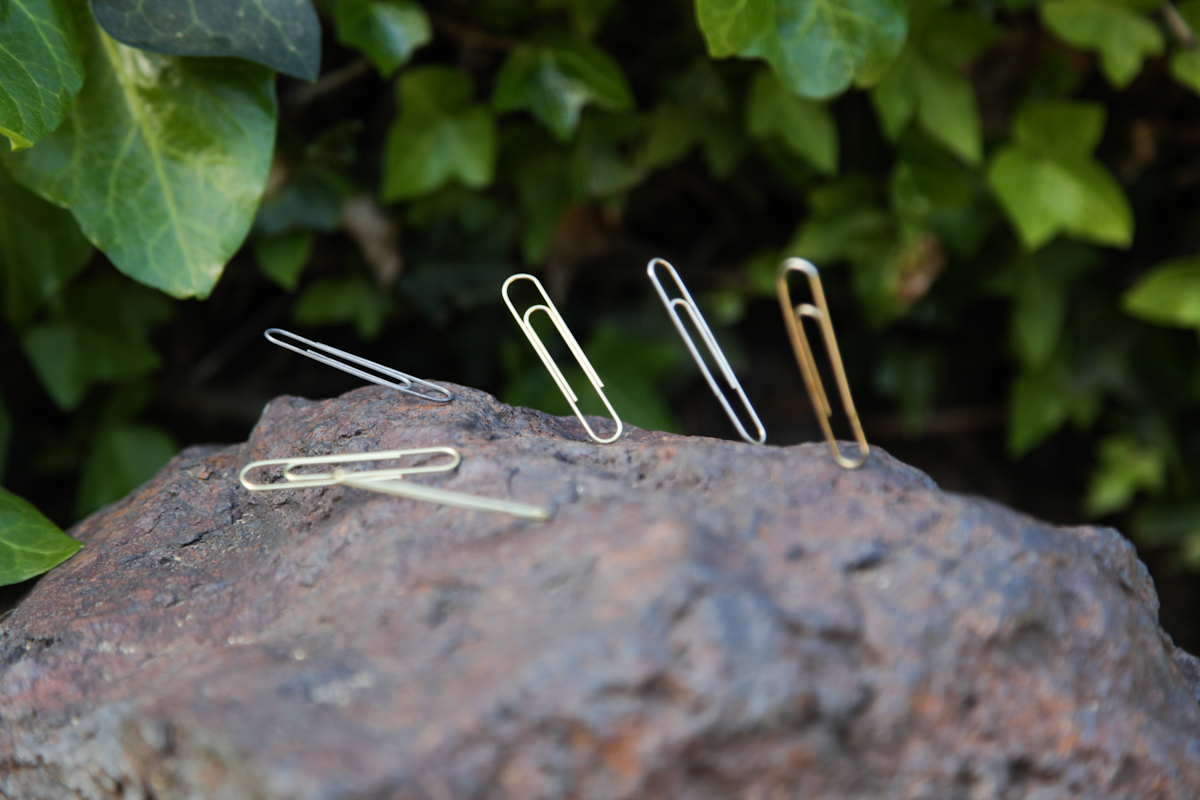 Abalone Shell Pool
One of the most magical places in the garden is the abalone shell pool, in the aloe garden. It is a shallow pool shaped like a kidney bean that Ganna used to wayde in the full moon. The pool is surrounded by antique abalones, and the bottom is a stark white to reflect the light of the full moon.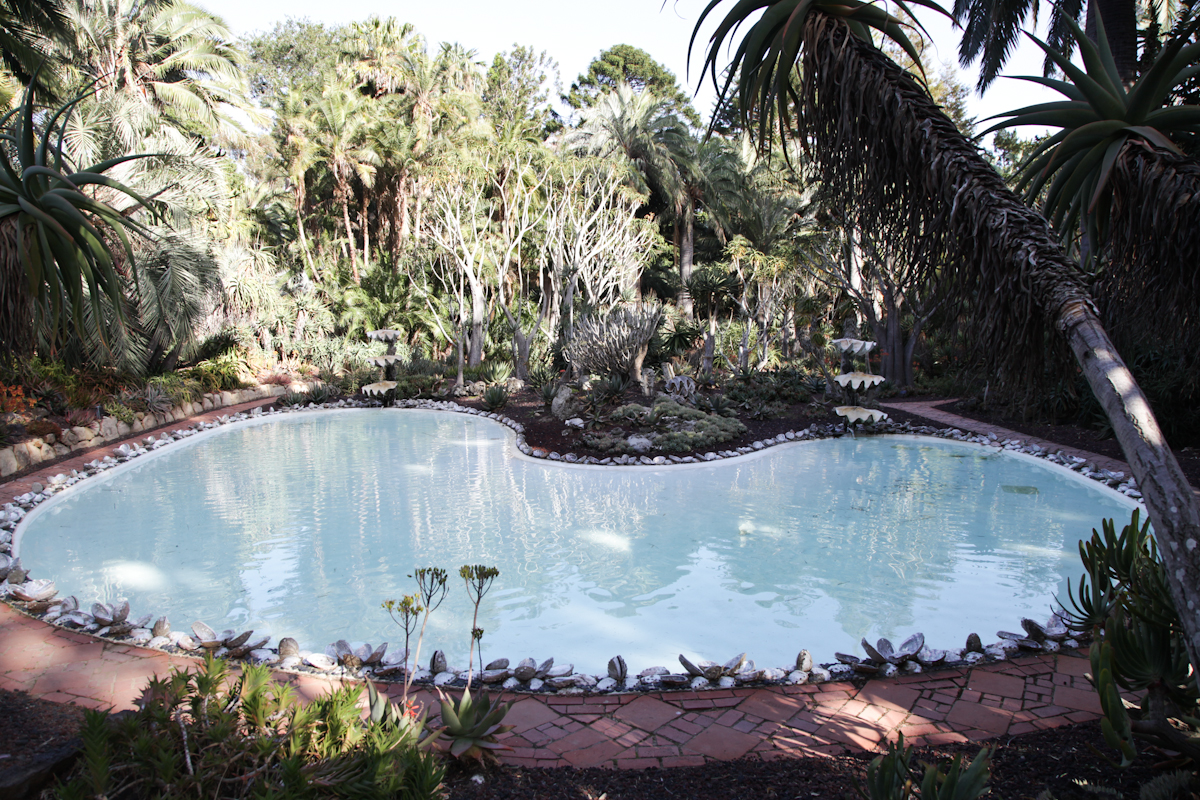 Water Garden
The Lotus pond is where most of the Lotus reside. They are in season in July, and this is a peak time for visitors. This used to be one of the swimming pools on the property, but Ganna chose to turn it into a pond filled with Lotus. On the far side of the pond you can see one of the newest additions to the garden, which is the cypress alle.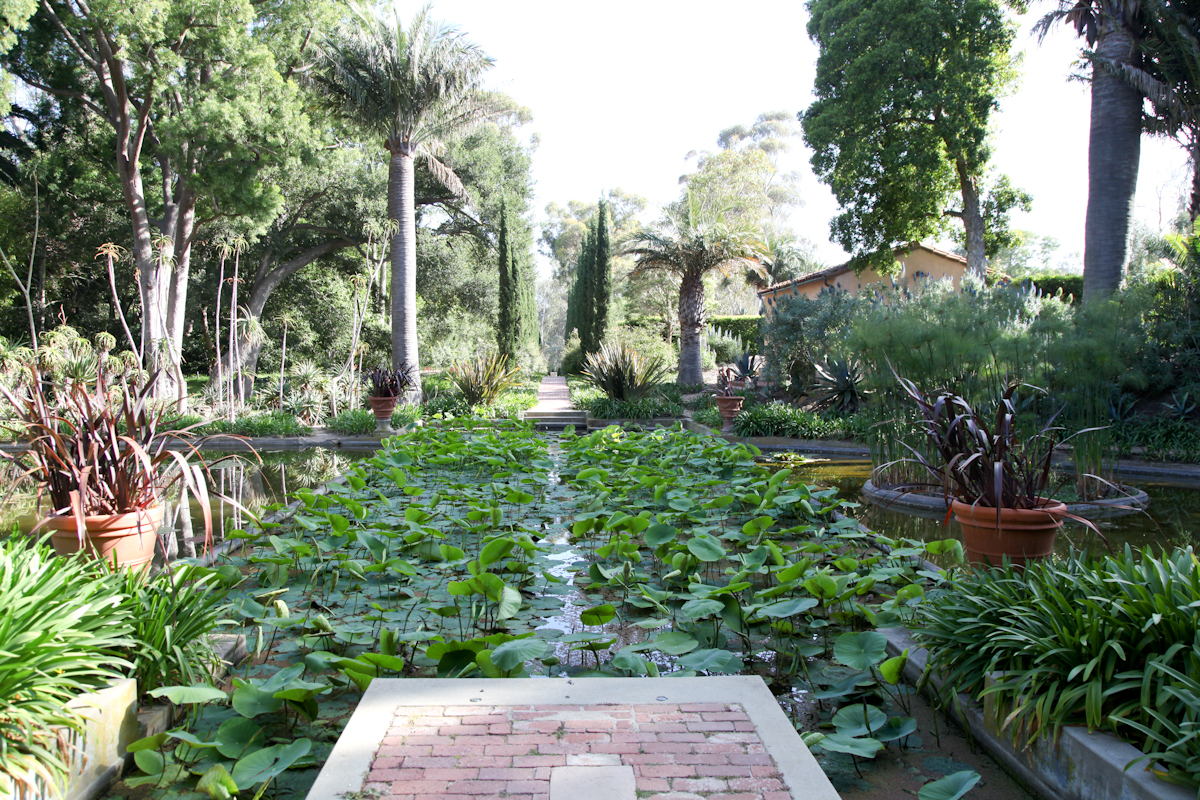 Cactus Garden
The cactus garden leaves nothing more than awe inspired thoughts. These cacti were donated in 1999 by Merritt Dunlap including around 300 species. The garden was redesigned by Eric Nagelmann and opened in 2004.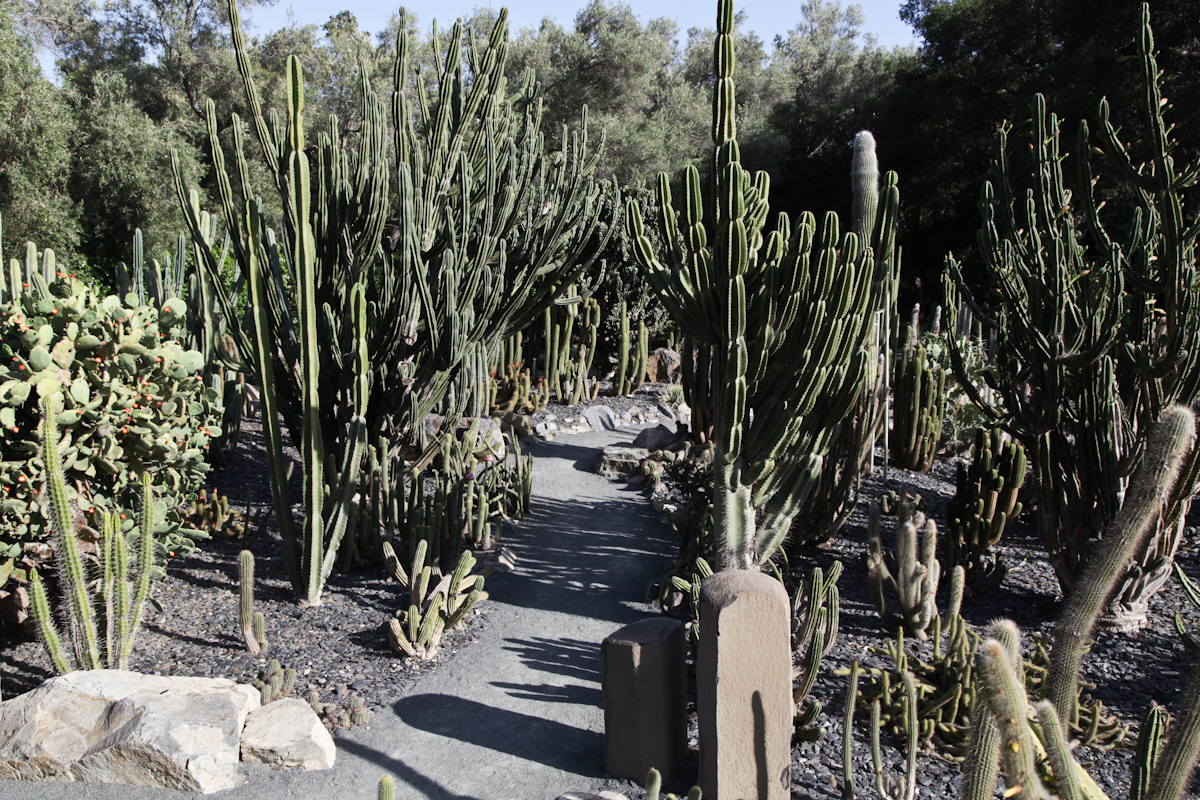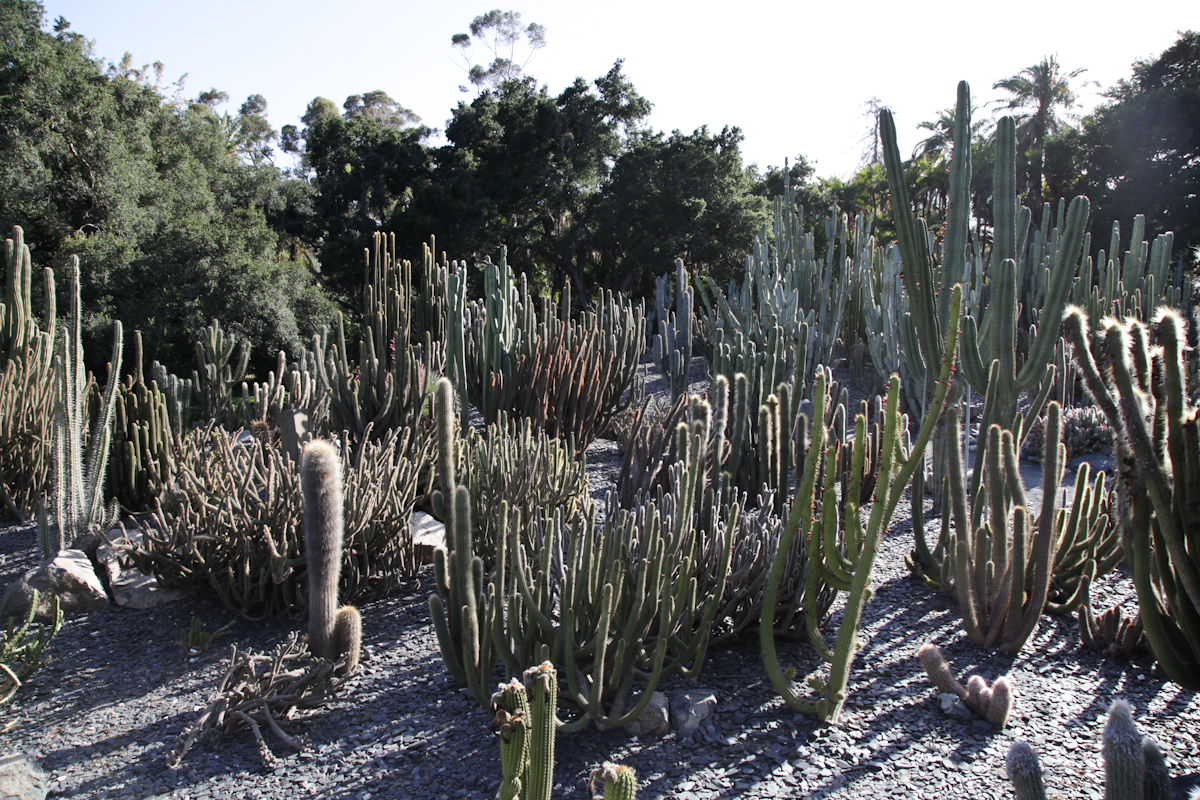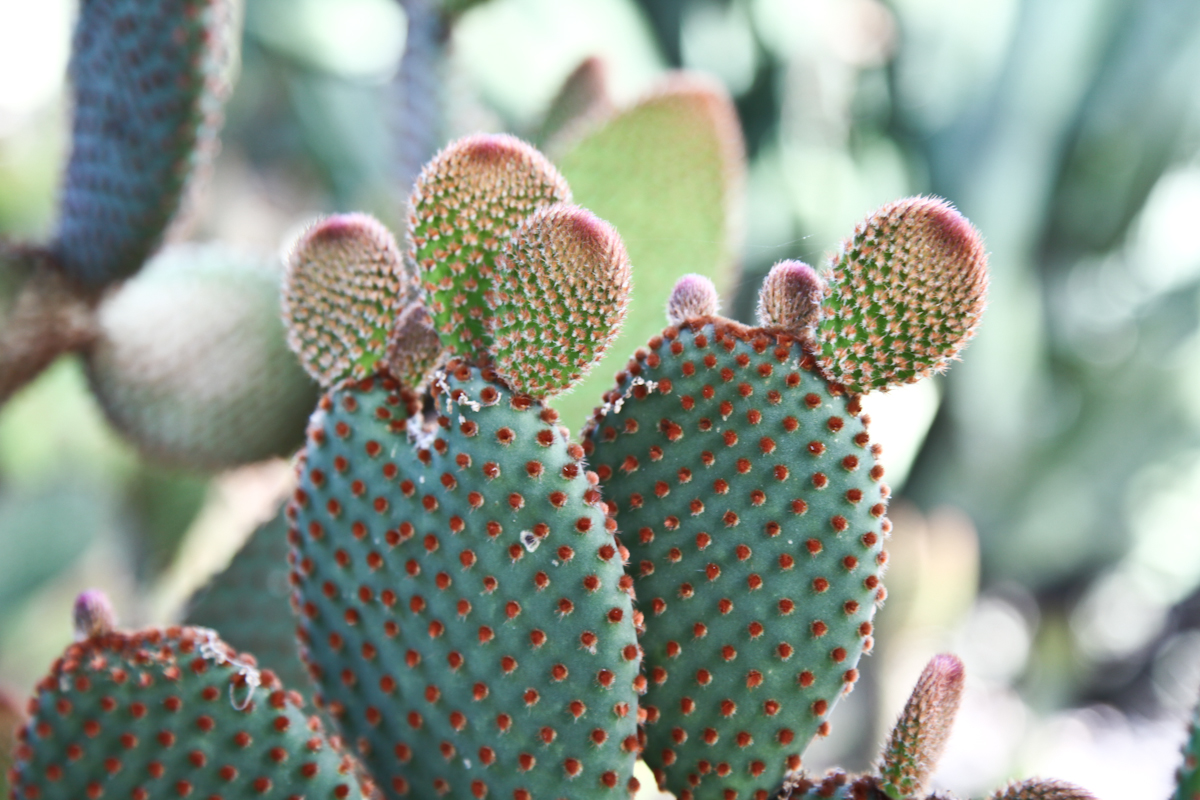 The Garden Shop
As you end your tour don't forget to purchase gifts, and memorable items from your time at Lotusland at the Garden Shop, and if you forget they also have an online store!