Half Marathon Training Tips for First Timers
If you have ever thought about running a half marathon the time is now. Santa Barbara is host to one of the country's best marathons. Sponsored by the Pierre Claeyssens Veterans Foundation, The Santa Barbara Veterans Day Marathon is the perfect course for first time runners with beautiful weather and a moderately flat course. Our tribute to honoring veterans will inspire you to run with us year after year.
The thought of running a half marathon can be intimidating, so running coach and race director, Dan Campbell and I have put together some pointers to help you get started and mark that marathon off your bucket list.
1. Develop a mindset that you are going to get to your goal and the starting line!
Completing a half marathon is an extremely gratifying accomplishment that will create a memory for you that will last a lifetime. Training for any event comes with challenges. Identify these challenges with determination and a realistic plan of attack. I am believer that your body will stand up to any challenge that your mind determines worthy. Be mentally determined, train safe and the results are sure to come. Just do it!
2. Get the right running shoe for YOUR foot, there are three basic types of running shoes; motion control, neutral, and stabilizer/supportive.
Appropriate running shoes will help to reduce injury. Some running socks can also add to a more comfortable training
session. Go to a reliable running shoe store that has the appropriate equipment to help determine your type of foot. If the store does not have the equipment, make sure that the sales associate understands foot wear and your shoe needs based on their assessment of your gate and foot strike. This a service that shoes stores provide. You should not feel obligated to buy anything from them.
Be cautious of becoming a GEARDO! It is easy to get sucked into buying equipment that you do not need! Remember, all that you need is a positive attitude and determination.
3. Time for the rubber to meet the road and start training.       
Create a training schedule based on your running experience and current fitness level. This is where most beginners will be surprised. The majority of half marathon training programs call for approximately 3 short runs (1-5 miles) during the week and one longer run at the end of the week. Several running websites offer these types of training schedules for free. Join a local running club (most are also free) and make friends, this well help if your motivation starts to slow and you will inspire others!
Hal Higdon, Jeff. Galloway / runners world.
Make sure your training program starts at least 12-16 weeks out of the marathon you're going to run.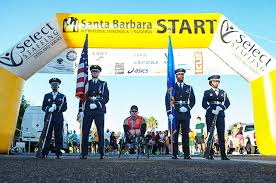 4. Register for your race early
Register for the Santa Barbara Veterans Marathon. Consider purchasing the event insurance to cover your registration in the event of injury or sickness. It can be purchased from active.com for $7.50 This is not a loop hole or excuse to get you out of your commitment. Keep your eye on the finish line! Glance over the course map that is provided on the website. Once you know what the course looks like, when training visualize yourself running the course and feeling the strength, along with the excitement of doing your first race. Since it is your first marathon experience, take time and enjoy the expo and packet pick up event. There will be vendors, pasta dinner and pre-race festivities.
Day of the race, Relax and run! If you trained properly you will have the time of your life. Do, plan your route or transportation to the race start.
5. Stay strong, relax and do not forget to breath!
We'll see you on the course