The world is full of amazing people, and I just so happen to have found one of those individuals right here in Santa Barbara. Rosalina Macisco is bringing her love of dance and music to the kids of our local schools. In 2005, Rosalina created the Santa Barbara Dance Institute (SBDI), a nonprofit dedicated to bringing dance and joy to children in schools where they may not otherwise have access to extracurricular activities. Part of SBDIs mission statement is to "help children develop discipline, a standard of excellence, and a belief in themselves that will carry over into all aspects of their lives."
Santa Barbara Dance Institute involves dance teachers and instructors going into different schools around the city and giving the kids the opportunity to express themselves through dance. The program started with eighty students a year, and now serves over three hundred per year. Kids in school have been taught to read the textbooks, complete their homework and tests, but when are they allowed to find a creative outlet? Rosalina saw the importance of fun activities for kids, and brought a solution to them—dance. "I truly believe dance should be apart of every child's education," says Rosalina.
SBDI is a performance based program where the the students get to participate in a big show at the end of the year. Rosalina comments, "The final performance is vital because it rewards students for their hard work and dedication. The experience is life changing and unforgettable." For many kids, these performances are the first time they feel a sense of pride and achievement in themselves.
Artistic Director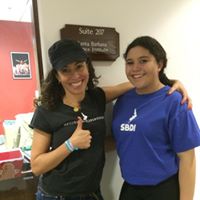 Originally from New York, Rosalina has been involved with professional performing for over fifteen years as well as teaching dance and drama for the last twelve years. She received her bachelors in drama and Spanish from Fordham University in New York City. She went on to appear in Off Broadway productions, national commercials, and has even toured through Europe with different musical productions.
Rosalina realized that she had a passion for teaching dance and she went on to receive her teachers certificate from the National Dance Institute. She resided in Los Olivos for a few years where she taught dance at different schools in the area. She successfully choreographed and co-directed numerous theatrical school productions. In Santa Barbara, Rosalina still keeps her focus on teaching and sharing her passion for dancing with others.
What SBDI Does
Dance instructors and apprentice teachers work with students from different grade levels during regular school hours. Meeting with the kids once a week, these dance classes continue for the entire school year. Students showcase what they learn and have the opportunity to participate in an end-of-the-year performance.
The in-residency program can last from two to eight weeks and all the classes are taught on school grounds during school hours. Students participate in an end-of-the-year performance.
These classes are designed around the accessibility within the schools and the structure would be most appropriate. Students will also have the chance to show what they've learned in an end-of-the-year show.
Recently, SBDI created another program, Dance Infusion, where they have completed a pilot test with the Orcutt School District. Dance Infusion brings the principles of dance into the physical education classes of the schools and works directly with teachers. Those teachers can then "infuse dance into their curriculum to help children learn and grow by empowering them to believe in themselves, develop their ability to work in a team, and establish their personal standard of excellence."
Rosalina has taken her own passion for theatrical arts and dance, and she now enjoys sharing that joy with others in her community. The kids who participate in SBDI's programs are given this amazing opportunity to learn freedom of expression and self-empowerment through dance.