I presented the Resqme tool in a previous article, and stated how great it is to have one with you when you are driving. I would like to state it again, because since the beginning of the year, this tool saved 16 lives. If like me, you believe that your life has no price, I definitely recommend having a Resqme in your car.
With a tragic event that touched our little Antioch community a few weeks ago, the loss of one of our students, Austin Bartoo, I think it is very important, and that it will never be stated enough, to remind people to be safe, drive safe on the roads, and stay as alerts as possible. With that being said, there are some situations where things will happen and you may not have any control over it. This is where Resqme, a very local company, can make a difference. I had the chance to meet the entire team of Resqme in their offices and headquarters, and I was surprised to see that they have many other tools designed only to save lives. I decided to share it with you. I also had the chance to spend some time with Laurent, who agreed to answer a few of my questions, so I can share the vision of a successful French entrepreneur with our readers.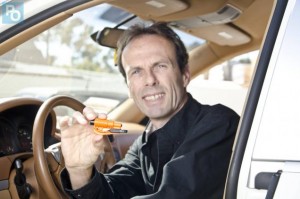 Here is the interview of Laurent Colasse, CEO of Resqme:
How do you come up with of all this products?
When I see that there is a problem, I try to fix it, and I try to find a solution. There is so much more to be improved for the security of everyone, and I am just trying to have an impact on people's lives, and an impact for a better world in general. Every lives matter, and it motivates me everyday to know that I work for a great cause.
What do you have in USA, especially in Santa Barbara, that you do not have in France?
I have a lot more freedom in USA, especially here in Santa Barbara. There is an atmosphere, which is a lot more encouraging for entrepreneurs, and there are a lot more opportunities. From what I experienced, and what I heard, Europe is a lot more discouraging, and individual success is not as valued or respected, and you just have to conform in Europe, especially in France. For life in general, I have a lot more space, and I feel free. I really do not regret my choice of moving. We have such a great environment; there is not much to complain about. And of course, the weather is a lot better, even though the south of France is very similar.
What message would you send to the readers?
I would just say that they have to be prepared to deal with any type of situation. Not only when driving, but for life in general. Don't get surprised, but be prepared. When you are prepared, life become easier to deal with.
If you could go back, is there anything that you would do differently?
Yes, even though I was lucky enough, and things turned out great for me, if I could go back, I would secure and protect my ideas right away, before talking about it and showing it. It is a hard world, and some people are ready to do anything it takes to succeed, even if it means stilling your ideas, and for that reason: always protect yourself.
And this is a great advice for all the entrepreneurs out there at Antioch University.
After I left Laurent, the team introduced me to their line of products, and gave me some that I could test to really have an idea and a real life experience. Following are the 3 products that I had the chance to put my hands on: The Defendme, the Alertme, and the Protectme.
Defendme: The Defendme is a personal alarm featuring a siren to maximize attention to yourself when needed for self-defense. The compact design allows Defendme to be easily carried on a key ring, purse, backpack, etc. For trying it, I really liked this product. I personally think it is more adapted for women, but it can suit for everyone. I think it has the power not to scare, but to keep an aggressive person away, because it will grab the attention.
Alertme: About the size of a bluetooth earpiece and lightweight, less than an ounce, the Alertme is the latest and safest lifesaver electronic device that helps prevent accidents caused by falling asleep behind the wheel. Its ergonomic design makes it very comfortable to wear and improves your vigilance on the road. This is one of my favorites, as I drive a lot, and I feel like I can relate to it. There are times when you get tired, and this will definitely keep you from falling asleep. The even greater advantage, it will keep you from texting while driving, and that is even more valuable. Funny thing, it can keep you awake in class or while doing your homework, the only downside is: mine would ring permanently.
Protectme: A handheld aerosol canister with maximum strength & UV marking dye that sprays an irritating formula in the eyes, nose and mouth of a person threatening your personal safety. I got the chance of owning one now, but I did not test it yet, for obvious reasons, but it is portable and very esthetic. I never really knew where to buy a reliable pepper spray that would explode in my eyes, but with the quality control from Resqme that I experienced while being there, I entirely trust this one.
I really want to thank the entire team at Resqme who received me and took me on a tour of the company. I had a great time, and learned about yet another very interesting company, and I hope that people can get a little bit of information on a subject that matters, saving lives.
Thank you Laurent, and for our readers, please be safe.