Santa Barbara, California is home to one of the most moderate year-round climates in the world. Few regions of the United States enjoy a similar planting zone, one typically found in the tropics. Only the very southern tip of Florida and portions of the Hawaiian Islands boast the same hardiness. In addition to this, the Pacific Coast's Mediterranean climate and coastal breezes ensure a comfortable year-round temperature. Santa Barbara summers have very few hot or muggy days and winters are mild with only rare frosts.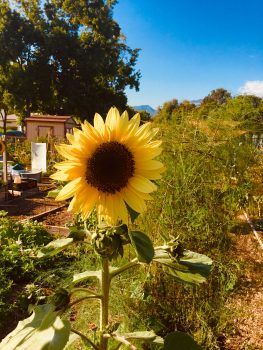 The agricultural possibility inherent in such a generous environment is certainly not lost on the locals. The county offers expansive vineyards, fragrant flower fields, and abundant produce. The city of Santa Barbara reflects an appreciation for gardening all through the tree lined, flower encrusted streets of the town. As a progressive advocate for community gardens, Santa Barbara hosts three public venues, all located right near the downtown area. Enriching the community experience through love of gardening is a Santa Barbara value and the Parks and Recreation Department advocates planting space for all.

The garden spaces are designed for low income families, seniors, and all individuals who are not in residences where land is readily available. These can include apartments, condos, and patio homes. The gardens are named Yanonali, Rancheria, and Pilgrim Terrace Community Gardens. Each location has anywhere from around 50-70 plots and each plot is a generous 10 feet by 20 feet of gardening space.
A plot of this size offers plentiful opportunity to grow seasonal produce and partake in a community engaging in sustaining health and well being. According to Recreation Coordinator, Ariana Bilek, health and well being are what their goals are all about. "The communities really have been a huge benefit." Bilek states. She adds that for the members, the gardens "become a part of their lives and state of being, living in Santa Barbara."  And this couldn't be more evident. Visiting the gardens, when members are engaged in their work, promises a welcoming hello and sometimes even offerings of harvest bounty. The peaceful environments are gorgeous, serene, and industrious.
The plots are rented annually with a price of $67 for a resident and $80 for a non-resident. The plot fees are simply for covering water costs. A cleaning deposit fee of $20 is also added. With garden spaces available at such a minimal charge, these plots are an irresistible opportunity for Antioch students and Santa Barbara locals to expand their culinary opportunities and prioritize their favorite crops.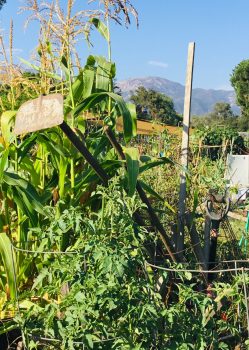 This is also a lovely opportunity to learn about gardening. Plots become available each July, an ideal time to prepare for autumn harvests and plan an annual gardening schedule. Root vegetables, tomatoes, melons, squash, onions and garlic, basil, peppers, leafy greens, plenty of choices and room to grow. Annual flower beds are also encouraged and enjoyed by everyone. Zinnias, pansies, snap dragons, petunias, and geraniums are just a few options to explore. Santa Barbara County offers a diverse array of community gardens, both privately and publicly owned. If an Antioch student lives outside of the city, it is well worth researching the local towns to locate the nearest garden.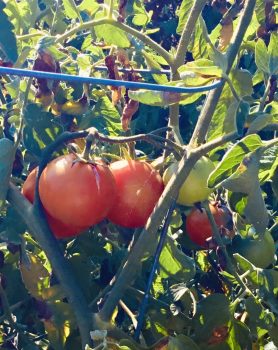 Since Santa Barbara City welcomes non-residents, Antioch students who live outside the immediate area can still actively participate in the city gardens. Students interested in procuring garden space can contact the city to add their names to the listing. When plots become available, the city calls interested gardeners mid-summer to assign spaces. Once a student or household procures their plot, they can commence with planting and maintaining their garden. Organic and sustainable gardens are an extraordinary opportunity for the kitchen table and the mind and spirit. 
For more information regarding the gardens in Santa Barbara, please call 805-897-2560 or go to the city website to view the application at santabarbaraca.gov
Yanonali Garden – Yanonali Street at Soledad Street – 805-897-2582 

Rancheria Garden – Rancheria Street near Montecito Street – 805-897-2560 

Pilgrim Terrace Garden – Pilgrim Terrace Drive at Modoc Road – 805-897-2560