Back with the third installment of Santa Barbara Local Eats, this time highlighting three of the tastiest taquerias in Santa Barbara.
During the Winter Break, I was fortunate to do some traveling up north in Southern Oregon and Northern California. While as fun as that trip was, there was no decent Mexican food to be had. So immediately arriving back in Santa Barbara, I gorged myself on three of my favorite Mexican places – each in a different part of Santa Barbara.
Taqueria La Colmena: The Milpas St. contender that is better than Super Rica, without the Super Rica lines.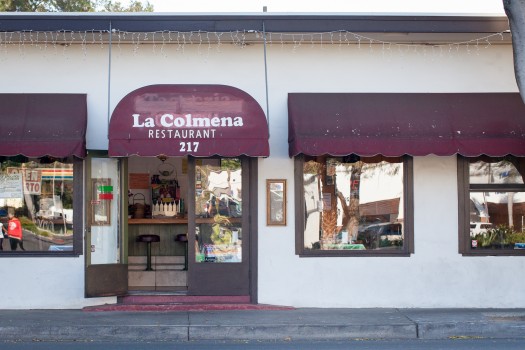 A delicious culinary experience awaits, behind the humble facade of Taqueria La Colmena's exterior (Spanish for The Beehive), located just a handful of blocks down Milpas St. from the ever popular and busy Super Rica.
Had La Colmena been around during Child's day, I think she may have crowned a new fav.
And while there is no denying the deliciousness of Super Rica, they also frequently sport a line of people that wraps around the corner – often populated by tourists who've heard that Super Rica was Julia Childs favorite Mexican place. Whereas, the wait for La Colmena is always much more manageable – for food that is equally, if not better – than the Child's favorite Mexican place. Had La Colmena been around during Child's day, I think she may have crowned a new fav. But enough about lines and Julia – let's get to the eats!
While the tacos are all fantastic at La Colmena, it's all about their alambres. Because you know what's better than regular tacos? Tacos smothered in mushrooms, onions, and cheese, that's what. And that's exactly what you get when you order the alambre. My fav is the Alambre de Lomito, marinated pork smothered in mushrooms, onions, and cheese. Comes with four freshly-made corn tortillas to make your own tasty tacos.
The other must-have menu item are their gorditas, which come in three delicious favors: chicharron (fried pork rinds), frojio & queso (bean & cheese), and requeson (ricotta-like cheese). For the amount of deliciousness delivered these little guys are a culinary steal at less than $3 bucks a pop. Trust me, order the chicharron.
I would be remiss if I did not mention their salsas, specifically their legendary peanut salsa. Hand down, my favorite salsa, ever. So good. Prices are all very reasonably under $10. Which makes this an excellent place to bring a friend, mix-and-match, and try something new.
Taqueria La Colmena is located at 217 N Milpas St, Santa Barbara, CA 93103.
Open from 9am – 9pm Mon – Fri, and 7am – 9pm on the weekend.
Husband and wife team, Jose and Mony Diaz, run not only the best Mexican place in the Funk Zone, it's the best place period to grab a bite, in all the Funk Zone. Items include all the Mexican food favs you can think of – tacos, nachos, burritos, alambres – they pretty much have it all.
Mony's is another place that invests heavily in their salsa bar. And it pays off big. Unique creations like their pistachio salsa and peanut salsa highlight their many selections.
That said, I highly recommend their tacos. It's a great way to sample a wide variety of Mexican culinary deliciousness. And Mony's is one of the few places that offers hard-shell tacos which they load up with pico de gallo, lettuce, and sour cream. Choose from asada (beef), al pastor (marinated pork), adobada (anothe type of marinated pork), pollo aside (chicken), veggies, carnitas (pork), barbacoa (beef), rajas (papilla chilies & cheese), lingua (beef tongue), cabeza (beef head), ruche (pork stomach), and shrimp. All tasty (I've tried them all).
Mony's Mexican Food is located at 217 Anacapa St., Santa Barbara, CA 93101.
Open from 10:30 am – 4:30pm, Mon – Sat (closed Sundays).
The last stop on our tasty taqueria tour is Taqueria La Pastorcito. As a rule, I will always order a dish if it bears the name of the establishment. And for this entry, I will be spotlighting their El Pastorcito, and only this dish. Also, different for this entry is that this dish is slightly over $10 – it's $13 but it's a bargain considering all the good grub that crowds this dish.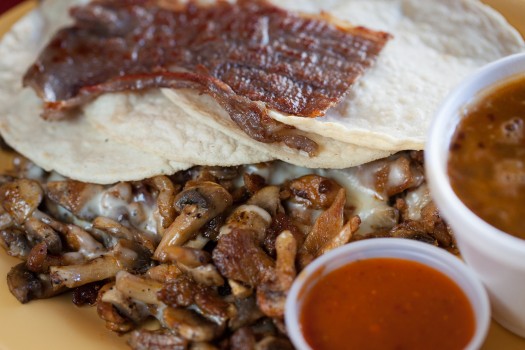 So what's in Taqueria La Pastorcito namesake's delicious dish? The El Pastorcito consists of a generous piece of Cecina, specially prepared beef that is marinated, salted and dried. But the bulk of the yumminess is a generous amount of pastor and mushrooms, accompanied with three freshly made corn tortillas. All this, plus they give you a small serving of their spicy bean stew.
And while I almost always find myself ordering the El Pastorcito, all their combinations are worth trying at least once.
Taqueria El Pastorcito is located at 2009 De La Vina St. Santa Barbara, CA 93101
Open from 10 am – 9 pm, Mon – Sat, Sun 9 am – 6 pm.