Craft Cocktails…are they more cost efficient and sustainable or are they simply an up and coming trend in the bar scene?
The History of the American Cocktail:
The origin of the word "cocktail" has countless amounts of stories detailing where and when the term might have been coined. According to historian David Wondricha newspaper in New Hampshire in 1803 published the article Farmers Cabinet in which a customer documented in a personal journal:
"Drank a glass of cocktail-excellent for the head…Call'd at the Doct's. found Brunham- he looked very wise-drank another glass of cocktail".
The word still remained vague until roughly three years later in a Hudson Bay newspaper, The Balance and Columbian Repository a subscriber wrote a letter to the editor regarding a clarification of the word in which the editor responded:
"Cock tail, then is a stimulating liquor, composed of spirits of any kind, sugar, water and bitters it is vulgarly called a bittered sling, and is supposed to be an excellent electioneering potion inasmuch as it renders the heart stout and bold, at the same time that it fuddles the head…"
–
It is clear that cocktails were present during the late  19th century but they became even more prominent  due to the prohibition era. Prohibition hit in the turn  of the century making alcohol illegal to manufacture,  distribute and posses in the United States. Drinking  alcohol was deemed to be a socially toxic habit and  one that only a law could prevent. Nonetheless it did  the exact opposite. People refused to stop drinking,  violence increased, alcohol prices doubled and the  quality of drinks deteriorated. By 1915 it was reported  that almost half of the states were "dry", but they were  anything but. Bootleggers and speakeasies emerged  and anyone who wanted a drink had no problem  getting one. Prohibition in short was a troubling time  for most, including the bartenders. Mixology went from an art of enhancing the taste of good alcohol to an art of masking the taste of bad alcohol.
A whiskey old fashioned was a well-known drink before prohibition and a much-needed one during. However
because the only liquor at the time tasted anything but satisfactory it became the perfect time to re-invent the taste. Mixologists muddled sugar a few dashes of water and Angostura bitters letting it dissolve in the glass before pouring the rye, bourbon or blended scotch, and topping it off with a ice cube or two and a lemon peel to garnish.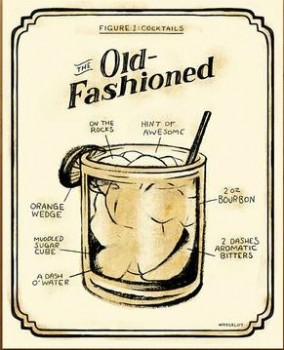 Using fresh fruit juices, herbs, bitters and infused syrups to create these cocktails of the era; some classic survivors include the, Sidecar, French 75, Barbary Coast, Colony Cocktail and Bacardi Cocktail, just to name a few.
What makes a cocktail a CRAFT cocktail?
Today, when you order a mixed drink or a "cocktail" at the bar, it is usually a concoction of alcohol mixed with a pre-made artificial sugary additive, soda, juice, syrup etc. Essentially it is a quick, cheap and easy habit created to accommodate the crowds and it discards what used to be considered a craft. "Craft cocktails" seem to have become the new craze lately, but what is an authentic craft cocktail?
A craft cocktail is a drink where each and every element is handmade or tailored to that specific drink. From custom glassware to barrel-aged liquors, mixed with house-infused syrups and a dash of flavorful bitters, these cocktails are made with more care than your average mixed drink, in hopes of delivering a more memorable experience.
Local Santa Barbara Bars are Bringing Back the "craft" in Craft Cocktail:
So many might wonder, what is the purpose of putting in all that extra work just to make a cocktail? Is it believed to be a healthier way of drinking? Is it more environmentally sustainable? Or is it just an up and coming trend? Here is what some local experts are saying.
Dan Hook a mixologist and General Manager at Whiskey Richards, a local bar here in Santa Barbara says that the craft cocktail movement, "is a complete trend, throwing back bars, especially dives to the speakeasy and the prohibition era." With this in mind Dan is taking places like
Whiskey Richards and Wildcat to the next level, he says, "Switching from a straight dive like Whiskey's to more of a craft cocktail setting adds another element to the business." So what exactly does this include? Dan plans to start house-infusing their own simple syrups with fruits like strawberries, blueberries and white peach with the hope that it will cut down the time it takes to make a fresh tasting cocktail while still maintaining a "craft element."
As for Wildcat "farm-to-bar" is taking place every Tuesday, taking produce from the farmers market and "coming up with an original menu weekly that caters to the fruits, vegetables, and herbs that are in season at that time. " Much like Seven Bar and Kitchen's "farm-fresh-Tuesday". Jeff the Manager at Seven shed some light on the importance of utilizing local farmers produce sourcing as far as Oxnard to The Berry Man  right here in Santa Barbara. In doing this he firmly believes that it is, " taking mixology to the next level."
The next question is, is it a sustainable choice? While locally sourcing ingredients is a more eco-friendly decision, Dan suggests that, " It is sustainable for the time being, but as far as costs go, it is more expensive to compile all the ingredients for craft cocktails." However he also notes that, "due to the higher quality ingredients used, profit margins are also higher."
So, it looks as though the good old days are back again. With the passion, creativity and fresh ingredients at mixologist's fingertips, it seems as though the trendy craft cocktails are here to stay. For more insight check out Hey Bartender a documentary on the life of a mixologist and the comeback of the cocktail.