A stroll through the market looking for a deal on a meal
Antioch University Santa Barbara is lucky to live right next door to the locations of two bustling Farmer's Markets throughout the week. Farmers and other local vendors gather on Tuesday afternoons and Saturday mornings to provide Santa Barbara residents with the freshest available produce. While eating organically and using fresh ingredients is great for body, mind, and soul, it can really hurt your wallet. This is especially true if you are on a limited budget like most college students. Luckily, there are many ways that students can have the best of both worlds; Affordable, quick cooking meals that utilize the best that the Farmer's Market has to offer.
Not a one-stop-shop
While the Farmer's Market has a huge variety of fresh produce and artisanal food products, it is not the most affordable place to get all the supplies that you need to stock your pantry. Stores like Trader Joe's, Sprouts, and Whole Foods are often labeled as "pricey", but if you use them to fill your cupboards with the basics, they can be an excellent resource for stocking your kitchen. Many cost-effective meals can be made with pantry staples like dried pastas, canned proteins, and other quick-cooking grains. Using these as building blocks for your meals means that you can stroll through the Farmer's Market looking for compliments to those staples and create fresh, healthy dishes and maintain a healthy budget as well.
The great thing about having a Farmer's Market throughout the year is how you can see the seasons changing depending on what vendors have displayed in their stalls. Some of the best fruits and vegetables have very limited growing seasons, so what you see one week may not be available the next. Also, because the produce is not bagged and prepared the way it is in the grocery store, you can try out new foods without committing to a large quantity. Most vendors are happy to let you sample their produce right then and there to encourage you to buy more, but be sure to ask before you take a bite out of something.
My $10 challenge
In order to make the Farmer's Market more accessible to students on a budget, I gave myself a rather difficult task: I used a $10 bill to create a dish that incorporated fresh produce from the market, as well as pantry staples that would not only make enough for one meal, but also provide leftovers for the next day. Here is what I came up with:
Lemony Whole-Wheat Pasta with Tuna, Roasted Peppers, and Parsley
Makes 2-3 servings
Total Cost: ~$5.58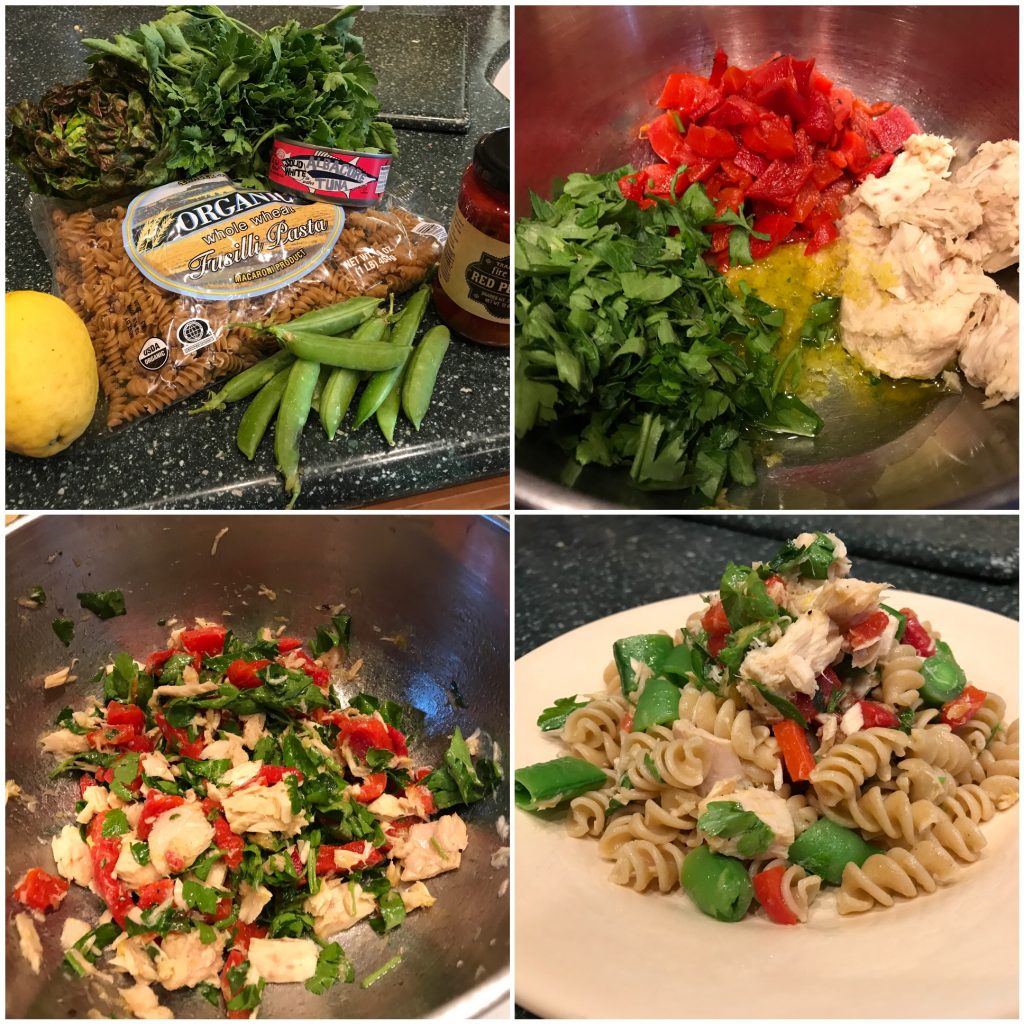 8 oz. Whole Wheat Pasta ($0.75)
1 can Solid Albacore Tuna, drained ($1.69)
½ jar Roasted Red Peppers, diced ($0.99)
¼ lb. Sugar Snap Peas ($1.25)
¼ cup Olive Oil
1 Lemon, zested and juiced ($0.50)
½ cup Parsley, chopped ($0.40)
Salt and Pepper
Bring a small saucepan of salted water to a boil and add the whole wheat pasta. Cook according to package instructions (approx. 9-11 minutes).
While the pasta is cooking, put the Tuna, Peppers, Parsley, Olive Oil and Lemon zest/juice in a medium sized bowl and season with salt and pepper.
When pasta is done cooking, toss everything together in bowl, adding more salt and pepper to taste.
Because the market selection changes along with the seasons, any given week can be boon or bust when it comes to shopping for produce. Stocking up on pantry staples is beneficial so you can walk the market stalls and be selective with what you spend your money on. During this trip to the market, Sugar Snap Peas, Lemons, and Fresh Herbs were abundant in multiple stalls. Canned or quick-cooking proteins like Tuna, beans, or even a whole rotisserie chickens can be combined with farm-fresh produce to create healthier, more approachable meals that are affordable for families with all types of income.
In today's America, obesity and malnutrition are widespread, sometimes within the same community. Getting back out to our markets, and back into the kitchens is one way  we can take back the food systems and lead happier, healthier lives. For more on malnutrition, check out this Odyssey Article by Yann Le Maitre.