Have you ever walked through the lobby of Antioch and wondered, "What are they doing with a white piano?"
So have I.
Rather than a piano, it felt like an item belonging in a museum. Beautiful, historyful, untouchable. The piano looked at me often, and I looked back. So why are you here? I asked.
Neither students nor professors knew. Generally, Antiochies thought people were only allowed to play it before or after classes start; before 9 am and after 9 pm. No wonder it stays quiet..
A couple of days later I got an email from Nancy Leffert, President of Antioch. She could tell me more. So I went over to her office for a little chat.
"We have an alum and her name is Antionette Amorteguy." Nancy told me. Antionette, alias Toni, was moving out of her home into a retirement place in Montecito and she didn't have enough room to take her piano with. "So she wondered if she could give it to us."

"My initial reaction was: absolutely! – thinking it was a black piano. And then she told me that it's a white piano! And I still felt like we needed to take it because it was a gift from an alum. I don't think I've ever turned down something that an alum would want to give us because I think it's just lovely."
"So it arrived here and we had to figure out where to put this thing, because we don't exactly have a lot of space… You know, you can't put it in a classroom and it didn't belong in the community hall. So then we decided we would put it in the lobby."
 "Sit down as long as people don't come out and scream at you! And it should be played too. I wish people would sit down and play it."
Toni's white piano has been at Antioch since they moved into this building, about two years ago. Nancy accepted the piano, thinking it would be great for people to play it at receptions and party's at Antioch. However, she insists Antioch students and professors play it any time of the day. "As long as people don't come out and scream at you!"
"So Toni, who gifted it to us, sometimes drives by here, and I've gotten messages from her like this: 'Open the piano. It looks better open.' You know things like that!" But since people didn't play it often, Nancy was conerned it would get dusty.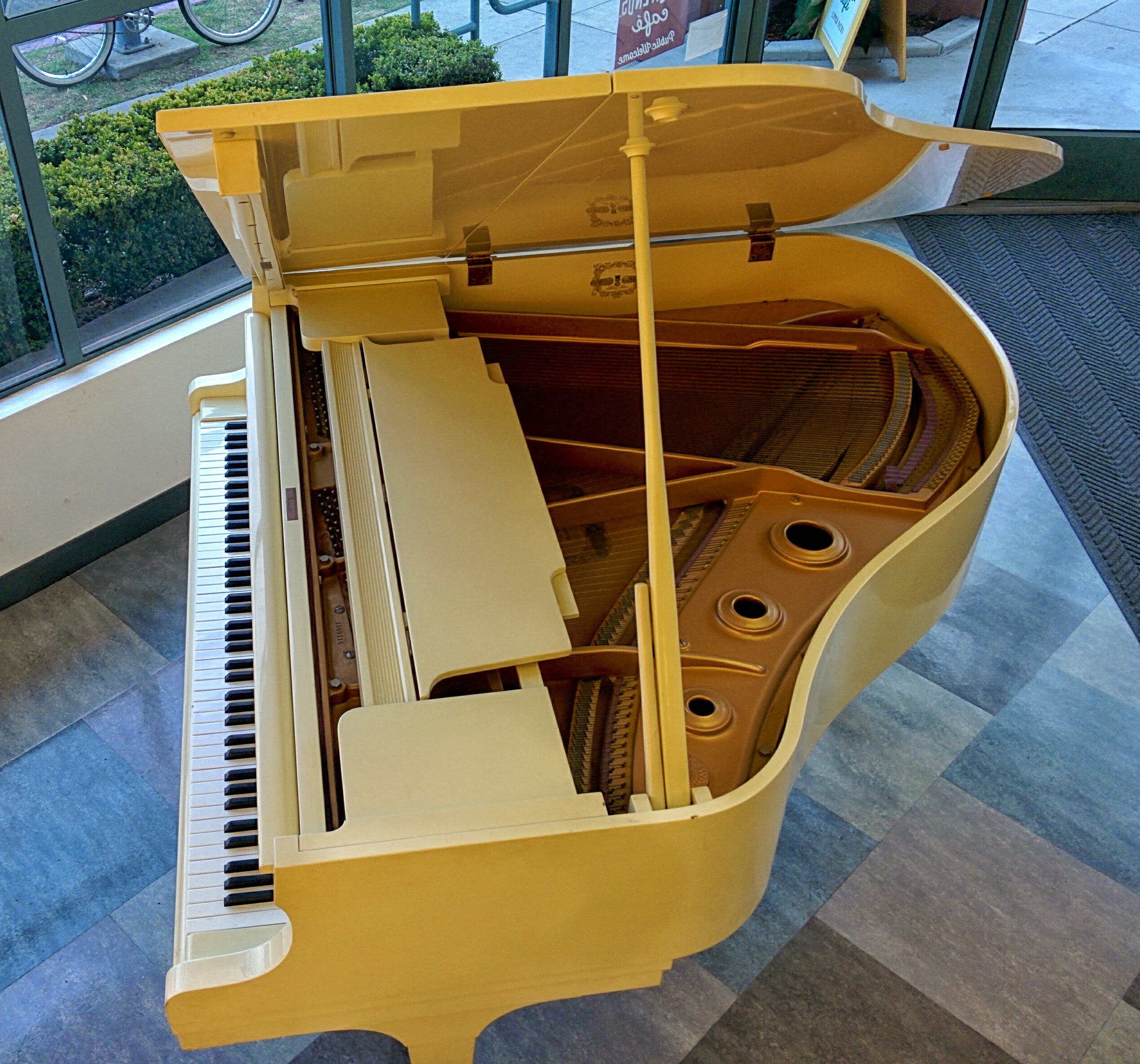 Now I had figured out why the piano was at Antioch, but that wasn't enough. Fortunately, Toni was delighted to talk to me about her piano and she invited me over to her place in Montecito.
"I bought it here in Santa Barbara for my daughter," Toni told me. "I love white. I have a propensity for white."
Toni's daughter took piano lessons, until she went to acting school in Los Angeles. Then her daughter found out she had a brain tumor… After the removal of the tumor she was no longer able to play the way she used to play.
Later in 1995 Toni moved to Isreal and she took the piano with.
"I lived on the fourth floor, right in the center of the old city of Jerusalem, and a Russian carried it up on his back up the stairs!"
Play the audio file below to listen to the whole interview.
Toni bought the 4.5 feet white Kawai apartment grand piano around 1979. At the time Kawai was very popular. When she gave it to Antioch she was hoping it would be used for musicales and socializing.
So, to finish up this story, I asked some friends to join me in the lobby for a little piano session. Watch the video below and a final note to y'all walking past the lobby everyday: Play the Piano!