With our doors open and a room available for rent, I don't think that we could have found a more talented housemate than AJ Basayne.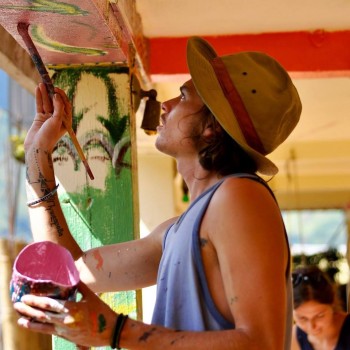 Just the other week I had the pleasure of meeting my new housemate. I didn't know much about him but he seemed like a very cool guy. One of our friends moved out for the summer and we needed to fill a spot quickly. Through a mutual friend, we contacted AJ. Not knowing much about him we let AJ  know that the spot was his to take. He took the offer and moved in the next week. He's a funny guy, smart, and full of energy. However what I didn't know is that he is extremely talented with a paint brush.
His name is AJ Basayne and he is originally from Napa Valley. He says that he wants to stay in Santa Barbara over the summer, but wouldn't mind staying for as long as he could.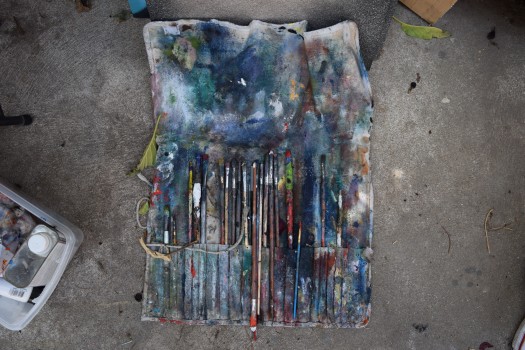 One day I came home from work to find him painting in my backyard. With his easel up, paint brushes scattered on the floor and cups of water with paint dripping on his table, I was shocked at the work he was doing.
I looked at his painting and told him that I had no idea he could paint so well. He turned around and started laughing. AJ has been painting for quite some time now and tells me that we wants to sell some of his work locally.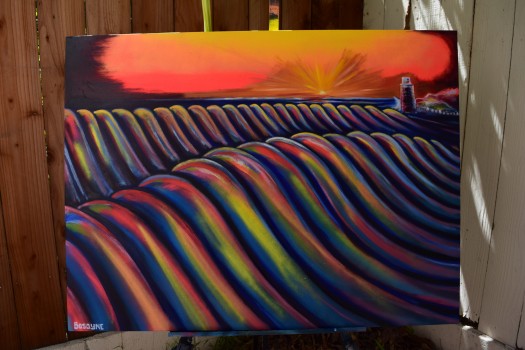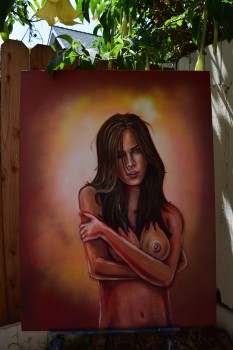 AJ loves to use oil paints and has a very unique style. "It's surreal expressionism," as he described some of his work. Of course the rest of my housemates were flabbergasted at some the paintings we have seen him do from start to finish since he has moved in. We all encourage him to set up a booth at the first sunday art walk down by the pier. We all see the amount of work that he puts into these paintings that he creates without much struggle. I think that with the right marketing and networking, AJ could make some good money off of some of his paintings. Right now he is working on his third piece, which he should be done with sometime next week.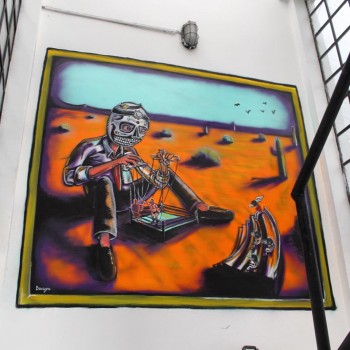 As of right now AJ is just doing what he loves to do, paint. He spends most of his day painting, and it truly shows in the detail. His paintings speak for his work ethic and creativity, the colors and techniques he uses are out of this world, and deep down he's a real great guy with a heart of gold. Keep an eye out for his work, I'm sure Santa Barbara will get a taste of AJ Basayne very soon.