You have had a long week, the school has been stressful, and the weather has been rainy. You really need to get away for a day to clear your head so you can start the new week with a fresh mind. Pismo is located one and a half hour north of Santa Barbara and is a nice place to spend a day, not too far away. You get the feeling of being on a mini vacay because you are at a different place, but when it is time to go home again it is just a short drive to get back home.
What are our favorite restaurants, where can you find the best desserts, and what to do when your stomach is too full for more food?
Zorro's Cafe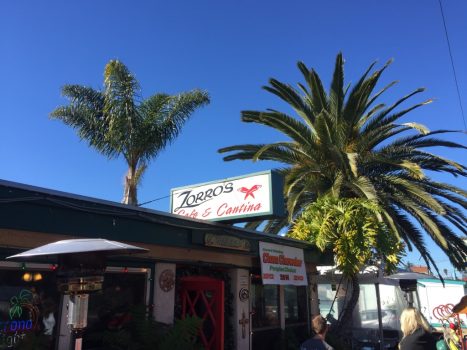 Zorro's is a local cafe that serves American and Mexican food. The cafe is named after the owner's' dog, Zorro and has been around for over 25 years. Zorro got the title "Best Restaurant" in 2014 and 2016 awarded from Taste of Pismo. The place often has a long line for breakfast, so if you are impatient to go there for lunch or dinner instead. The atmosphere is pretty casual and there is both indoor and outdoor seating. If you like fries, order the fries, it is amazing!
Marisol at The Cliffs Resort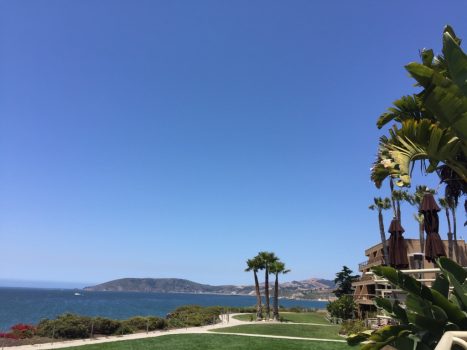 If the view while eating is important for you – go to Marisol at The Cliffs Resort. At Marisol, you can enjoy a panoramic view of the beautiful coastline while eating breakfast, lunch or dinner. It is so beautiful that you might want to stay there from breakfast throughout dinner! Their website describes themselves having the perfect fusion of fine dining and a low-key vibe. They get their ingredients from local farmers and fishermen and have an award-winning wine list. Some of the staff's lunch favorites are Harissa Chicken Nachos, Coconut Fried Prawns, Resort burgers, and Cliffs Beef Sliders – just to mention some of the delicious food you can enjoy here.
Old West Cinnamon Rolls
During your day in Pismo, you might want to have a dessert, either if it is a cinnamon roll straight from the oven or a cold yogurt to cool down. Old West Cinnamon Rolls are located on Dolliver Street, a short 5 minutes walk from Pismo pier. They started their company in 1973 and are popular for all their different types of cinnamon rolls. The prices are also nice. For a regular cinnamon roll you pay $2 and if you add cream cheese you pay $3.50. It does not look like the nicest place from the outside, but do not get fooled, you are not going to regret it!
Pismo Yogurt
Pismo Yogurt is not like the other Yogurt places you can find in California. It is located right by the pier which is perfect when you are at the beach. It is a cute and small place. You choose and take anything you like and pay for the weight of the masterpiece you have created. They got all different flavors and toppings. A big plus for this place is that they got yogurt for people who have an intolerance for milk and options for vegans. For toppings, they have fruit, candy, chocolate, hot fudge and caramel topping. Another cool thing about this place is that they got a secret menu that includes whipped cream, cheesecake bites and cookie dough pieces.
Monarch Butterfly Grove
Every year thousands of Monarch butterflies gather in Pismo. You can find them from late October to February in the Eucalyptus trees. How cool is it to see thousands of butterflies in one place? And it is free! Monarch butterfly grow is located on State highway 1 at the south boundary of the city. You can easily park on the side of the road. When you get there you can see butterflies all over the place but if you look up in the tree, you can see butterflies that are clustered to the trees. They got guided tours and staff to ask questions if you have some. If you want, you can buy a souvenir in their shop. They got Monarch butterfly wings for costumes, postcards, and fans with the Monarch pattern.
Pismo Beach Pier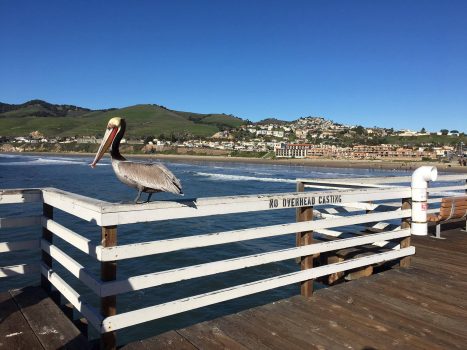 The Pismo beach pier is a must- see´s when you are visiting Pismo. It is located downtown where you can find many hotels, cafes, and shops.Since this is a place you definitely should see you can go for a walk on the Pier, you can rent rods and watch the brown pelicans eat or steal the fish that people have caught. If this is not of interest for you, there is a beautiful beach you can use. You can surf, sunbathe, swim or take a nice little beach walk as a stress reliever. It is a great spot for students whether it is for sport, relaxing or hanging out with friends. There is something for (almost) everyone at the pier (if you do not like places where there are a lot of tourists then this is not the place for eating and shopping for you.)
Oceano Dunes State Vehicular Recreation area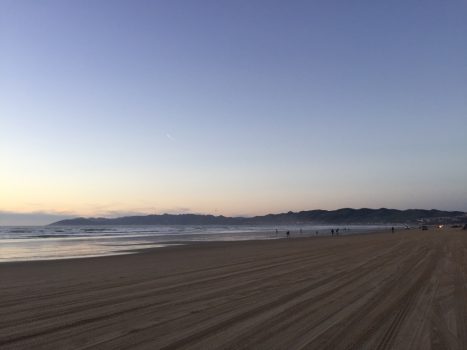 The park has around two million visitors each year, something that is not surprising when this is the only state park in California where you can drive your car on the beach. Sounds cool right? You can also camp on the beach if you want to stay the night. We watched the beautiful sunset at this park, something we recommend you to do if you visit the park. Oceano Dunes State Vehicular Recreation area is the perfect place to end a great day in Pismo Beach before you head back home.
After your getaway in Pismo Beach you can come home to Santa Barbara with a clear and relaxed mind ready for a new week. You will have plenty of beautiful pictures and memories of a gorgeous place. There are many other places than mentioned to get delicious food and dessert, activities to do, and parks to visit so we promise you will have a great time in Pismo Beach. Go together with your friends and have fun!